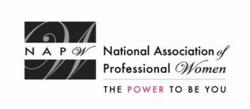 Members and guests were particularly interested in BTW Images' web design offering to maximize a Facebook business page...
Garden City, NY (PRWEB) October 17, 2012
Members and guests of the NAPW Manassas, VA Local Chapter gathered on September 30th for a professional networking meeting where they had the opportunity to learn from an expert about the benefits of using social media sites such as Facebook to better promote their businesses. Chapter President Sandra Scott also announced a number of Chapter Board positions that were filled and called for volunteers to fill open seats. A discussion of charitable organizations that the Manassas, VA Local Chapter could become involved with was also discussed during the networking meeting.
The Chapter President kicked off the networking event by introducing the Chapter's newest members and the meeting's guest speaker.
"Everyone please give a warm welcome to our two newest members, Areina Koch and Maureen Cummings-Spickles, who attended our June Chapter kick-off meeting as a nonmember," said Sandra. "We also welcome Glenda Soto-Roca who will speak to us about her company and how we could better use Facebook to help us in our businesses and careers."
Glenda then took the floor to speak to members and guests about what she does and what her company offers. Glenda is employed by BTW Images, which provides offerings in photography, video, web design, and graphic design through a concierge service.
"Members and guests were particularly interested in BTW Images' web design offering to maximize a Facebook business page, especially since the group has been focusing on helping member Joann Boggan set up a Facebook page to promote her pastry chef business," said Sandra.
Chapter member Monique Gaskins followed up Glenda's informative presentation by providing helpful instructions and a tutorial handout to members interested in setting up their own Facebook page to promote their businesses in an online setting. Monique told the group that she is available if they need additional help.
NAPW Manassas Local Chapter President Sandra next announced that the following Chapter
Board positions had been filled: Jo Jordan, 1st Vice President; Joann Boggan, Planning Committee; Yvonne Jackson, Planning Committee; Areina Koch, Planning Committee; and Monique Gaskins, IT Support.
"The position of Secretary remains tentatively filled upon confirmation from Stephanie through email or at the October Chapter meeting," said Sandra. "The 2nd Vice President is still open to any interested member!"
The Chapter President told attendees that she had found a number of charitable organizations the Chapter may want to consider for sponsorship. They were: National Cancer Society; Time to Fly Foundation (women's shelter); Alzheimer's Foundation; and Transitional Housing BARN, Inc. Sandra announced that four members will be contacting these organizations requesting a presentation so Manassas, VA Chapter members and guests may begin participating in their upcoming events.
Members and guests then engaged in a lively discussion transitioning from one career to a career of long-held passion and personal interest. New career directions ran the gamut and included categories such as travel; coaching; business interests in the areas of baking, skincare, homemade scents, insurance, personal tax preparation service, hair salon care, etc.; reinvigoration of the family-owned travel agency; writing autobiographies; becoming more versed in technology; and careers in contract administration.
"We also talked about, employment opportunities that are available on the NAPW Website and through LinkedIn and other outlets" said Sandra. "Everyone participated in the discussion and all agreed it was very enlightening and relevant.
The next NAPW Manassas Local Chapter meeting will be held on October 21st, from 4:00pm to 6:00pm, location TBD. The meeting agenda will include: confirmation and fulfillment of the remaining two Chapter positions, 2nd Vice President and Secretary and a sponsor organization presentation. Other upcoming meetings are scheduled for November 18th and December 16th, locations TBD.
In attendance at the September networking meeting were members Jo Jordan, Areina Koch, AKA Salon,Yvonne Jackson, Joann Boggan, Maureen Cummings-Spickles, Monique Gaskins, and Sandra Scott; and guest speaker Glenda Soto-Roca.
The National Association of Professional Women (NAPW) is the largest and most recognized network of female professionals. NAPW provides a forum where women can interact, exchange ideas, educate, network, and empower. NAPW Local Chapters allow members to maximize their experience through meetings, networking opportunities, and professional events.
For additional information regarding the NAPW Manassas Local Chapter and/or NAPW, please visit http://www.napw.com.
Follow NAPW on Facebook and Twitter.
###