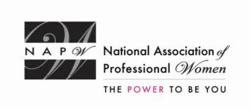 In support of this wonderful organization, Yvonne Jackson will be hosting a table of nine on behalf of NAPW Manassas, VA, Chapter...Participating members will arrive early to meet representatives and take a photo using the NAP
Garden City, NY (PRWEB) November 06, 2012
Members and guests of the NAPW Manassas Local Chapter gathered on October 21st for a professional networking meeting. It was announced that the Chapter would be sponsoring four local charities including Time to Fly, a women's shelter located in nearby Falls Church. Members and guests were invited to attend the upcoming Time to Fly 11th Annual Gala Fundraiser, where the Chapter will host a NAPW table.
NAPW Manassas Chapter President Sandra Scott welcomed the attendees to the meeting and invited everyone to introduce themselves. She also announced the newest Chapter Board member.
"I'm pleased to say that Stephanie Lane has officially accepted the position of Manassas Chapter Secretary," said Sandra. "We thank her for volunteering. As a reminder, the 2nd Vice President position remains open to any interested member."
In addition to the Secretary position, Sandra announced the following Chapter positions: Jo Jordan, 1st Vice President; Joann Boggan, Planning Committee; Yvonne Jackson, Planning Committee; Areina Koch, Planning Committee; and Monique Gaskins, IT Support.
Sandra next spoke about the Chapter's involvement in and commitment to a number of charitable organizations including the National Cancer Society, Alzheimer's Foundation, Transitional Housing BARN, and Time to Fly Women's Shelter, which the Chapter will be sponsoring at its upcoming gala fundraiser.
Time to Fly's mission is 'helping abused women and children regain their God given worth, break the generational cycle of dating/domestic abuse, and strengthen the family unit.' Founded in 2001, the shelter's vision is to globally see countless lives restored from the devastation of dating and domestic abuse.
"In support of this wonderful organization, Yvonne Jackson will be hosting a table of nine on behalf of NAPW Manassas, VA, Chapter," said the Chapter President. "Participating members will arrive early to meet representatives and take a photo using the NAPW banner."
During the networking portion of the meeting, members and guests had the opportunity to get to know one another better as they discussed a number of professional and personal matters. The group talked about such things as transitioning from one career to a career of long-held passion and personal interest, travel, coaching, personal tax preparation service, becoming more versed in technology, and a career in contract administration. Chapter President Sandra advised attendees of her upcoming business and personal travel schedule.
Sandra also took a few moments to speak about how Manassas Chapter members are assisting Ms. Nina to help her regain employment.
"Unfortunately, Ms. Nina experienced a recent unexpected layoff but many of us are working hard to help her in any way we can," said Sandra. "I have distributed her resume to several companies and she has also spoken with NAPW National Headquarter representatives who have offered Ms. Nina their assistance and guidance in finding employment."
Before the conclusion of the October Chapter meeting, Sandra reminded attendees that the next meeting will be held on November 18th from 4:00pm to 6:00pm (location TBD). November's agenda will include fulfillment of the remaining open Chapter position, 2nd Vice President; remaining sponsor organization presentations from the National cancer Society and Alzheimer's Foundation; and planning for the December 16th meeting, which will be held at Transitional Housing BARN, Inc., from 4:00pm to 6:00pm.
Members present at the meeting were: Joann Boggan, Yvonne Jackson, Stephanie Lane, and Sandra Scott.
The National Association of Professional Women (NAPW) is the largest and most recognized network of female professionals. NAPW provides a forum where women can interact, exchange ideas, educate, network, and empower. NAPW Local Chapters allow members to maximize their experience through meetings, networking opportunities, and professional events.
For additional information regarding the NAPW Manassas, VA Local Chapter and/or NAPW, please visit http://www.napw.com.
Follow NAPW on Facebook and Twitter.
###