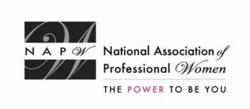 There are local counseling and training services that provide information on starting and managing a business...
Garden City, NY (PRWEB) August 07, 2012
The ladies of the NAPW Manassas Local Chapter gathered in July for a professional networking meeting and established their objectives and mission.
"The Chapter will focus on growing both personally and professionally through group interaction, while promoting the local community," said Sandra Scott, Manassas Chapter President.
Sandra kicked off the Chapter's mission by providing members and attendees with information and resources on business ownership and entrepreneurship. She provided links to the Small Business Administration website with a focus on starting-managing a business.
"There are local counseling and training services that provide information on starting and managing a business," Sandra said. "And, there are many loans and grants available."
Sandra explained how to seek out contracting opportunities as it relates to one's business and the community at large. She presented a book titled "Brewing Up a Business", received from a commuter. The book provides insight on the trials, tribulations, and successes of business ownership. It deems itself a story on the 'adventures of entrepreneurship'.
Professional and personal discussions followed covering topics that ranged from careers to personal interests, travel, coaching, and establishing businesses in the areas of baking, skincare, homemade scents and insurance. The group also discussed writing autobiographies, technology, and social media for businesses. Member Monique Gaskins will facilitate a session on using Facebook to publicize the Chapter as well as other member businesses.
Joann and Monique provided a status update from the June meeting. Sandra walked through the programs and services available to assist members both professionally and personally – Continuing Education, Networking Mechanisms, Opportunities, and Member Benefits. She highly recommended the participants visit the website and begin becoming more familiar with the vast amount of information and services available for their use. Further, she reminded them of the email allowing NAPW members to purchase IT products at a discount from a partner company, Lenovo.
The President called for volunteers to serve in the roles of 1st Vice president, 2nd Vice President, Secretary, and Planning Committee members. She expressed that these positions are critical because of her need to travel periodically and that the Chapter should continue its mission even in her absence. The following members volunteered: Jo Jordan, 1st Vice President; Joann Boggan, Planning Committee; Yvonne Jackson, Planning Committee; and Monique Gaskins, IT Support. The 2nd Vice President, Secretary and one position on the Planning Committee remain available.
The Chapter moved on to discuss sponsorship and determined that the Chapter will sponsor a unique organization each quarter. The organization list will be finalized at the August meeting. One organization under consideration is the Women's Shelter, Time to Fly for Chapter sponsorship consideration.
Members in attendance included Monique Gaskins, Insurance Specialist & Independent Travel Consultant; Joann Boggan, Registered Nurse & Pastry Chef; Stacy Henderson, US Naval Officer; Jo Jordan, ScentsbyPatches/AFA; Yvonne Jackson, GovCon. Attending the Chapter meeting as guests were Lisa Tutt, CSC Mary Kay Consultant and Jean Crews, AFA.
The August 25th 2012 Chapter meeting agenda will include Facebook Usage Training – Monique Gaskins; Fulfillment of remaining Chapter positions – 2nd VP, Secretary and Planning Committee; Selecting and finalizing Organizations for Quarterly Sponsorship – American Cancer Society, Alzheimer's Foundation, Time to Fly Women's Shelter; and finalization of the Chapter Mission Statement.
The National Association of Professional Women (NAPW) is the largest and most recognized network of female professionals. NAPW provides a forum where women can interact, exchange ideas, educate, network, and empower. NAPW Local Chapters allow members to maximize their experience through meetings, networking opportunities, and professional events.
For additional information regarding the NAPW Manassas Local Chapter and/or NAPW, please visit http://www.napw.com.
Follow NAPW on Facebook and Twitter.
###