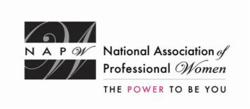 Having influential guest speakers in attendance and participating in charitable events such as helping the community through volunteer walks and events will be a great foundation for this Chapter
Garden City, NY (PRWEB) March 15, 2012
NAPW Manchester Local Chapter gathered together for an exciting first professional networking meeting on February 21st at Margarita's on Elm Street. There were a total of seven members and two guests in attendance.
Vikki, Local Chapter President, opened the meeting at 6:30pm by welcoming everyone, introducing herself, and encouraging everyone in attendance to introduce themselves. Introductions included names, companies, reasons for joining NAPW, and goals as NAPW members both personally and for the community.
Vikki's focus of the first meeting was to establish a set date and future goals for the Chapter. She provided details about future meeting dates, times, and locations. All in attendance agreed that the third Tuesday of the month at 6:30pm is preferred, although schedules could be altered with enough advance notice to attend a Thursday meeting to accommodate other members. They agreed that Margarita's is an ideal location for small gatherings. Other locations, such as Piccola's and 36 Deluxe were suggested for larger meetings as attendance increases. The Chapter discussed possible agenda items for future meetings as well.
"Hosting influential guest speakers, and participating in charitable events like volunteer walks, will be a great foundation for this Chapter," said Vikki.
Suggestions for guest speakers included a Personal Trainer and a Management and Efficiency Expert. The Management and Efficiency Expert resides in Massachusetts, so a meeting in Nashua was suggested to better accommodate her. The Chapter agreed it could be an exciting opportunity to meet in a new area.
The group discussed the Amonoosuc Amble in Bethlehem, which is a five-mile walk taking place in April. The Chapter will consider participating as a means to achieve their goal for community and charitable events.
Vikki reminded the group of the National Conference in New York City on May 18th, 2012 where Sara Blakely, Christie Hefner, Paige Mackenzie, and others will be speaking. Members discussed ways to maximize their experience at this event and decided to travel as a group.
Next on the agenda, Vikki opened the positions of Vice President, Treasurer, and Secretary to members to establish organization within the Chapter. She told the group to keep posted, and check the Manchester Chapter page regularly for any updates for interested parties.
Members remained to talk, socialize, and network even after the meeting was called to close. The group considered the meeting a complete success.
The National Association of Professional Women (NAPW) is the largest and most recognized network of female professionals. NAPW provides a forum where women can interact, exchange ideas, educate, network, and empower. NAPW Local Chapters allow members to maximize their experience through meetings, networking opportunities, and professional events.
For additional information regarding the NAPW Manchester Local Chapter and/or NAPW please visit http://www.napw.com.
Follow NAPW on Facebook and Twitter.
###