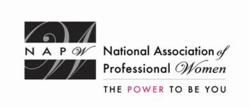 I am so excited about the formation of the Chapter and the connections that will be made
Garden City, NY (PRWEB) July 11, 2012
The ladies of the NAPW Marietta Local Chapter met on Saturday, June 30th for their first ever professional networking meeting, which was also the Chapter's official launch at the Arena Tavern in Kennesaw, GA.
Upon arrival, De'Vonne Love, Marietta Local Chapter President, asked that each lady to record their name on the attendance sheet. Members were given a beautiful tote bag filled with NAPW paraphernalia to take home and to use at future meetings.
"I am so excited to serve as the Chapter President and would like each member to formally introduce themselves, their area of expertise, and how long they had been a member of NAPW, " said De'Vonne.
Jessica Thompson, Julie Patoja, Debra Coffey, Patricia Godfrey, Beverly Burney, and Nancy Schillo were all given an opportunity to share their company information and services.
De' Vonne announced the involvement of the Chapter in charitable events. The members were also informed of a team being put together by the Lithonia Chapter President, Kim Didly. De' Vonne asked that everyone offer whatever assistance they were able to provide in Kim's effort in the fight against breast cancer. Members were also encouraged to share with the group any charity they would like to support.
De'Vonne discussed NAPW benefits and noted the different resources that were available on the website and briefly provided an overview on how to access information. She noted that she would conduct an upcoming meeting on how to properly use NAPW's online tools and services. Members were also invited to share topic ideas and those interested in being a guest speaker were invited to take the stage.
Everyone confirmed that Saturday mornings were the best day to conduct the monthly Chapter Meetings.The Chapter will host events at different venues to give everyone a chance to enjoy the meeting in a different setting.
De' Vonne relayed that guests were always welcome and asked members to extend an invitation to anyone who would like to attend a Chapter meeting.
Before officially closing, members were asked to share comments, ideas, and suggestions; none were noted at that time.
The next meeting is to be held on Saturday, August 11th at The Old Mill Restaurant in Acworth, GA. For additional information pertaining to the Chapter's upcoming events, both members and guests were welcome to check back on the Chapter page.
The National Association of Professional Women (NAPW) is the largest and most recognized network of female professionals. NAPW provides a forum where women can interact, exchange ideas, educate, network, and empower. NAPW Local Chapters allow members to maximize their experience through meetings, networking opportunities, and professional events.
For additional information regarding the NAPW Marietta Local Chapter and/or NAPW, please visit http://www.napw.com.
Follow NAPW on Facebook and Twitter.
###