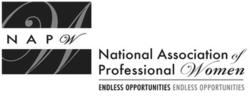 We hope that additional members will enjoy this fun prize opportunity in upcoming meetings.
Garden City, NY (PRWEB) January 07, 2012
The Greater Memphis Local Chapter of the National Association of Professional Women held a monthly networking meeting on December 3rd and planned to attend professional seminars and webinars on marketing, business management, and effective communication.
NAPW Greater Memphis Local Chapter President Onika Shirley greeted the member-attendees by welcoming everyone and thanking them for coming out. She then distributed instructions on how to change the Username and Password login information for members to access the NAPW Chapter website more quickly. Onika will forward these instructions to members that were unable to attend the meeting.
Onika informed the group about upcoming free local seminars available to members through the STAR 12 program. These include several informative topics coming up in January, such as "Facebook Marketing for Relative Newbies", "Management Skills for First-Time Supervisors", and "Communicating With Tack and Skill for Managers and Supervisors". These seminars are an excellent resource available to all NAPW members on NAPW.com.
It was decided that there will be a door prize drawing at each monthly meeting for attendees. Onika graciously provided the first gift, which was drawn by Kris Seiler. The winner each month will be responsible for providing the door prize at the next monthly meeting. Door Prize value is approximately $5-10. "We hope that additional members will enjoy this fun prize opportunity in upcoming meetings," said Onika.
The chapter discussed possible venues for upcoming monthly meetings. These include local libraries, restaurants, and members' residences. Ryan's Restaurant in Horn Lake has been the meeting location for the past three meetings, but the group is hopeful that another venue can be found. It was agreed in previous meetings that the first Saturday of each month at 2 pm would be a convenient day and time for members' busy schedules.
The members present suggested that each monthly meeting have a specific topic for discussion. These include networking venues, charitable and/or fund-raising opportunities, and pertinent discussion topics. All members were encouraged to bring suggestions on topics they would like to share and explore.
Email reminders will be sent to Chapter members at least ten days in advance of monthly meetings, with venue and monthly topics noted by the Chapter Secretary, Gayle Anthony. Members were advised to check their NAPW inboxes.
The Greater Memphis Chapter requested each member's input on establishing a Facebook profile. Several members expressed interest in exploring this social networking opportunity to showcase members and upcoming activities. "Social networking can also be a way to attract non-members to make connections with people with similar interest and goals," Onika said.
April Davis suggested having flyers printed and distributed to local businesses. The flyers could be used as a resource to draw the attention of potential members. The chapter also wants to create a foundation that will offer positive images to young women from all walks of life.
The next monthly meeting is scheduled for January 7th at 2pm. The topic will be "New Year – New You" and will include hair-styling and grooming tips for professional women. The meeting with be held at April Davis' house, in Cordova and directions to April's house will be forwarded to members who RSVP-respond to meeting requests.
The National Association of Professional Women (NAPW) is the largest and most recognized network of female professionals. NAPW provides a forum where women can interact, exchange ideas, educate, network, and empower. NAPW Local Chapters allow members to maximize their experience through meetings, networking opportunities, and professional events.
For additional information regarding the NAPW Memphis Local Chapter and/or NAPW please visit http://www.napw.com.
Follow NAPW on [Facebook and Twitter.
###