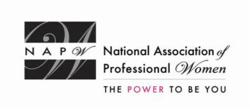 The Chapter would participate in... events involving healthy food challenges, food tasting events, children's and elderly assistance programs and multi-cultural events.
Garden City, NY (PRWEB) March 01, 2012
The Greater Memphis NAPW Local Chapter gathered on February 4th for a professional networking meeting at member April Davis' residence to discuss the continual growth of the chapter and new ideas for its involvement within the community. There were seven members in attendance including Onika Shirley, April Davis, Kris Seiler, Gayle Anthony and Marolyn Ford. Verna Nickelberry and Christine Boyer, two other members in attendance, accepted co-positions as Event Coordinators to assist with planning for all chapter events.
Onika Shirely, Chapter President, greeted and welcomed both existing members and new members to the meeting. She oriented new members with the Chapter's Goals and Mission Statement, which she will later post on the NAPW Local Chapter website.
The Chapter focused on various ways to give back to the community. The chapter brainstormed and gathered ideas together on how to implement events and involvement. After much discussion, the group concluded that a great way for members to be more involved in both the community and the Chapter would be through community gardens.
"Community gardens promote healthy eating habits," Onika said. "The Chapter would participate in and create events involving healthy food challenges, food tasting events, children's and elderly assistance programs and multicultural events."
Members Verna and Christine graciously accepted co-positions as Events Coordinators. Their positions will entail the research of possible opportunities for the chapter's participation in local community activities.
The Chapter intends to continuously growth its member base by adding new locations for future chapter "Getaways" such as Land-Between-the-Lakes and Hot Springs, Arkansas. Onika has volunteered to add an NAPW Greater Memphis Chapter Facebook page to her personal Facebook . She will notify members when all is complete and would like all to be 'be on the lookout'.
It was brought to the group's attention that meetings will be held the first Saturday of each month at 2pm. This generated new ideas regarding venues and meeting locations for further growth and chapter involvement. Several members suggested having meeting luncheons and spoke on various locations and restaurants within the community. Onika voiced suggestions that members post possible venue locations on the chapter's online Community Wall for discussion.
Onika Shirely thanked everyone for attending and encouraged the group to continually think of great, new ideas for both improvement of the Chapter and its involvement within the community.
The National Association of Professional Women (NAPW) is the largest and most recognized network of female professionals. NAPW provides a forum where women can interact, exchange ideas, educate, network, and empower. NAPW Local Chapters allow members to maximize their experience through meetings, networking opportunities, and professional events.
For additional information regarding the NAPW Memphis Local Chapter and/or NAPW please visit http://www.napw.com.
Follow NAPW on Facebook and Twitter.
###