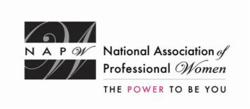 The Chapter will also develop a new community outreach program based on the 'Dress for Success' model geared toward assisting women seeking employment
Garden City, NY (PRWEB) July 05, 2012
The professional women of the NAPW Greater Memphis Local Chapter met on June 2nd for a professional networking meeting at Ryan's Restaurant. Onika Shirley, Chapter President, April Davis, Teresa Sandlin, and Gayle Anthony focused on community-based activities to strengthen the Chapter and endeavored to aid the Mid-South Food Bank.
Onika Shirley stressed the need to move forward with community-related activities mentioned in previous meetings in order to strengthen their Chapter's professional network. It was decided that the Chapter will participate in the Mid-South Food Bank program. Each member is responsible for bringing canned goods or monetary donations to the July meeting. April Davis will collect these items and deliver to the Food Bank on behalf of the Greater Memphis NAPW Chapter. She will have photos taken of this presentation for the Chapter bulletin board.
"The Chapter will also develop a new community outreach program based on the 'Dress for Success' model geared toward assisting women seeking employment," Onika said. By providing business clothing and accessories for job interviews, the Chapter will help to create professional opportunities for women in the local community. Each Chapter member was encouraged to bring gently-worn business clothing, suits, shoes, accessories, and more to the next meeting. Members were encouraged to propose names for this activity at the next meeting.
The women discussed local fairs such as the Sisterhood Showcase and Delta/Memphis. Booth rentals are available, which could serve as a donation and distribution site for the Chapter's "Dress for Success" program, as well as serving as a showcase for Member achievements and accomplishments. April discussed the possibility of Chapter exposure in the media, i.e. radio, Fox 13 Morning Show, and public access TV. Onika and April will make further inquiries on costs and dates for discussion at the next monthly meeting.
Chapter member Verna Nickelberry reported to Onika that the spring issue of Ordinary People Magazine, in which the Greater Memphis NAPW Chapter was featured, is now available on the website. (ordinarypeoplemagazine.org)
The Chapter will change venue locations for the next monthly meeting; local restaurants and the main Memphis Library branch were suggested. April will investigate meeting rooms for the Library and update Onika. Final venue location for the July meeting will be emailed to Chapter members as soon as possible. The Chapter's next monthly meeting will be July 7, at 2:00 pm and the topic will be community-related donations. The Chapter was reminded to bring donations for Mid-South Food Bank and our new Business Attire Program.
Members were reminded of the monthly meeting Door Prize drawing. Each member will be responsible for bringing a small gift for the drawing (value $5-10) to be held at the end of each meeting. April was the lucky gift recipient this month.
Members in attendance included Onika Shirley, April Davis, Teresa Sandlin, and Gayle Anthony.
The National Association of Professional Women (NAPW) is the largest and most recognized network of female professionals. NAPW provides a forum where women can interact, exchange ideas, educate, network, and empower. NAPW Local Chapters allow members to maximize their experience through meetings, networking opportunities, and professional events.
For additional information regarding the NAPW Greater Memphis Local Chapter and/or NAPW please visit http://www.napw.com.