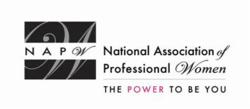 Karen shared some techniques which have brought many people good health, happiness, and peace in their daily lives...Her presentation was centered on the topic of holiday stress and she gave some tips on...
Garden City, NY (PRWEB) December 18, 2012
Members and guests of the NAPW Mesa, AZ Local Chapter gathered on November 29th for a professional networking meeting at Mimi's Café. Chapter member Karen Belyan of Essential Workshops, LLC hosted the meeting and presented a Holiday Stress Busters workshop where the group of professional women picked up helpful tips for staying sane during this busy time of year.
The monthly networking meeting started promptly at 7:00pm with members and guests taking some time to introduce themselves. NAPW Mesa Local Chapter President Jennifer Butler-Williams then introduced the evening's host and guest speaker, Karen Belyan from Essential Training Workshops, LLC 'Living to Learn and Learning to Live.'
"Karen shared some techniques which have brought many people good health, happiness, and peace in their daily lives," said the Chapter President. "Her presentation was centered on the topic of holiday stress and she gave some tips on how to help members and guests make the best of the holiday season."
Relatively new to the NAPW Mesa Local Chapter, Karen is a professional Educational Trainer/Facilitator and has owned her own business for 15 years, providing consulting, training, and coaching services to her clients. She began her presentation by offering helpful advice to the group of professional women.
"Holidays are a time for celebration. Do things together. Take turns choosing an activity for the night or weekend," Karen told the audience. "Sit quietly listening to music or enjoying the decorations. Create some ambiance. And especially, remember to tell people how much they mean to you."
Using the word SMART as an acronym, Karen offered the following tips for de-stressing during the holidays:
Simplify – Simplify one's gift shopping, gift giving, and decorating.
Measure – How will one measure their progress?
Action – What action steps must you take?
Realistic – Is this project realistic for oneself? What resources will one need?
Time – How much of one's time will it require? Does one realistically have the time available?
She continued with more simple yet powerful tips on how to make this year's holiday season the best one possible:
One should take time for themselves, set a budget and stick with it, plan ahead and for every 15 minutes spent planning, save one hour of wasted time. Try checking for free gift wrapping, get physical exercise; it reduces stress and set priorities. Times as these, one tends to get inundated with holiday invitations, tt does not mean they have to accept them. Think about the situation and as if the activity helps to achieve a goal? If yes, consider it. If not, let it go. Share the responsibilities. Delegate some chores to family and friends. Think about simplifying one's ideas. Some holidays are lonely, try reaching out to others. Think about joining a group to celebrate the holidays. Count your blessings. Share the goodwill and find a way to help those in need. Get along with family and extended family and declare amnesty. Make one's expectations realistic. Holidays are lived in the moment, so make this holiday special now. Try visiting dreamland, being rested allows you to handle difficult situations with ease. Roll with the punches. When one comes to a roadblock or a detour, treat it as humor. Have fun!
Karen is President of Essential Training Workshops, LLC, an educational, motivational training company, dedicated to personal growth and organizational development. Karen was encouraged by the participants in her classes to "reach out" to more people. "They need to hear what you have to say," was the consensus within her classes. Consequently, Karen revised a stress management program she implemented for an agency of the federal government, and is now the author of a self-published book, Stress Buster Secrets—A Survivor's Guide and Self-Learning Program.
Karen holds a Master of Education in Curriculum and Instruction from Michigan State University and an Advanced Certificate as a Training Specialist from Georgetown University. She is a qualified user of the Myers-Briggs Type Indicator (MBTI)®*, a user and distributor of DiSC® programs, and a Certified Program Facilitator from Leadership Management Inc. Some of her clients include UAW/FORD, an agency of the Department of Defense, Edward Jones, Protein Technologies, and others. For more information about Essential Training Workshops, LLC or Karen Belyan, visit essentialtrainingworkshops.com or call 480-945-3645.
The Myers-Briggs Type IndicatorÒ, MBTI, the MBTI logo, and Introduction to Type are trademarks or registered trademarks of the Myers-Briggs Type Indicator Trust in the United States and other countries. DiSC® is a registered trademark of Inscape Publishing.
Present at the November NAPW Mesa Local Chapter event were: Patti Oskvarek, Karen Belyan, Ruth Ann Handler, Plynn Gutman, and Jennifer Butler-Williams.
The National Association of Professional Women (NAPW) is the largest and most recognized network of female professionals. NAPW provides a forum where women can interact, exchange ideas, educate, network, and empower. NAPW Local Chapters allow members to maximize their experience through meetings, networking opportunities, and professional events.
For additional information regarding the NAPW Mesa Local Chapter and/or NAPW, please visit http://www.napw.com.
Follow NAPW on Facebook and Twitter.
###