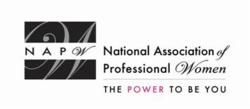 The discussion spurred a clear focus of our collective intention and effort to help each other succeed and grow, which was the overall premise of the November Chapter meeting.
Garden City, NY (PRWEB) December 18, 2012
Members and guests of the NAPW Metro-East, IL Local Chapter met on November 15th for a professional networking meeting at High Mount School, 1721 Boul Avenue in Swansea. The group of professional women gathered to network and discuss relevant issues such as pushing one's 'Professional Boundaries' and other topics that focused on career success and growth.
NAPW Metro-East, IL Local Chapter President Angela Barnes opened up the meeting with icebreakers and introductions of all attendees, including prospective new members. She encouraged everyone to formulate a resume indicative to one's inner self and bio. She also thanked Yvette Hicks for offering the facility for the meeting.
The Chapter President then launched a discussion about pushing 'Professional Boundaries' by asking such questions as "Who are we?" and "How do we/I do it when I have never done it before?" This topic is related to expectations, ability and skills, sometimes identified as professional deficits.
"The discussion spurred a clear focus of our collective intention and effort to help each other succeed and grow, which was the overall premise of the November Chapter meeting," said the President.
"Members reported a desire to disclose and connect, while honoring our voices and promoting opportunities to understand, build rapport, trust, and develop a safety net in our journey of personal growth."
Members and guests also participated in a self-reflection exercise. The women were given four words: Laugh, Love, Live, and Dream; they were then asked to choose one of those words and answer the following question:
"What would the word you selected today mean to you if there were no barriers, no negativity, and an angel was sitting on your shoulder?"
The group answered as follows:
Cathy Stolts chose Laugh and said "Learn and grow. Be part of something."
Yvette Hicks chose Dream and said, "Making all the impossible possible."
"I would hug everyone I meet and have all my family in one large home," said Karen Meyer who chose Love.
Melanie Shadwick-McDaniel chose Live and said, "Travel the world, sail around the world."
Choosing the word Dream, Ninya Ashford said, "Expand my horizons, create visions for future generations to come that will benefit the American families."
Angela Barnes chose Live and said, "Conflicts of old I banish you, I release you. You are born of yesterday. I am here with life today. Go find somewhere to play."
Members and guests also discussed the issues of personal safety and well-being as objectives to one's success and personal care. The group of professional women explored other items for future meeting topics and guest speakers as the Chapter sought to accomplish its mission and direction. A discussion was generated about the importance of activities and an example of 'laughter yoga' for spiritual health and emotional well-being was demonstrated by Chapter President Angela. Various topics such as developing productivity were recommended. Angela volunteered to research South Western Illinois College Speakers Bureau as the Chapter explores locations and availability of community resources. Members also recommended the Chapter take advantage of members' resources and professionalism.
The Chapter also discussed the difficulty many women face in finding and maintaining balance in their lives. Yvette volunteered to explore the availability of local motivational speakers and counselors, and activities that could help facilitate a discussion of this topic at a future meeting.
"Economic independence surfaced as another important topic focus for the group of professional women," said Angela. "We talked about how it could be related to community initiatives such as education and financial planning."
The Chapter further explored other areas it may support. Angela told members and guests she would follow up with NAPW National Headquarters to gain a clear understanding of the Chapter's roles and responsibilities as it relates to charitable causes and to gain more information on logistics of events. Forming partnerships with community-wide initiatives was also discussed as a direction for the Chapter. Angela reported on the 90-Pound Heavyweight Special Needs Trust, detailing its mission and objectives, as an example of a cause with which the Chapter may get involved. She again reminded everyone that before it proceeds with any charitable initiatives, the Chapter needs to be aware of NAPW National guidelines.
Earlier in the November meeting, the October minutes were read and members and guests learned of the timeline before seeing the posted minutes on the Metro-East Local Chapter Page on napw.com. Minutes were accepted. Members were given NAPW pins and portfolios. Guests in attendance received welcome brochures.
Karen Meyer graciously accepted the nomination for Acting Vice President; Yvette Hicks volunteered for the dual roles of Secretary as well as Membership Coordinator. Melanie Shadwick will act in the capacity of the Chapter's Social Media Coordinator. Further discussion ensued of the importance of the role and position of Social Media for the Metro-East Chapter.
"I will further research the dos and don'ts when it comes to press release information according to NAPW National's guidelines. We also seek to be confident with media channels such as Facebook," said Angela.
Members discussed sharing in the responsibility of providing icebreakers; Ninya and Yvette agreed to facilitate icebreakers during the January meeting.
The NAPW Metro-East Chapter will not meet in December. The next meeting is scheduled for January 10th at High Mount School located in Swansea, Illinois. Members were asked to invite three visitors to the next meeting to join in the Chapter's launch endeavor.
Angela Barnes (618) 398-4357; Yvette Hicks 618) 570-3935; Karen D. Meyer (618) 410-6085; and Melanie Shadwick-McDaniel (618) 207-9880. Guests in attendance included: Cathy Stolts (618) 222-7017, a second time guest, and Ninya Ashford (618) 257-1499, a first time guest.
Minutes jointly submitted by Yvette Hicks, Secretary and Angela Barnes, President.
The National Association of Professional Women (NAPW) is the largest and most recognized network of female professionals. NAPW provides a forum where women can interact, exchange ideas, educate, network, and empower. NAPW Local Chapters allow members to maximize their experience through meetings, networking opportunities, and professional events.
For additional information regarding the NAPW Metro-East Local Chapter and/or NAPW, please visit http://www.napw.com.
Follow NAPW on Facebook and Twitter.
###