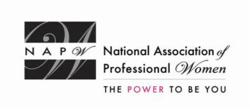 We also want to join local charities by volunteering and possibly doing some fundraisers. The members have decided to focus on supporting local groups in the area where women are in need
Garden City, NY (PRWEB) July 25, 2012
Members and guests of the NAPW Montgomery Local Chapter gathered on July 19 for a professional networking meeting at Panera Bread located in The Shoppes at Eastchase in Montgomery, which will be the home for all future Chapter meetings. The Chapter welcomed two new members, Gaynell Marshall Lowe and Angie Gibbons, and discussed a number of important topics.
The meeting kicked off promptly at 6pm with Montgomery Chapter President Kate Rudd welcoming all of the members; new and returnees. She invited everyone to introduce themselves and exchange business cards to get to know one another better. The President then took a few moments to welcome the two new members Gaynell Marshall Lowe and Angie Gibbons, to the Chapter.
After everyone warmly welcomed the two new members, Kate then went on to lead a discussion about the Chapter's future goals, which includes expanding the Chapter by developing a volunteer system, engaging prospects, and increasing awareness about NAPW among companies, agencies, and organizations.
"We also want to join local charities by volunteering and possibly doing some fundraisers. The members have decided to focus on supporting local groups in the area where women are in need," said Kate.
Of course, all of this will not be possible without the support and efforts of the members, all of whom have been very enthusiastic. Many of the Chapter members have offered assistance with meeting venues, speakers, member calls, planning, etc. At this point, member Angela Swarts will be in charge of the Montgomery Local Chapter's social media. Members Yvonne Messer and Jennifer Blake Eatman offered to assist with contacting new members to grow the Montgomery Chapter and do anything else that is needed.
Kate also encouraged members to check out the Montgomery Chapter Page on the NAPW website.
"I invite everyone to join the Montgomery Chapter Page. It's a great way for all of us to communicate with one another, see photos, hear local news, and provide comments," said Kate.
New member Gaynell Marshall Lowe is a very busy woman, mentoring and volunteering her time to children and women in need in the area. She has only been in Montgomery for seven years, due to Hurricane Katrina, which forced her to leave her hometown of New Orleans and move to Montgomery. Her professional title is Independent Associate at Legal Shield, which specializes in legal services. Gaynell is also studying Theology at the Christian Bible College. She is drawn to and passionate about charitable organizations such as CASA, 100 Black Men Mentoring Program, The Local Zoo, Celebrate Recovery, her church, and the prison ministry.
New member Angie Gibbons is employed by Alabama Power. Her job includes residential marketing and sales of in-use products, such as heat pumps and water heaters. Angie is also a part of a number of local organizations, including the USGBC (United States Green Building Council) and the NAWIC (National Association of Women in Construction).
Upcoming Montgomery Local Chapter meetings are as follows: August 20, September 17, October 18, and November 15. All meetings, which start at 6pm, will be held at Panera Bread, located in The Shoppes at Eastchase, in Montgomery.
The National Association of Professional Women (NAPW) is the largest and most recognized network of female professionals. NAPW provides a forum where women can interact, exchange ideas, educate, network, and empower. NAPW Local Chapters allow members to maximize their experience through meetings, networking opportunities, and professional events.
For additional information regarding the NAPW Montgomery Local Chapter and/or NAPW, please visit http://www.napw.com.