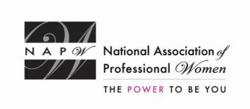 Please welcome Charles and Jason from ISG, a company that provides website design, and SEO for businesses
Garden City, NY (PRWEB) March 03, 2012
The NAPW Naples Chapter gathered for an edifying presentation by guest speakers Charles and Jason of ISG, and networking meeting on January 12th at the McCormick and Schmicks restaurant in the Mercado Plaza.
The afternoon lunch meeting started at 11:30am with introductions of the board members Margaret Jacobs, President; Kena Yokes, Vice President; and Jaci Sanabria, Secretary. Margaret Jacobs than gave a warm welcome to all who came and attended, having each guest and member introduce themselves, explain what they do, and explain what are they looking for in the New Year.
Darlene Allia and Marianne St. John Larimer, who were also in attendance, were announced as two new members who recently joined the NAPW Naples Chapter in the beginning of the meeting.
The group listened to Marianne St John Larimer, who is both a new Chapter member and involved in a charity for the fight on cancer. She made an announcement of her upcoming event called "Wine, Women, and Shoes" benefitting the Cancer Alliance of Naples that will be held on Wednesday, January 25th at the Ritz-Carlton Golf Resort, from 6pm to 9pm. Tickets will be sold for $150 and the event includes a dinner, a silent auction, and much more.
Next, on the groups agenda was the introduction of Naples Chapter's guest speakers.
"Please welcome Charles and Jason from ISG, a company that provides website design, and SEO for businesses." Margaret said .
Charles the founder of ISG went into detail of what services and functions the company provides. Charles started the presentation on how ISG was founded, how many people they currently service, and who they have helped previously using two teams, a Web Team, and an Internet Team. The speakers also touched on why businesses need to use and optimize their presence on the internet to get more business and connect with people. The speakers also touch on topics such as Web Starter Kits to build sites for SEO, new media, measure improvements, and how these services increase cash flow up to 35%, while keeping expenses down by 40%. Both Charles and Jason also explained how and why they conduct procedures that involve testing, measuring, and the formation of strategies for the improvement of each individual client's website to ensure profitable successful objectives.
The guest speakers ended their presentation with the concepts of 4 for 1 Optimization, which consists of how to get better ranking positions on the search engines, and how to purchase the ISG E-Book which allows all readers to learn how use all ISG techniques.
After the presentation, Charles and Jason answered questions from the group. The speakers announced they provided hands on workshops on how to use ISG Internet Multi-Media and Online Marketing for business owners to attend.
Next, Margaret introduced Kena Yokes, who made a few special announcements. In closing, Kena emphasized NAPW Naples Chapters support of local charities and other community events, and how the Naples Chapter can create awareness for the surrounding communities to build relationships and connections.
The group went into deep conversation on how each member's business can benefit the community, and how member businesses should be the foundation of the Chapter. Each member emphasized how this development could lead to business growth and the establishment of new networking connections made through the Chapter and charitable events.
Kena then directed everyone to the Naples Chapter website for all info and updates, and mentioned to all new members that they will get their name tags at the next meeting.
Marianne Oehser who is one of the members announced she will be offering a seminar called: "Are You Ready to Meet the Love of Your Life". The seminar fee is $20 per person for NAPW members.
Last, the Naples Chapter thanked McCormick and Schmicks for the use of the meeting room and providing the Naples Chapter with the wonderful, delicious lunch menu.
The meeting was adjourned at 1:00pm with Margaret and the board members thanking all who attended the meeting, and for the great new connections that were made with one another, as well as those who took photos at the meeting.
The National Association of Professional Women (NAPW) is the largest and most recognized network of female professionals. NAPW provides a forum where women can interact, exchange ideas, educate, network, and empower. NAPW Local Chapters allow members to maximize their experience through meetings, networking opportunities, and professional events.
For additional information regarding the NAPW Naples Local Chapter and/or NAPW please visit http://www.napw.com.
Follow NAPW on Facebook and Twitter.
###