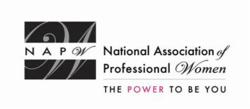 If what you're doing doesn't work, said Camden, get out of your comfort zone
Garden City, NY (PRWEB) April 05, 2012
The NAPW Naples Local Chapter met for a professional networking meeting on March 8th. The Chapter learned about branding, social media, connecting emotionally to business prospects, and burning an image into consumers' minds with Camden Smith of Dreamfly Marketing.
The meeting began as Margaret Jacobs, Chapter President introduced herself and the Board Members, Kena Yoke (Vice President) and Jaci Sanabria (Secretary). The Chapter is still looking for a new Treasurer.
The Naples Chapter welcomed members and guests with the usual meet and greet. Margaret went around the room to introduce all members and guests, and the guest speaker, Camden Smith, Dreamfly Marketing.
Camden presented a slide show that explained many aspects of a good marketing plan including how to maximize social media to better promote business and products. Camden proved to be an innovative and creative, speaker who brought out-of-the-box ideas to members. Camden reminded members not to be afraid of trying new ideas and tools.
"If what you're doing doesn't work," said Camden, "get out of your comfort zone."
Food was served during Camden's presentation. Then, Camden opened the floor for a Questions and Answers session.
Margaret mentioned an event to support another fundraiser for Jessica Stevens (http://www.HopeForJessica.blogspot.com) then turned it over to Kena Yoke (Vice President) with an update as well. The Naples Chapter will support a local charity coming up for a Cancer fundraiser.
Jaci Sanabria and Barbara Hoff were introduced and gave their testimony of the relationship they began by meeting each other through the NAPW Naples Chapter at the Chapter's Grand Opening in October 2011. They, in turn, made other connections through each other's contacts, and invited those people to the meetings as well.
"NAPW Naples Chapter is a great opportunity to share and connect," said Margaret.
Kena announced to register early for the next Chapter's meeting to be held on April 12th.
Margaret reminded the Chapter that the NAPW National Conference will be held in NY on May 18th with Star Jones, the host of the event. She mentioned putting a group together to go to the National Conference and to see her after the meeting.
The National Association of Professional Women (NAPW) is the largest and most recognized network of female professionals. NAPW provides a forum where women can interact, exchange ideas, educate, network, and empower. NAPW Local Chapters allow members to maximize their experience through meetings, networking opportunities, and professional events.
For additional information regarding the NAPW Naples Local Chapter and/or [NAPW please visit http://www.napw.com.