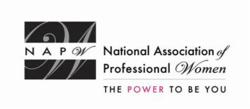 Robin shared personal stories with members, describing chaos, and facing adversity in her life and overcoming both to become a fearless leader...She inspired all by her...
Garden City, NY (PRWEB) October 23, 2012
Members and guests of the NAPW New York City, NY Local Chapter gathered on September 10th for a professional networking meeting at TheLadders, 137 Varick Street in Manhattan. The meeting's hostess was Chapter member Amanda Augustine of TheLadders. The evening's guest speaker was member and renowned marketing and branding expert Robin Fisher Roffer. The C.E.O. of Big Fish Marketing, Robin showed members and guests how to stand strong in the face of uncertainty with an inspiring presentation based on her latest book, Fearless Fish Out of Water.
NAPW New York City, NY Local Chapter President Louise Newsome kicked off the monthly networking meeting by enthusiastically welcoming the large crowd of women who attended the event. She introduced the meeting hostess, Amanda Augustine of TheLadders, and announced that Amanda would be the guest speaker at the Chapter's upcoming mentor meeting scheduled for September 24th.
"I was amazed at the fabulous turnout. It was quite a crowd," she said. "We had more than 65 attendees at the meeting. It was one of the New York City Chapter's best turnouts to date!"
A number of new members were present at the meeting so Louise took a few moments to welcome them and to check if they had received their new member welcome letters. She shared with all attendees the latest news from the The Chapter Chatter, the Chapter's online newsletter and reminded everyone that a calendar of events and meetings was published regularly in the newsletter.
"The calendar provides an overview of all the meetings and events that have been scheduled so far from now through August 2013," she said. "Of course, I still encourage members to join the meetings as this is the best way for all to interact, network, and get to know each other."
The Chapter President then introduced the evening's guest speaker Robin Fisher Roffer. Originally from Los Angeles and now located in Santa Fe, New Mexico, Robin is the C.E.O. of Big Fish Marketing. A personal and corporate branding expert, Robin is also the author of several books, including The Fearless Fish Out of Water, which was the topic for the evening.
"Robin shared personal stories with members, describing chaos, and facing adversity in her life and overcoming both to become a fearless leader," said Louise. "She inspired all by her riveting presentation that included many words of wisdom such as 'step back and surrender' and 'when you're at the end of your rope, let go.'"
As a fearless leader, Robin told the crowd, you are able to handle anything handed to you. Instead of saying "why me?" say "why NOT me!"
"Fearless leaders come from within, accepting what is, adjusting to it, and accessing your power within to get through it," she said to the audience.
Robin went on to review her Five Steps to Fearless Leadership:
1. Go fishing for the real you
2. Use differences as a lure
3. Find a few fish like you
4. Reel in your unique power.
In summary, Robin suggested each member ask themselves: (1) what is your mission? and (2) what is your vision?
"Robin expressed the importance for all to show up to be courageous, value prosperity, and serve others!" said Chapter President Louise.
The guest speaker then opened up the floor to members for their questions and comments and a lively discussion ensued. For more information about Robin's Five Steps to Fearless Leadership presentation and her other presentations and books, visit bigfishmarketing.com/NAPW.
The Chapter President made a number of additional comments during the meeting. As mentioned in the September Chapter Newsletter, during the first meeting of every month, a member who is to be featured in the following month's Member Spotlight will be chosen. This month, the Chapter President announced, Elizabeth Lazenby was selected and will appear in during the month of October.
"Congratulations Elizabeth, we look forward to getting to know you better through your Spotlight," said Louise.
Louise also asked members to join her and other Chapter members in walking for the American Cancer Society's fundraiser, Making Strides Against Breast Cancer, on Sunday Oct 21st.
Members who attended the September New York City, NY Local Chapter meeting included:
Lilian Aames; Jessica Abrams; Mercedes Alzaga; Kristine Arutyunan; Natasha Aviles; Lisa Badillo; Tatiana Bakaeva; Rebecca Barker; Debra Bedell; Marvin Berk; Sanuber Bilguvar Grohe; Alexandra Bn; Zoe Bogan; Karen Booker; Wendy Brown; Melissa Del Toro; Elizabeth Delgado; Susan De Robertis; Michelle Fernie; Robin Fisher Roffer; Cheryl Fleisher; Eliza Fritz; Leesa Grant; Alice Galaz; Ruth Gantam; Loida Garcia-Febo; Lynda Hamilton; Lynetter Hare; Tara Hodgens-Schneider; Pat Holley; Aleen Hosdaghian; Etta Jackson; Zhen Jin; Monee Johnson; Marie Joseph; Shantha Kalia; Aida Khalaf-Parker; Dana Khuthalia; Erika Ladanyi; Elizabeth Lazenby; Claire Lewis; Lashauna Mcdaniel; Michele Moukios; Louise Newsome; Louise Nicholson; Yvette Pabon; Nancy Palaia Collier; Liane Pei; Sandra Picillo; Allegra Ressa; Janice Rimier; Laura Rivchun;Janet Rodriguez; Samantha Rodrigues; Laura Ruben; Soossan Salmassi; Janine Schindler; Tasha Scott; Joy Silver; Jennifer Silverman; Christie Taylor; Mary Francis Usher; Shanna Van Ness; Erika Weber; Emma Whibley; Janet Wright; Myrna Yaw; and Leslie Young.
The National Association of Professional Women (NAPW) is the largest and most recognized network of female professionals. NAPW provides a forum where women can interact, exchange ideas, educate, network, and empower. NAPW Local Chapters allow members to maximize their experience through meetings, networking opportunities, and professional events.
For additional information regarding the NAPW New York City, NY Local Chapter and/or NAPW, please visit http://www.napw.com.
Follow NAPW on Facebook and Twitter.
###