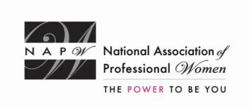 This seminar will focus on available financial resources that a business can use as a best practice model. Topics will include financial need assessment, types of funding, government private sources, and grants.
Garden City, NY (PRWEB) November 29, 2012
Members and guests of the NAPW New York City, NY Local Chapter gathered on November 20th for a professional networking meeting at TheLadders, located at 137 Varick Street. The group of professional women had the opportunity to learn how to successfully finance their businesses from an esteemed panel of experts that included members Becky Barker, Financial Advisor, MetLife and Wendy Brown, Vice President, CRPC, CFM, LLMG, Merrill Lynch and Anita Katzen, CPA, Schulman, Wolfson & Abruzzo, LLP.
Louise Newsome, New York City Local Chapter President, kicked off the monthly networking event by welcoming the nearly 30 Chapter members who were in attendance. Before introducing the panel of experts, Louise filled everyone in on the latest Chapter news. She told the group that The Chapter Chatter, the monthly, online New York City Chapter Newsletter is due out the first week of December. Louise reminded the women that during the first meeting of every month, the Chapter chooses the next month's Member Spotlight, one member who will be featured in the upcoming newsletter.
"Tanya Harrison was chosen to appear in December's Member Spotlight," announced Louise. "Congratulations Tanya; we look forward to getting to know you better through your spotlight!"
Louise next introduced the esteemed panel of experts who were there to present their seminar, 'Financing Your Business For Success.' The experts included members Becky Barker and Wendy Brown, as well as Anita Katzen.
"This seminar will focus on available financial resources that a business can use as a best practice model. Topics will include financial need assessment, types of funding, government private sources, and grants," said Louise.
A discussion on how to best finance a business soon got underway with Louise asking questions and leading the discussion with regard to what you need to do and how you may obtain financing for your business. Members and guests found the seminar to be very informative and extremely helpful.
"After the panelists each had an opportunity to impart some wisdom, the floor was opened to questions and Chapter members jumped right in," said Louise.
The Chapter President also introduced the New York City, NY Local Chapter Officers and Committee Heads who were present. Joining Louise at the meeting that evening were Laura Ruben, Chapter Secretary; Erika Ladanyi, Committee Head-Fundraising; Helene Abrams, Committee Head-Social Media; and Karen Booker, Committee Head-Event/Meeting Planning. Unfortunately the Chapter Vice President, Janine Schindler, who normally moderates the meetings, was feeling under the weather and was not able to join the group but Louise gladly stepped into that role.
Louise brought up the topic of the upcoming holiday party, which is scheduled for Monday, December 10th at Vlada's Lounge, a midtown bar, owned by New York City Chapter member, Vlada V Von Shats. She shared some inside information with the other members, telling them that joining in the festivities for the holidays will be Kelly Jo Johnson. Kelly Jo, a NASM certified Personal Trainer as well as a Singer, who will be performing for the group that evening.
"There will be a small fee for the holiday party, but the evening will include holiday raffles, food and cash bar with all proceeds going toward a foundation that raises money against bullying in schools," Louise told the crowd.
Louise wrapped up the meeting by encouraging members to join the mentor meetings, led by the New York City, NY Local Chapter Committee Heads Laura Rivchun and Aida Kahlaf-Parker. These meetings occur monthly and allow for one-on-one interaction between Laura, Aida, and Chapter members.
Members who attended the meeting included:
Helene Abrams; Kristine Arutyunyan; Becky Barker; Karen Booker; Wendy Brown; Marie Cothia; Kelly Jo Johnson; Erika Ladanyi; Rekha Krishnamurthi; Ilene Glantz; CanDice Hibbert; Janice Rimler; Ginger Trunkes; Cheryl Watson;Michele Kennedy; Christa Silva-Tomes; Jane Bell; Joana Filgeiras; Etta Jackson ; Ramona Miles; Ramona Mitchell; Louise Newsome; Laura Ruben; Nancy Collier; Vanessa Cunningham; Natasha Aviles; Shirelle Minton Sioui; Amanda Augstine; and Tanya Harrison.
The National Association of Professional Women (NAPW) is the largest and most recognized network of female professionals. NAPW provides a forum where women can interact, exchange ideas, educate, network, and empower. NAPW Local Chapters allow members to maximize their experience through meetings, networking opportunities, and professional events.
For additional information regarding the NAPW New York City Local Chapter and/or NAPW, please visit http://www.napw.com.
Follow NAPW on Facebook and Twitter.
###