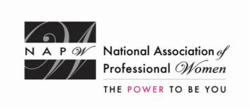 This year promises to be even bigger, with an estimated 1000 members attending from all around the country, doubling the size from previous years...
Garden City, NY (PRWEB) May 24, 2012
The NAPW New York City Local Chapter gathered on Monday, May 14th for a professional networking pre-conference cocktail event at Hurley's Saloon, located at 232 West 48th Street in New York City. The Chapter's goal was to create a relaxed setting for Chapter members to gather prior to the upcoming NAPW National Conference that was held on Friday, May 18th.
There was no set agenda for the evening. Chapter members mingled freely and introduced themselves to each other, trading tidbits about who they are, what they do, and ways to possibly work together in the future. Beverages were offered via a cash bar. No fee was collected for the evening's event.
Louise Newsome, New York City Local Chapter President, talked about the Chapter, upcoming meetings, the National conference and introduced the new Chapter newsletter called the "NYC Chapter Chatter".
Louise displayed the newsletter and the new website, where members can read any news on what's happening within the large and ever growing Chapter. She encouraged members to "like" the Chapter's Facebook page and go online and chat with other members. She asked members to also submit their biography information for a chance at being placed in the Member Spotlight section on the Chapter's website.
Louise reminded the members of the upcoming National Conference, which was held on Friday, May 18th, at The New York Sheraton & Towers, located at 811 7th Avenue, at 52nd Street, New York City. The event ran from 8:00AM until 5:00PM and will showcase speakers such as Sarah Blakely, Founder and Owner of Spanx and Randi Zuckerberg, former head of Marketing at Facebook.
"This year promises to be even bigger, with an estimated 1000 members attending from all around the country, doubling the size from previous years," said Louise.
Members in attendance for the May event included:
Louise Newsome, NYC Local Chapter President and Principal of Newway USA, LLC.
Janine Schindler, NYC Vice President Local Chapter and Principal of JAS Coaching and Training. Helene Abrams, Owner and Creative Director of Consider Yourself Branded.
Laura Ruben-Secretary, NYC Chapter; Essential Assists LLC, President & Founder.
Marie Sylvia Cothia-Chair of Event Location Committee; MSC Event Planning/Fashion Consulting Services. Norva Alleyne-Creative Outlet Dance Theatre, Director of Operations.
Jane Bell, Owner and Manager of Pet Portables. Petia Bradshaw, Principal of Petia Bradshaw and Associates. Wendy Brown, Vice President and Financial Advisor of Merrill Lynch.
Melissa Bruno, President and CEO of Cruise One Invigorate Travel, LLC. Dayneen Caldwell, Strategic Human Resources Business Partner with DDC. Candice Delevante, Licensed Associate Real Estate Broker with Prudential Douglas Elliman. Michaele Emmett, President and CEO of Odyssey Interiors Inc. Catherine and Linda Giordono, Presidents of Reliable Home Improvements of NY, Inc. Darlene Haywood, Founder and Director of DH Essence.
Etta Jackson, CEO and Founder of The Institute for Conscious Global Change, Inc and Arvesta Communications. Melissa Kalloo, Coordinating Manager of The Avondale Care Group, LLC.
Rekha Krishnamurthi, Creative Designer of Divine NY & Co. Jenet levy, Real Estate Agent with Halstead Property, LLC. Jackie Markoff, Assistant Vice President and Wealth Manager of AllianceBernstein. Aida Parker, Sales Agent with Prudential Douglas Elliman. Allegra Ressa, Vice President of TD Asset Management USA, Inc. Janet Rodriguez, Future Sales Director of Mary Kay Cosmetics. Monice Rossi, Founder and Proprietor of MRossi Enterprises; International Wines Consultants. Pia Silva, Owner and Accounts Manager of Worstofalldesign.com. Christie Taylor, Illustrator, Script Writer and Web Content Creator of Cee Taylor Create Productions. Cheryl Watson, Travel Manager and Consultant of Tzell Travel Group.
Valerie Young, Director of Media Sales for Madison Square Garden.
The National Association of Professional Women (NAPW) is the largest and most recognized network of female professionals. NAPW provides a forum where women can interact, exchange ideas, educate, network, and empower. NAPW Local Chapters allow members to maximize their experience through meetings, networking opportunities, and professional events.
For additional information regarding the NAPW New York City Local Chapter and/or NAPW please visit http://www.napw.com.