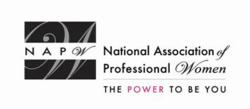 Write it, Own it, Work it. WOW... Work the stage, anchor your presentation, take the audience back... and don't forget to connect with your audience!
Garden City, NY (PRWEB) July 05, 2012
NAPW New York City Local Chapter invited Kathy Poehnert, Owner of Ellevolution, a unique coaching and training company dedicated to helping women (and men!) maximize the power of their feminine energy, to present her guide to creating "WOW" to its chapter members on Tuesday, June 26th, from 6:30-8:30 PM. The Chapter met at Il Punto Ristorante, located at 507 9th Avenue, NYC.
Members began gathering at around 6:30 for an informal meet-and-greet with fellow chapter members. Members were asked to sign in and begin mingling and enjoyed refreshments and a cash bar at the start of the meeting.
Louise Newsome, President of the NYC Chapter, opened the meeting at 7pm and announced that this was one of the largest gatherings and more chairs were required as members were standing three rows deep while others were seated around tables of 8. There was a great turnout of first time members. The Chapter is literally growing by the minute and is now at around 640 members. Louise reminded members of the chapter's newsletter and where each can go to start chatting with each other and check out the Member Spotlight each month. She asked that each member go online and start chatting about the event and to make sure they "like" the NYC Chapter Facebook page.
Louise and Laura Ruben, NYC Chapter Secretary, introduced their email distribution project so announcements and updates can be sent via members' work emails as well as through the NAPW site. The first blast had already been sent with a very successful open rate. Louise provided a recap of the NAPW National Conference that occurred on Friday, May 18th.
"It was a huge success with keynote speaker Sara Blakely, two panels of speakers, Kathleen Rice, Judy Smith, and hosted by Star Jones," Louise said. "I encourage you all to go to the NAPW site to see the videos on the speakers."
Louise then presented the schedule of upcoming meetings, which included Tuesday, July 17th featuring the movie screening of Celeste and Jesse Forever, a film that is a clever and honest mix of two cinematic adjectives that get tossed around a lot.
"It has been called both hilarious and heartbreaking - and the tagline sums it up pretty neatly," said Louise. The event will be held at the Disney Screening Room.
On Wednesday, July 25th, Laura Rivchun and Aida Khalaf-Parker, Co-Chairs of the Mentoring Committee, will be organizing the Mentor Group Launch within the Chapter, which will be a discussion and brainstorming session regarding expectations for the mentor program.
Louise Nicholson will be hosting a fundraising event on her terrace in NYC for Save a Child on Tuesday, August 7th.
Louise thanked the committee chairs for all their hard work and dedication to the Chapter. She is currently working with Karen Booker, Chairperson for the Event Committee, on creating the calendar of events for the next year, Sept 2012 through Aug 2013, so that members can lock in dates for Chapter meetings and events. The team is lining up guest speakers and looking into creating panels with speakers from the Chapter.
Louise then introduced Janine Schindler, VP NYC Chapter. Janine welcomed the group and introduced the guest speaker of the evening Kathy Poehnert.
The purpose of Kathy's "WOW" presentation was to provide a "quick & dirty" overview of key elements of "WOW" in one hour. With the assistance of Janine, her very own Vanna White, Kathy provided the 3 key points she was to cover: 1. Write it; 2. Own it; 3. Work it.
Kathy immediately engaged her audience by asking the Chapter what kinds of presentations they give and concluded that most are for marketing purposes. She then asked who was scared to stand up and give a presentation. Most members raised their hands, some with trepidation, some with a resounding wave! Kathy works with people to overcome these fears. She reviewed the three mistakes presenters often make: 1. Putting content above audience connection; 2. "TMI" - too much information; and 3. Death by PowerPoint.
She reviewed each mistake and stated that content is important but connection is more important, as they are buying you and you need to connect to your audience before they can buy into what you are saying. Kathy pointed out that it is very important for the presenter to show that she is human, it connects them to the audience.The story is very important as well. Members joined the discussion at this point.
Kathy used two acronyms to hone in her point on 'connecting' - KISS - Keep It Simple, Speaker and 'less is more'. The most memorable presentations are the simple ones.
Lastly, she said that PowerPoint can be an effective tool only if used properly. She shared a joke about the "PowerPoint Tragedy" when three top executives were felled by too many 'bullets'. But, there are remedies: know your stuff, know who your stuffing (get a good read on your audience), and know when they're stuffed.
Kathy then went over the steps involved in writing "Wow" presentations. She suggested knowing where to start by putting together an outline that reads as:
I. Title - Usually on the printed material or presentation announcement - always have a one to give people direction, give them a focus or a reason why they are there for the presentation, what brings them in. Ask yourself the following: What is the response you want people to have to the title? What catches the people?
II. Opener - first thing you say to grab the audience - Kathy used something from a Seinfeld episode she felt was appropriate. The opener is done prior to even introducing yourself as the speaker, it breaks the ice and engages the group. Use an anecdote, story or scenarios - paints a scene for the audience.
III. Intro - Should not be too long nor boring. The audience is looking for credibility - keep it personal - share something of yourself with your audience and make sure it reflects the topic you are discussing.
IV. Objectives - Keep it to ONE SOLID OBJECTIVE! This one is a quick & dirty key element - it keeps the speaker focused. Ask yourself, what is the objective for yourself and what is the objective for your audience? Provide some background information including anything you want your audience to know before you begin.
V. Three Key Points - DO NOT HAVE MORE THAN THREE! There can be less than three, but focus on the three that reach your objective.
VI. Summary - provide a general overview. Make it the last thing you want them to remember when they leave the room.
Kathy then reviewed how to use PowerPoint slides. PowerPoint etiquette calls for no more than 6 - 8 words on each slide, and good use of images. Images connect the audience to your presentation. Pick out the most important words and substitute with images if possible. She offered up resources for the members to use, Presentation Zen by Garr Reynolds and TED Talks, online videos about 7 - 10 minutes (http://www.ted.com/talks).
Kathy did a recap and said, "Write it, Own it, Work it. WOW. And remember, practice, practice, practice. Work the stage, anchor your presentation, take the audience back, personalize it for them by using a sound or a scent and don't forget to connect with your audience! But always remember, have fun!!"
Louise then closed the meeting by thanking all for coming out and invited everyone to continue to meet and greet.
Members who RSVP to attend the event:
Aida Khalaf-Parker; Aleen C. Hosdaghian; Amanda Augustine; Amanda Megan; Amienata Bah; Andrea Lelieth; Andrew Lawrence; Arlene Donar; Catherine Arnow; Celestina Akbar; Cheryl Louise Fleisher; Chriselle Snyder; Chrissy Rosa; Christina Rosa; Constance Savage; Cori Ann Kaplowitz; Courtney Clayton; Cynthia G. Peacock; Daisy Dee; Daisy Figeroa; Debbie Ostrow Silverstein; Debbie Silverstein; Debra Bedell; Erika Ladanyi; Etta D. Jackson; Gwen Alcenat; Helene Abrams; Iram Kirmani Ganju; Jane Bell; Janet Krupit; Janet Rodriguez; Janine Schindler; Jillian Rowen; Karen Booker; Kelly Jo Johnson; Keri-Ann L-B; Kristine Arutyunyan; Laura Rivchun; Laura Ruben; Leslie Young; Lisa Ann Badillo; Lisa Badillo; Lisa Ebba Laskaridis; Louise Newsome; Lyn Feldman; Lynda Hamilton; Lynette Hare; Lynn Haviland; Marie S. Cothia; Marina Rosenkrantz; Matina Karagiannis; Mayra Troccoli; Monica Rossi; Myrna Yaw; Nancy Bruning; Nancy Palaia Collier; Nanette Marie Soto; Paulette Romero; Petia A. Bradshaw; Regina Snyder; Rekha Krishnamurth; Remi Alapo; Rosa Núñez; Roseanne Felicello; Rosemary Manuele Serra; Samantha Goettlich; Sandra Picillo; Sandra Stollar; Shantha Kalia; Sheri Karvelas; Soossan Salmassi; Stacy Crowe; Stacy Scibetta; Stephanie L. Howitt; Susan De Robers; Tatiana Bakaeva; Timico Dixon; Tonia Gaudiuso; Tramaine Massey; Tyisha Wallace; Valerie Young; Vanessa Bruce; Vanisha Balani; Vava Buitenkant; Veronica Pellot; Victoria Fina; Wendy Brown; and Zoe Bogan.
Members who attended the event included:
Louise Newsome- President, NYC Chapter; Newway USA, LLC, Principal
Janine Schindler-VP, NYC Chapter; JAS Coaching and Training, Inc.
Helene Abrams-Owner/Creative Director, Consider Yourself Branded
Laura Rivchun - Chrysalis Career Coaching
Laura Ruben-Secretary, NYC Chapter; Essential Assists LLC, President & Founder
Amanda Augustine - Manager, Live Events, The Ladders
Lisa Badillo - Spanish Labor Svc Rep - NYC Dept of Labor
Amienata Bah - Owner, BA Cleaning Services etc...
Vanisha Balani - Strategy Leaders
Debra Bedell - Business Builder
Courtney Clayton - Project Manager, Nickelodeon Creative Advertising
Stacy Crowe - FLO New York Events
Susan De Robers - Divorce Coach, Venus in Transit
Roseanne Felicello - Attorney, Felicello Law
Lynda Hamilton - Non-profit Management Professional
Kelly Jo Johnson - NASM Certified Personal Trainer, Get KJ Fit
Matina Karagiannis - President, Epoch Electrical, Inc.
Sheri Karvelas - Acct Manager, The Paige Company Containers Inc.
Aida Khalaf-Parker - Prudential Douglas Elliman
Rekha Krishnamurthi- Divine NY & Co., Creative Designer
Andrew Lawrence - Mazii Learning Center
Sandra Picillo - RN, Preferred Home Care of NY
Janet Rodriguez- Mary Kay Cosmetics, Future Sales Director
Paulette Romero - VA/Admin Consultant, Rhythm Virtual Solutions
Chrissy Rosa - YMO Acct Manager, KForce
Constance Savage - Manager, Citrin Cooperman
Sandra Stollar - President/Design Director, Igloo Island
Daisy Figeroa
Janet Krupit - Substance Abuse Counselor, Beth Israel Medical Center
Lynette Hare - Business Operations Manager, Pacific DataVision
Shantha Kalia - Patient Care Analyst, Montefiore Medical Center
Debbie Silverstein - Early Intervention Teacher
Vava Buitenkant - Creative Director, Buitenkant Advertising & Design
Tatiana Bakaeva - Sr Analyst, Verizon Enterprise Solutions
Soossan Salmassi - Wardrobe Stylist Specialist, ReformYourCloset
Nanette Marie Soto
Stacy Scibetta - Kaizen Holistic Health
Wendy Brown- Merrill Lynch, VP, Financial Advisor
Marina Rosenkrantz - Chief Compliance Officer, Castle Keep Investment Advisors
Valerie Young- Madison Square Garden, Director of Media Sales
The National Association of Professional Women (NAPW) is the largest and most recognized network of female professionals. NAPW provides a forum where women can interact, exchange ideas, educate, network, and empower. NAPW Local Chapters allow members to maximize their experience through meetings, networking opportunities, and professional events.
For additional information regarding the NAPW Sacramento Local Chapter and/or NAPW, please visit http://www.napw.com.
Follow NAPW on Facebook and Twitter.
###