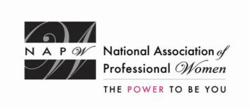 We had a great discussion as to what we as a group could contribute to serve our community...for example, what community projects/promotions we would like to be involved in...
Garden City, NY (PRWEB) September 25, 2012
The NAPW Ocala, FL Local Chapter held its first professional networking luncheon on June 26th at Mimi's Café, 4414 SW College Road in Ocala and gathered again at the same venue on July 24th. During the monthly meetings, members and guests had the opportunity to network, get to know one another, and set plans in motion for the Chapter's future philanthropy projects.
Chapter President Lisa Wyatt kicked off the first meeting with a warm welcome to attendees Barbara Brooks, Frances Garcia, and Denise Smith. After distributing NAPW materials to the women, she invited each one to tell the others about themselves and what they did.
"Everyone was happy to get to know each other, as networking is our main reason for gathering," said Lisa.
Barbara Brooks is the President and Founder of R.A.M.A.L (Reach, Aim, Motivate, and Lead), an educational and social services agency that helps those in need. Barbara has an extensive background and is highly educated in this field. She told the group she needs help with fundraising ideas to support this much needed service she is so very passionate about. Barbara handed out brochures and business cards to all present so they could help her in her mission to offer services to those in need.
"I am looking forward to working with Barbara to help her fundraise. You could feel her passion and knowledge as she spoke about what she loves to do!" said the President.
Frances Garcia is the Owner of Superior Upholstery & Design, Inc., which specializes in upholstery, window treatments, wood finishing, and custom headboards. Frances has worked on various projects, big and small, such as hospitals and Disney. Certainly, a woman we all need from time to time! Frances works with her husband and has a very busy family life with her children who are still at home.
"Frances was happy to be with us women for a nice lunch and we were happy to meet her!" said Lisa.
Denise Smith is the President of Five Points Title Services Co, Inc., and comes to the Chapter with over 11 years of experience, specializing in residential land and home closings. Prior to entering the title industry, Denise spent 20 years as a Litigation Paralegal.
"I encouraged Denise to reach out to the Realtors in our NAPW Chapter," said Lisa. "She is very energetic!"
Lisa concluded the first meeting by encouraging everyone to check out the NAPW website for updates about the Chapter and NAPW news. She promised to communicate via both the website and members' emails.
At the July meeting, members and guests once again had the opportunity to meet one another and network. In addition, the group talked about how the Chapter could make an impact in their community.
"We had a great discussion as to what we as a group could contribute to serve our community," said Chapter President Lisa Wyatt. "For example, what community projects/promotions we would like to be involved in, and what could serve as our 'Chapter Philanthropy.'"
Members and guests came up with a number of suggestions of causes and organizations they would like to help, including domestic violence, Alzheimer's, Women for Women (would include women health and financial wellness), Lupus, and March of Dimes.
"The feeling shared was that we would be interested in doing activities, either solely or in partnership with other organizations, that would promote the presence of our NAPW Ocala, FL Chapter, women in the workplace, and activities where we could bring our children to help out, as well, if needed," said Lisa.
"Our meeting adjourned at 1:30pm and the next NAPW Ocala, FL Chapter meeting is August 28th at noon at the same place, Mimi's Café," said Lisa. "We are all eager to meet more of our members at our next meeting!"
In attendance at the July meeting were Barbara Brooks, Frances Garcia, Marisol Medina, and Chapter President Lisa Wyatt.
The National Association of Professional Women (NAPW) is the largest and most recognized network of female professionals. NAPW provides a forum where women can interact, exchange ideas, educate, network, and empower. NAPW Local Chapters allow members to maximize their experience through meetings, networking opportunities, and professional events.
For additional information regarding the NAPW Ocala, FL Local Chapter and/or NAPW, please visit http://www.napw.com.
Follow NAPW on Facebook and Twitter.
###