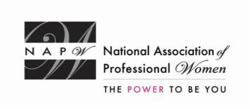 I have high expectations for this Chapter and I encourage all members to participate as much as possible for the purpose of developing the Chapter into what members want and expect out of a professional organization
Garden City, NY (PRWEB) May 22, 2012
The NAPW Philadelphia Local Chapter gathered on May 2nd for a professional networking luncheon at the Noche Restaurant. The Chapter gathered for a successful re-launch and discussed goals and charitable organizations to work with in order to grow and give back to the community.
Naketa Thigpen, Philadelphia Local Chapter President, kicked off the meeting at 5:30pm by welcoming everyone in attendance to the re-launch of the NAPW Philadelphia Local Chapter.
"I have high expectations for this Chapter and I encourage all members to participate as much as possible for the purpose of developing the Chapter into what members want and expect out of a professional organization," said Naketa.
She then asked the group to introduce themselves, their businesses, and their expectations for the Chapter.
First to introduce herself was Naketa who is the President of Thigpen's Professionals, LLC, which provides professional development services in the form of coaching, consulting, and training to transitioning professional women who struggle with organization, time management and motivation.
Elizabeth China is the Owner and Director of Aisha China Art and Creations. She is also a Board Certified Independent Special Education Advocate and the former President of the NAPW Philadelphia Local Chapter. Elizabeth's company specializes in graphic designs, illustrations, logos, cards, and a variation of creative artist expression pieces. For more on how one can partner or purchase exceptional art visit her website at aishachinagraphicdesigns.com or by phone at 267-738-6531.
Tyesha Love is an Organizational Consultant, Motivational Speaker, Mentor, and Leader. Tyesha's expertise rests in helping others improve interpersonal relationships, strengthening communication, and educating them on the importance of communication and strategic thinking. She can be seen as an organizational guru. For more about Tyesha, visit her website at tyeshalove.com.
Kimberlee Molineau is an Audit Specialist at Asher & Company in Philadelphia and a Photographer. She is budding entrepreneur and passionate individual. Her background is in accounting and legal studies. Kimberlee can be reached via email at kmolineaux(at)asherco(dot)com.
Monique Eversley is the Owner and Event Coordinator of YHD Events, which specializes in event planning and gift basket designs. She holds a master's in business management. The groups encouraged Monique to take the position of Vice President of Events. For more on her exquisite style, visit her website at yhdevents.com.
Shannon McClure is a Partner at Reed Smith's Commercial Litigation Group. Her expertise is in complex litigation matters, state, federal trial, and appellate courts. Shannon has already proven to be an asset to the Philadelphia Chapter. Her work website can be visited at reedsmith.com/shannon_mcclure.
Yolonda Ward is the Owner and Manager of CASY's Gift Shoppe located in Lansdowne, PA. She is a dynamic woman and is currently working on her master's in international business after having worked in business leadership for over a decade. Her business sells exquisite jewelry, handmade soaps, and unique bath and body products. Her website is casysgiftshoppe.com or she can be contacted by phone at 215-620-6373.
Nekata discussed her "Support Works" concept, which is aimed to stimulate building connections amongst members who want to network professionally and grow personally. The chapter is unique in that it offers a rich diversity in skill set and culture.
"We must capitalize on this and help each other grow. 'Support Works' is the time designated during the meeting, in the beginning and the end, to help encourage relationships, work the room, and do more than throw cards around the table," said Naketa. "Building connections is not only encouraged, it's our duty."
The Chapter discussed the open board and committee positions, and noted that job descriptions and duties will be formed and submitted to the group within one week. Naketa relayed that positions are still available such as Vice President, Secretary, Treasurer, Historian, Vice President of Events, Vice President of Social Media, Events Committee Member, Events Committee Photographer, and SMG Committee Member.
The election board and committee election date is scheduled for June 6th, which is also the Chapter's next meeting.
Members discussed the challenge of finding meeting and event space in Philadelphia due to the budget restrictions and expense of hosting in a major city. Members agreed that it would be a good idea to have the members who agree to volunteer to use a conference room or meeting space in their business or facility for the once per month meetings. Shannon McClure agreed to investigate the option of hosting a meeting a few times per year at her law firm. The goal would be to have at least 4 to 6 members agree to host a meeting 2 to 3 times per year so that all that is left to manage is appetizers and beverages. Naketa relayed that member hosting is a great way to highlight your business to new and visiting members. The Chapter still needs at least 3 to 5 more volunteer hosts.
Next, the Chapter discussed their Mission Statement. Members agreed that everyone will email their concept for the Chapter Mission Statement within one week, alongside any board and committee member positions for which they'd like to volunteer.
Some suggestions were discussed for re-energizing the members that may not have participated for a long duration. Members came up with the idea to carpool for those who live in the greater suburban Philadelphia and Southern New Jersey areas. They also suggested parking locations on the outskirts of the city where frequent public transportation that comes into the city may run (such as the 42 bus that runs down spruce and chestnut street); conducting a survey of needs/wants from the group; continuing to offer alternate ways of communications.
Members agreed that they should have a designated organization for their Chapter's charity where proceeds from public events will be directed.
Naketa relayed that the Chapter cannot charge a standing meeting fee, but if they agree to select a speaker or host an event in a restaurant that the members would need to agree to divide and provide the fee for such events and NAPW does not require fees for monthly meetings.
She also introduced Kimberlee Molineux, Monique Eversley, and Tyesha Love who were selected to represent the Chapter at the National NAPW Conference May 18th and bring back a report of professional fuel and fun. They have also volunteered to be the Philadelphia Chapter Ambassadors.
Members were proactive and able to schedule ten future Chapter meetings in order for members to schedule the dates into their calendars in advanced. Upcoming meetings are planned to be held on June 6, 2012; July 11th; August 1, 2012; September 12, 2012; October 3, 2012; November 7, 2012; December 5, 2012; January 9, 2013; February 6, 2013, and March 6, 2013.
The group took some time to network and eat, while enjoying some one-on-one time with each other and learning more about one another's personal and professional background. Naketa asked members to send her an email with their recommendations for what to include in the Mission Statement for the Chapter. She told the group that if they would like to be nominated for a specific committee or board position you need to send her an email with a short reason on why they think they would be best at filling that role.
Members will be ready to sign up for the meeting Round Robin for hosting one or more of our chapter meetings. Shannon McClure will check on meeting space for the June 6th meeting and will follow up with Naketa.
Any Philadelphia Chapter member who prefers to be contacted about chapter events through an alternative email should email this preferred method to Naketa Thigpen at nthigpen(at)thigpro(dot)com.
The National Association of Professional Women (NAPW) is the largest and most recognized network of female professionals. NAPW provides a forum where women can interact, exchange ideas, educate, network, and empower. NAPW Local Chapters allow members to maximize their experience through meetings, networking opportunities, and professional events.
For additional information regarding the NAPW Los Angeles County Local Chapter and/or NAPW please visit http://www.napw.com.
Follow NAPW on Facebook and Twitter.
###