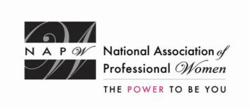 It was an exciting moment of conversation and very little debate. In fact, it was one of the easiest voting sessions in the history of the Philadelphia Local Chapter to date.
Garden City, NY (PRWEB) September 06, 2012
Members and guests of Philadelphia Local Chapter gathered on August 1st for a professional networking meeting. Chapter President Naketa R.Thigpen warmly welcomed the members and guests to what was the second official post-launch meeting this summer. New Chapter Board Members were elected and a revised Mission Statement was selected by members during the networking event.
Naketa opened the meeting by reviewing the new Mission Statements that were previously submitted by members. Then, the group took a vote and the winning statement was selected. It was submitted by member Lawana Scales and is a revised statement of what the group put together at the July Chapter meeting.
The Chapter President read aloud the new Mission Statement: "The NAPW Philadelphia Chapter provides a forum for members located in the Philadelphia area to connect with and focus on supportive networking, mentoring, professional team building, and collaboration."
As at every Chapter meeting, individual introductions of all of the women in attendance were conducted and networking was encouraged. A round of 'SupportWorks!', where members and guests are able to meet, greet, and build with one another professionally and personally, then ensued. At its conclusion, Board Member selections began. Members were very enthusiastic about the process and many members were so enthusiastic that they insisted on being a part of several committees.
"It was an exciting moment of conversation and very little debate. In fact, it was one of the easiest voting sessions in the history of the Philadelphia Local Chapter to date!" said Naketa.
The newly selected Philadelphia Chapter Board Members are as follows:
Deb Yogel, Vice President, primarily responsible for being a supportive leader and assist with planning; Amber Minotti, Secretary, primarily responsible for recording minutes and submitting to President for review before posting; Freda K. Magee, Treasurer -primarily responsible for collecting funds raised for speakers and charity to be maintained in NAPW agreed location; Barbara Ann Fields, Historian, primarily responsible for recording events, speakers , and exciting happenings of the Philadelphia Chapter; Lucretia Coleman, Historian Aide, assistant to the Historian with all visual-arts information and will team with members of the Events Committee for applicable projects; Kenyetta Overton, VP of Events, primarily responsible for coordinating locations for meetings and co-joint and single-run events; Christina Alcorn, Events Committee Member, assistant to the VP of Events to aid with planning and coordination of all of the excitement that will pour out of the Philadelphia Chapter. Lucretia Coleman, Events Committee Member; DeAnne Lonnquist, SMG Committee Coordinator (Social Media Guru), primarily responsible for updating and maintaining social media platforms for the Chapter; Amber Minotti, SMG Committee Member -assistant to the SMG Coordinator who will provide backup technical assistance and ample feedback and suggestions to guide the growth of the Chapter's online presence; Kenyetta Overton, SMG Committee Member.
Delaware Chapter President and newly elected Philadelphia SMG Coordinator DeAnne Lonnquist took a few minutes to update the group on her upcoming summer Meet & Greet scheduled right before her end of September launch.
"The Philadelphia Chapter is excited to partner with the Delaware County Chapter for topical discussions, events, charity fundraisers, and more," said Naketa.
At the conclusion of the August networking meeting, the Philadelphia Chapter President extended a warm thank you to all who attempted to attend the meeting but whose life circumstances and conflicting schedules prevented them from partaking in this exciting communal experience.
"We hope to see all who can join us at the next meeting!" said Naketa.
The Philadelphia Chapter's upcoming September meeting, which is scheduled for September 12th at the Wanamaker Building, 100 s. Penn Square,- Juniper Street Entrance (2nd Floor Security desk), will focus on developing its strategic plan for the fall and winter, starting with the Idea Funnel.
The following members and guests were present at the August Chapter meeting:
Deb Yogel, Chapter Vice President, is the Director of IT Quality Program at the Children's Hospital of Philadelphia. Deb expertise include process improvement, and operations service management. Contact her at yogel(at)email(dot)chop(dot)edu
Barbara Ann Fields, Chapter Historian, is the Director of Religious Education at St. Therese of the Child Jesus Church and provides parent education. Contact her at barbaraannfields(at)verizon(dot)net.
Katrina Brittingham is a Senior Claims Analyst for the School District of Philadelphia. Contact her at kbrittingham(at)philasd(dot)org.
DeAnne Lonnquist, Delaware County Chapter President of NAPW and newly elected SMG Coordinator is a Recovery Counselor at CATCH, Inc. DeAnne's background as an Art Therapist and Mural Specialist have served her well. Visit her website at muralsandmirrors.com/muralsandmirrors/ or contact her at detig2(at)yahoo(dot)com.
Annie Jones is the CEO of the BPBA Launching Pad. Annie provides Business Consultation services and is an expert in Project Management. Visit her website at bigprojectbusinessalliance.com or contact her at ajones(at)thelaunchingpad(dot)com
Amber Minotti, Chapter Secretary and SMG Committee Member, is a Financial Advisor at ING Financial Partners and has a background in marketing. Contact her at amber.minotti(at)temple(dot)edu.
Nancy Faber is a Nuclear Medicine Technologist with vast experience in radiology. If you are interested in connecting with Nancy to find out more about how her unique skills could benefit your company, contact her at nfaber1234(at)yahoo(dot)com.
Freda K. Magee, Chapter Treasurer, is an Independent Business Owner of Ignite Energy. Freda specializes in consulting, training and business administration. Visit her website at shine4u.igniteinc.biz or contact her at fkmagee(at)aol(dot)com.
Kenyetta Overton, Chapter VP of Events and SMG Committee Member, is also the Founder/Executive Director for The Murals of the Mind (MOM) Project with a principal focus on creative writing, mentoring, and project facilitation for youth and young adults. Mrs. Overton also owns and operates Overton Professional Services (OPS) which houses her document creation enterprise, including fully customizable résumés, curriculum vitas, personal and professional statements, cover letters, and biographies. OPS also offers interview prep, which includes role play, interview questions, and wardrobe assessment consultation. Contact her at contactmom(at)muralsofthemind(dot)com.
Lawana Scales is the CEP and Owner of Scales Signature Productions and Entertainment. Lawana has an in-depth background in the entertainment industry from the producer side and the musician side as a recognized songstress, event organizer, and television producer. Visit her website at scalessignatureproductions.com/ or contact her at scalessignatureproductions(at)comcast(dot)net.
Christina Alcorn, Chapter Events Committee Member, is a Director with Alvarez & Marsal in Philadelphia and is extremely focused on strategic sourcing, supply planning, demand planning, inventory management, and sales and operations planning. Her industry experience includes CPG, high-tech, industrial and defense. She has deep expertise in areas such as commercialization processes, contract manufacturing management, designing multi-level S&OP processes, and end-to-end supply planning and management. Contact her at calcorn(at)comcast(dot)net.
Lucretia Coleman is the Chapter Historian Aide and Events Committee Member in addition to her life as a self-taught Artist, magna cum laude graduate from Gwynedd Mercy College of Organizational Management; she is the President of Jameri Artistry and offers hand-painted distinctive works of art and interactive workshops. Contact her at Info(at)JameriArtistry(dot)com.
Naketa R. Thigpen is the Philadelphia Chapter President of NAPW and President and co-owner of Thigpen's Professionals, LLC- providing personal and professional development services through employee and executive focused in-service training, interactive workshops for trainers, empowerment seminars, and coaching services for entrepreneurs. Visit her website at thigpro.com , LIKE her at faceboook.com/thigpensprofessionalsor and follow at Twitter.com/Thigpro.
Kisha Hawthorne, a Philadelphia Chapter guest, is Director IT Business and Training at the Children's Hospital of Philadelphia and can be reached at hawthornek(at)email(dot)chop(dot)edu.
The National Association of Professional Women (NAPW) is the largest and most recognized network of female professionals. NAPW provides a forum where women can interact, exchange ideas, educate, network, and empower. NAPW Local Chapters allow members to maximize their experience through meetings, networking opportunities, and professional events.
For additional information regarding the NAPW Philadelphia Local Chapter and/or NAPW, please visit http://www.napw.com.
Follow NAPW on Facebook and Twitter.
###