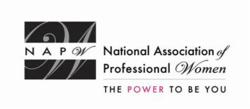 My vision is to have ongoing stimulating topics to really get to know our women, which will lead into bigger workshops to the point where we can invite the public...we also want to find ways to support small things or larger charities.
Garden City, NY (PRWEB) October 02, 2012
The NAPW Philadelphia, PA Local Chapter members and guests were introduced to the newly established Board on September 12th at a professional networking meeting held at the Wanamaker Building, 100 s. Penn Square. Chapter President Naketa R. Thigpen also led the group in a discussion about plans for future Chapter events, charities, and workshops.
Naketa kicked off the meeting by introducing herself to all of the attendees. The Philadelphia, PA Chapter now has over 255 members and Naketa expressed to the audience that she leads best by following. She works hard to ensure the meetings are geared to the entire group.
"I want us all to bounce things off our team. We run the group collectively," she said. "Let me know what you need from me and the group, professionally and personally, and please verbalize those wants and needs so that we can address them and help you out."
The President spoke briefly about the Chapter's Mission, SupportWorks, which focuses on the integration of relationship building and networking.
"Our Mission is to provide a forum to help build our businesses while building personal relationships," said Naketa.
Accompanied by a drumroll, Naketa next introduced the newest Board Members of the NAPW Philadelphia, PA Local Chapter:
Deb Yogel, Vice President-happy to fulfill her duties and provide meeting space at CHOP through December; Amber Minotti- Secretary and SMG Committee Member-records meeting minutes; DeAnne Longquist- DelCo President and SMG Chair; Freda K Magee-Treasurer- handles funds that are raised by the Chapter. She will receive direction from Cindy Burns at NAPW National Headquarters on such matters as accounting and safekeeping;
Barbara Ann Fields-Historian-will record information regarding speakers and events to ensure information is included in Chapter minutes; Lucretia Coleman-Historian Aide and Events Committee Member; Kenyetta Overton-Vice President of Events; and Christina Alcorn-Events Committee Member.
Naketa reminded everyone to offer a place to host meetings such as a work office, if possible. Riki Redente Strosser said she has a space on 15th St. that may be available for meetings and another member has a space in Conshohocken. Naketa explained to members and guests how minutes are summarized into 400 words and posted on a NAPW Press Release. Name and contact information are also on the national press release.
"I recommend that everyone 'Google Alert' your name, full company name, or DBA to monitor public statements, testimonials, and opinions in order to protect yourselves from issues that may come up online to keep your name clean," said Naketa.
During the September networking meeting, members and guests had ample opportunity to introduce themselves and speak about their businesses and interests. After introductions, the women discussed future plans for the Chapter. One idea that was talked about is to hold a professional expo/fundraiser where Chapter members would have tables for their businesses and perhaps a cocktail hour at the end of the event.
"The main objective would be to raise money for charity while helping to stimulate business growth for members," said Naketa. "We could add a creative flush to it, as well, so that NAPW Expo style stands out."
A discussion next ensued about how best to plan stimulating meetings that will appeal to and encourage even more of the Philadelphia, PA Chapter's 255 members to attend. The group came up with the Strategic Plan Funnel where the Chapter would plan quarterly for events, charities, and workshops. If there is a speaker fee for workshops, the group will agree on that beforehand. There will never be a charge for ongoing meetings. Having members speak about their business or expertise at various workshops at upcoming meetings is a good option.
"My vision is to have ongoing stimulating topics to really get to know our women, which will lead into bigger workshops to the point where we can invite the public," she said. "We also want to find ways to support small things or larger charities."
Additionally, the Chapter Events Committee will be coming up with a holiday theme for an upcoming meeting. It was also decided that at the next Chapter meeting, which is scheduled for
October 3rd, photographer Destine Simpson will be present to take professional headshots. The charge is $75 an hour and then extra for prints. Those who are interested should bring $5 to $10 to the meeting to cover the profile shoot cost and any additional prints.
The Chapter President announced to members and guests that the upcoming launch of the Delaware County, PA Chapter will be held on September 20th. She also told members to be sure to check out the NAPW site for member discounts and to follow the Philadelphia, PA Chapter on Facebook and Twitter.
She then mentioned a number of upcoming events that members and guests may be interested in attending:
NAPW members were invited to the Sa Va Harvest Moon Fashion Show, September 19th , from 6:00pm to 8:00pm, 1700 block of Sansom Street in Center City, with music and raffles, goodie bags, and invitations to after-party event. Tickets are $25. Website for tickets: savafashion.ticketleap.com/savaharvestmoon/ Code: PRTNR25
1Extraordinary is offering a career workshop on resume and interview tips on September 22nd, 10:00am to 12:00pm at the Holiday Inn in Fort Washington. 1Extraordinary is a female-owned professional development company focused on career and personal development. More information can be found at 1extraordinary.com
Thigpen's Professionals, LLC is hosting their semi-annual Professional Boot Camp for entrepreneurs who value coaching that will aide them with strategizing and executing their new business or product ideas. The 12-week boot camp begins Friday, September 14th. The company will stop taking participants on September 27th.
Members and guests in attendance were:
Deb Yogel, Chapter Vice President, Director of IT Quality Program at the Children's Hospital of Philadelphia. Deb specializes in process improvement and operations service management. Contact her at yogel(at)email.chop.edu.
Riki Redente Strosser, Attorney at Brook Rosenberg Brown and Sander. Riki's specialties include litigation, trial advocacy, and education. Visit her website at brookmanrosenberg.com/ or contact her at rredente(at)brbs.com.
Amber Minotti, Chapter Secretary and SMG Committee Member, Financial Advisor at ING Financial Partners. Amber has a background in marketing. Contact her at amber.minotti@temple.edu.
Nancy Faber, Nuclear Medicine Technologist with vast experience in radiology. If you are interested in connecting with Nancy to find out more about how her unique skills could benefit your company, contact her at nfaber1234(at)yahoo.com.
Freda K. Magee, Chapter Treasurer, Independent Business Owner of Ignite Energy. Freda specializes in consulting, training, and business administration. Visit her website at shine4u.igniteinc.biz or contact her at fkmagee(at)aol.com.
Naketa R. Thigpen, NAPW Philadelphia, PA Local Chapter President and President and Co-owner of Thigpen's Professionals, LLC, which provides personal and professional development services through employee- and executive-focused in-service training, interactive workshops for trainers, empowerment seminars, and coaching services for entrepreneurs. Visit her website at thigpro.com; follow Naketa on faceboook.com/thigpensprofessionals [Facebook] or Twitter.com/Thigpro [Twitter].
Monique Eversley, Owner of YHD Enterprises Event Planning and Gift B asket Designs. Monique specializes in business management and also works for the American Association of Cancer Research. Visit her website at yhdevents.com or contact her at Monique(at)yhdevents.com.
Rocquel Neale, Independent Contractor/Community Habilitation Specialist at Diversified Supportive Services, LLC, which specializes in working with intellectually challenged adults, teaching life skills to help them to live independently. Contact her at Rocquelneale(at)yahoo.com.
Yolonda Ward, Owner and Manager of CASY's Gift Shoppe located in Lansdowne, PA. She is a dynamic woman who recently graduated with her Master degree in International Business after having worked in Business Leadership for over a decade. If you're looking for exquisite jewelry, handmade soaps, and unique bath and body products, then you should visit her website at casysgiftshoppe.com; email her at ywemail@aol.com or contact her at 215-620-6373.
Melinda Fern, Distributer of Organo Gold coffee. She can be contacted at ogwithme(at)gmail.com.
Colleen Levin, CPA, newly promoted to Principal at St. Clair CPA Solutions. She can be contacted at clevin(at)stclaircpa.com.
Guest Gloria Mitchell, Project Manager for City of Philadelphia. She can be contacted at Gloria_mitchell(at)verizon.net.
The National Association of Professional Women (NAPW) is the largest and most recognized network of female professionals. NAPW provides a forum where women can interact, exchange ideas, educate, network, and empower. NAPW Local Chapters allow members to maximize their experience through meetings, networking opportunities, and professional events.
For additional information regarding the NAPW Philadelphia, PA Local Chapter and/or NAPW, please visit http://www.napw.com.
Follow NAPW on Facebook and Twitter.
###