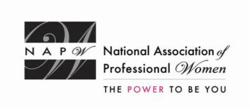 We could come up with a theme for the meeting in May, in which one member would be given 30 minutes to pitch their business
Garden City, NY (PRWEB) April 06, 2012
The NAPW Providence Local Chapter gathered for their first ever professional networking meeting on March 3rd at a trendy local restaurant.
Members in attendance were Ilaine Bednarik, Providence Local Chapter President and Owner of Sak's Consignment, which is a high end resale clothing store;. Beth Goulet of Positive Living Life Coaching, who works with woman to help them get on a positive living path; Marcia M. Rabaiotti of Maffe Financial Group, who helps woman plan for their future financial goals, and Marybeth Mainelli of MBM Insurance Resource Center who works with company's insurance needs.
Ilaine Bednarik kicked off the meeting at 6:00pm by welcoming all in attendance. In order for the group to get to know each other better, each member went around the table with a brief introduction of themselves and their companies. The group then talked about the benefits and what they wish to gain from NAPW.
Beth wanted to share an inspirational quote with everyone after they introduced themselves and networked. She felt this was a great way to start the meeting and relay information she felt every professional women should abide by. "Creating a positive living space leads to a positive working environment," she said.
Next on the agenda the group shared ideas and discussed the importance of increasing the growth of attendance within the Chapter.
"With this being our first meeting, it is important to discuss various ways to increase growth in attendance for both existing and new members for future meetings," said Ilaine.
Everyone agreed to work together to recruit guests and encourage existing members to attend the next meeting in April. It was decided that the four members would divide up the member list and make phone calls to each and every member to extend the invitation to both meetings in April. Ilaine also told the group she would send monthly messages via the Message Center to ensure that all members would be reached.
"We could come up with a theme for the meeting in May, in which one member would be given 30 minutes to pitch their business," said Ilaine.
Everyone in attendance agreed the first meeting was a success and expressed their excitement about the growth that will potentially happen from this meeting forward.
The National Association of Professional Women (NAPW) is the largest and most recognized network of female professionals. NAPW provides a forum where women can interact, exchange ideas, educate, network, and empower. NAPW Local Chapters allow members to maximize their experience through meetings, networking opportunities, and professional events.
For additional information regarding the NAPW Providence Local Chapter and/or [NAPW please visit http://www.napw.com.