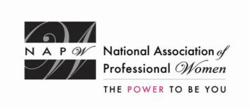 Garden City, NY (PRWEB) November 14, 2012
Members and guests of the NAPW Red Bank, NJ Local Chapter gathered on October 23rd for a professional networking meeting at Blue Water Seafood Restaurant in Red Bank. The guest speaker for the evening was Dr. Debra Ray, Medical Oncologist and Medical Director of the High Risk Cancer Assessment Program at the Leon Hess Cancer Center at Monmouth Medical Center in Long Beach, NJ.
"Since October was Breast Cancer Awareness Month, Dr. Ray spoke to us about breast health," said NAPW Red Bank, NJ Local Chapter President Michele Kelley. "She shared some statistics of breast cancer affecting women and stated that one in eight women will get breast cancer in their lifetime."
Dr. Ray told members and guests that while rates have dropped since 2003 mostly due to the correlation found between hormone replacement therapy and cancer, these are still very high numbers. She shared with attendees an in-depth presentation that included informative facts, helpful information, and important preventative tips. Dr. Ray discussed the many signs that can lead to breast cancer:

Increased chance in women over the age of 45.
Family history, on either the maternal or paternal side, is a good indication of an increased chance of getting breast cancer.
Women aged 35 and older who have a family history should be screened for the BRCA gene that may cause breast cancer.
Ethnicity is a factor. For example, Ashkenazi Jewish women are at the highest risk.
Abnormalities in the breasts
Women who have had hormone replacement therapy
Menstrual history
Smoking
Alcohol consumption
Overweight
She told the group how Monmouth Medical Center has new software that measures a women's risk for breast cancer. Women who have mammograms at Monmouth Medical are asked to answer questions using a tablet and their risk for breast cancer is calculated in real-time. This is the only place in New Jersey using this software.
The doctor spoke about what women can do to reduce the risk of breast cancer. While there is not much that has been proven to decrease risk, there are a couple things that have been linked to reduction. These include taking Vitamin D (1000mg) on a daily basis as well as getting five to seven hours of aerobic exercise per week in addition to having regular mammograms over the age of 40.
"Members and guests agreed Dr. Ray's discussion was very informative and much valuable information was learned that can be shared with the other women in their lives in the hope of preventing breast cancer," said the Red Bank, NJ Chapter President.
Following Dr. Ray's presentation, Michele led the group in a number of discussions concerning the Chapter. She announced that Alice Anselmo, who was unable to attend that evening, will be stepping up to serve as Vice President of the Red Bank, NJ Chapter.
"Alice's duties will include helping me with the planning of the meetings including agendas, topics, and speakers as well as running the meetings in my absence," said Michele. "Also, Beth Meszaros will be serving as Chapter Secretary and she will be responsible for the minutes of each of the meetings as well as providing input for the agendas. Thank you to both women for volunteering for these positions!"
Members and guests next discussed the topics that would be of most interest to them in the coming months. These included investments, running and marketing a business, balancing home and work, health and beauty topics, and technology in the workplace. Speakers (including Chapter members) will be sought to present some of the topics for upcoming meetings. For meetings in which there is no speaker, there will be a roundtable discussion on topics of interest in which all members can contribute their opinions and advice.
The next Red Bank, NJ Chapter meeting will be held on Tuesday, December 4th at the Molly Pitcher Inn in Red Bank. An agenda will be posted in the coming weeks.
"Before adjourning the meeting, we discussed the possibility of having meetings on alternative days and at different times, such as a breakfast or lunch meeting," said Michele. "The members were receptive to these ideas and this will be discussed further at a future date."
Attendees at the meeting were: Michele Kelley, President; Beth Meszaros; Audrey Richardson; Terese Rolke; and Adriana Ondarza.
The National Association of Professional Women (NAPW) is the largest and most recognized network of female professionals. NAPW provides a forum where women can interact, exchange ideas, educate, network, and empower. NAPW Local Chapters allow members to maximize their experience through meetings, networking opportunities, and professional events.
For additional information regarding the NAPW Local Chapter and/or NAPW, please visit http://www.napw.com.
Follow NAPW on Facebook and Twitter.
###