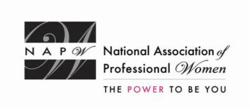 Thank you all for helping to make the launch of the NAPW Red Bank Local Chapter such a huge success.
Garden City, NY (PRWEB) October 10, 2012
The NAPW Red Bank, NJ Local Chapter was officially launched on September 25th at a professional networking meeting. Chapter President Michele Kelley welcomed members and guests to the launch meeting that was held at Ocean Place Resort & Spa in Long Branch. Attendees had plenty of time to network, get to know one another, and discuss future goals and plans for the NAPW Red Bank, NJ Local Chapter.
After the networking portion of the meeting, where attendees introduced themselves to one another and exchanged business cards, the Chapter President warmly welcomed everyone and thanked them for attending.
"Thank you all for helping to make the launch of the NAPW Red Bank Local Chapter such a huge success," Chapter President Michele Kelley said.
To commemorate the Chapter's official launch, a group photograph was taken of the members in front of the NAPW banner.
Michele spoke briefly about last month's Meet & Greet for the benefit of those members who were unable to attend. She then invited anyone who wished to become more involved in the Red Bank Chapter to consider taking on a leadership role such as Chapter Vice President or Chapter Secretary, both important positions that are key to the Chapter's success.
"The Vice President would be responsible for working with the President to shape the agenda for the meetings and also to preside over any meetings where the President is not able to attend," said Michele. "The Secretary would be responsible for taking the meeting minutes."
Since the Chapter is in its formative stages, ideas were solicited from all the members as to what they would like to gain from their membership in the NAPW. The President stressed that members will only attend meetings of any organization if they feel as though they will receive a benefit from doing so.
"To that end, networking with other professional women was again the foremost reason of all who attended the meeting," said Michele.
With the majority of the present Red Bank Chapter members new to NAPW, Michele gave examples of what other NAPW Local Chapters do at their meetings such as hosting guest speakers, adopting a charity, etc. She also suggested some speaking topics that may be of interest to the group, i.e., women and investing, growing your business (marketing), balancing home/career, personal health and beauty, and technology in the workplace. All of these topics were well-received and speakers who are knowledgeable in these areas will be incorporated into future meetings.
Next, the Red Bank Local Chapter's involvement in charitable causes was discussed. Pam Bertoncin (who was there as a guest representing member Alice Anselmo who could not attend the meeting) suggested that a charity that focuses on women in the community may be appropriate. She mentioned a local charity, 180 Turning Lives Around, which deals with women who are victims of domestic violence. Audrey Richardson suggested ARC of Monmouth County would also be a worthwhile cause.
Also discussed at the launch meeting was the establishment of a Chapter Newsletter. This was suggested by member Terese Rolke who said she has had prior experience creating newsletters for other organizations and would be willing to help create one for the Chapter. Also discussed was the Chapter's social media presence. It was decided to table this discussion for at least a few months until the Chapter's goals and member base become more established.
Before the conclusion of the NAPW Red Bank Local Chapter launch meeting, which included plenty of time for a pleasant dinner and casual conversation among members and guests, President Michele reminded attendees of the next two Chapter meetings. On Tuesday, October 23rd, the meeting will be held at 6:00pm at the Blue Water Seafood Restaurant in Red Bank. Since Thanksgiving is four weeks after, the following meeting will be held on December 4th at the Molly Pitcher Inn in Red Bank.
Present at the launch meeting were members Michele Kelley, President, Beth Meszaros, Mara Browndorf, Audrey Richardson, Terese Rolke, Shannon A. Jacobs, and guest Pam Bertoncin.
The National Association of Professional Women (NAPW) is the largest and most recognized network of female professionals. NAPW provides a forum where women can interact, exchange ideas, educate, network, and empower. NAPW Local Chapters allow members to maximize their experience through meetings, networking opportunities, and professional events.
For additional information regarding the NAPW Red Bank Local Chapter and/or NAPW, please visit http://www.napw.com.
Follow NAPW on Facebook and Twitter.
###