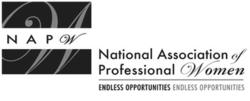 Perhaps the best thing about Liz as a speaker is her ability to be very specific in her answers, tailoring what she offers...," said Sharron. "We learned a lot during our December meeting, and as always, had fun doing it.
Garden City, NY (PRWEB) January 05, 2012
NAPW Sacramento Local Chapter welcomed guest speaker Liz Franklin, author, professional organizer, "cubic anthropologist", and expert at helping businesses make more money, to their December professional networking meeting. NAPW offers professional networking and learning opportunities through local chapters across the country. The Sacramento Chapter learned how to pinpoint their business's marketing mistakes and strengths with Liz's expertise and guidance.
Sharon Darrow opened the meeting and explained that it would be the only one in December since the fourth Monday, the usual dinner meeting date, would fall on December 26th. She then reminded everyone that a 30 minute infomercial about the NAPW is being made from the filming done in four cities, New York, Orlando, Dallas, and Los Angeles, and should air sometime in January. She told them that there are also eight short segments, "A Day in the Life of...." about eight different NAPW members, that will air sometime later. Since Sharon was chosen to be one of the eight, she told everyone what it was like to have a full film crew with you from 8:00 AM through 2:00 PM. -- about ten people in the house, six cars out front with a 2.5 ton box truck full of equipment, a make-up lady following you for touch-up all day, and doing your best to "act natural"!
The next portion of the meeting was for everyone's personal introductions; however, unlike other meetings, Sharon had forgotten to bring her Flip Camera and had to improvise with her cell phone.
June Azevedo, owner of Azevedo Print & Design, does a lot of things. She is a print broker; works with a web designer and a special items designer, and as a member of ASI can get all types of promotional advertising items.
Beverly Sanchez is a CPA/Tax Partner for Goodell, Porter, Sanchez and Bright LLP, and started out by telling us she has had a very interesting month. This time each year she works on all sorts of special projects. She has helped several exempt organizations get their exemptions done and helped others do their returns. She is currently working with a client with an Offer In Compromise with the IRS, and helped a couple of other clients catch up on their tax returns so they could stop wage garnishments and bank levies. Now Beverly is excitedly looking forward to tax season!
Kristen Jordan, attending as a guest, has a wonderful online directory called Serving Our Seniors. The directory provides an answer to the question "Where can I find..." when families are trying to help a senior member of their family. It includes a multitude of categories to assist Seniors, such as At Home Care, End of Life Services, Financial & Legal, Health Services, Equipment & Supplies, and many more. It is also a great opportunity for companies that offer services that might be valuable to Seniors to reach the customers they are looking for.
Sharon Darrow, owner of Travel ID Cards, offers a full line of plastic ID badges. She has her trademark travel cards, KidsTravelCards, TeenTravelCards, AdultInfoCards, and PetTravelCards, as well as custom cards for groups and accessories such as luggage tags. Sharon also offers an affiliate program where anyone with a website can offer a link to her site and collect commissions on any sales made.
Marissa Eldreth owns two separate businesses, BizWiz Consulting and Marketing Solutions and City Connect International. As CEO of BizWiz consulting she advises and facilitates solutions for businesses and nonprofit organizations. Most of her clients are start up companies and growing Charitable Organizations. Her magazine, City Connect International, features diverse ethnic groups and businesses, seeking to include everyone and foster knowledge, understanding, and cooperation between all cultures.
Teresa Shah attended wearing two different hats. She is a Medical Social Worker at Alternative Compassion Care Services, specializing in personalized patient care. She helps patients with Advance Directives, life style changes and special need. Teresa is also the President of the brand new Roseville NAPW local chapter!
Karen Schechter, attending for the first time as a guest, is seeking a position as a marketing professional with knowledge of web design and management. She has years of management experience with large retail companies, and can put that knowledge to use in helping produce a web design that really advances a companies goals.
The chapter's guest speaker, Liz Franklin, spoke about making more money in business. She said, "Marketing is like fishing. You need to decide what kind of fish you want to catch. Then you'll need to learn what bait they'll bite on. You'll need fancy lures and hooks, and you'll need to go to where they're swimming and be patient." She then took the group through twelve very specific things that we can do to be more efficient and more profitable in marketing. Liz then reviewed nine of the biggest mistakes business owners make:
1. Not having a marketing, PR, and promo plan
2. Not knowing your current financial picture
3. Spending your time trying to "fix" people
4. Feeling disorganized and scattered
5. Not having a current, compelling website
6. Procrastinating or not following up
7. Paying for advertising that hasn't paid you back
8. Operating from hope instead of reality
9. Not realizing how they appear to others
"Perhaps the best thing about Liz as a speaker is her ability to be very specific in her answers, tailoring what she offers to the business of the person who asks the question," said Sharron. "We learned a lot during our December meeting, and as always, had fun doing it. Next year should be even better!"
The National Association of Professional Women (NAPW) is the largest and most recognized network of female professionals. NAPW provides a forum where women can interact, exchange ideas, educate, network, and empower. NAPW Local Chapters allow members to maximize their experience through meetings, networking opportunities, and professional events.
For additional information regarding the NAPW Sacramento Local Chapter and/or [NAPW please visit http://www.napw.com.
Follow NAPW on [Facebook and Twitter.
###