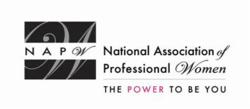 The start of the local chapter was the beginning of huge growth and all chapter members take pride in this
Garden City, NY (PRWEB) March 27, 2012
The NAPW Sacramento Local Chapter met for a professional networking meeting on both February 13th , and 27th. Sharon Darrow, Chapter President, opened the meeting and was very excited to welcome everyone to their anniversary month. The Sacramento Chapter -- the very first one in the nation -- held their first meeting in February of, 2009.
"The start of the local chapter was the beginning of huge growth for the NAPW, and our chapter members can take a lot of pride in being a big part of that," said Sharon. Sharon also reminded everyone of the upcoming NAPW Annual Conference, which will be held on May 18th in New York.
Members in attendance were Sara Lopez, Lauren Forcella, Teresa Shah, Shirley Smith, Linda Melody, Leigh Stepp, Ramona Herriford, Andrea Meyer, June Azevedo, Sue Clark, and Elisha Clark.
Guests in attendance were Margaret Allison, Lekisha Appleton, Teddy Mathis, and Pat Harvey.
Teresa Shah is both a Medical Social Worker with Alternative Compassion Care Services. Teresa is the Chapter President of the NAPW Roseville Local Chapter as well.
Shirley Smith has acquired the name "Queen" because she likes to take charge of things! She now has an online retail business called Absolute Deals.biz, and a shopping service for people who don't have time to shop for themselves.
Linda Melody is an independent associate with LegalShield. She asked the group if anyone had been frustrated by legal questions but didn't know a good attorney, or didn't want to pay an attorney. LegalShield provides the option to pick up the phone and call with legal questions and not receive a bill for the time.
"Whatever the subject or problem, you can take care of it with LegalShield with just a small monthly fee," Linda said. It functions just like homeowners insurance, auto insurance, and health insurance, but for legal needs. Linda also runs the Carmichael Chamber of Commerce and is so excited and proud about the growth and revitalization that has taken place. The Chamber made the front cover of the Arden-Carmichael News, which is a huge change from when they were ready to close just two years ago!
Leigh Stepp is an attorney with Anwyl, Scoffield and Stepp. She practices in general civil litigation, business matters, insurance matters, and in personal injury claims. She usually works from the defense side, but looks at each individual case. Leigh invited anyone in need of legal advice to give her a call. If she can't help she will find someone who can.
Ramona Herriford, of Herriford Insurance Services, is a health insurance broker. She markets medical insurance and dental coverage from all the major carriers, vision from VSP, disability insurance, and life insurance. She is also an AFLAC agent. She believes in choice and in educating her clients so they can make the best choice for their needs and budgets.
Andrea Meyer, currently a notary republic, has just started her new career path. She is attending Heald College to become a Paralegal. She also works with a nonprofit organization, The Society for the Blind, as a member of the Consumer Advisory Committee. Her goal is to educate people who are blind or have low vision to let them know what resources are available for them.
June Azevedo spent a little time talking about her history, starting with ten years working for a printer -- enough time to convince her that was not what she wanted to do! She then started a laminating company and ran it for 28 years. For three years she has been working as a print broker and owner of Azevedo Print & Design. June will do whatever she can to help you change your image, to enhance your image, and to make you look better in print.
Sue Clark has been a writer all of her life, and has owned a number of businesses. She now specializes in everything connected to writing. She has been a literary agent for about 40 years, but also is a ghost writer, an editor, a poet, a teacher of all types of writing, but is specializing right now helping writers complete memoirs. Sue brought in two newly published books, both memoirs, done by her clients and published by a new publishing company owned by another of Sue's clients.!
Elisha Choice-Cheek has many talents, and is also a published author. She comes to Sacramento by way of Stockton, California, where she was born and raised, then from Los Angeles where she lived in "LaLaLand" for 29 years working in the film industry. One of Elisha's prime focuses now is helping her mother organize and publish her poetry. She said she was so pleased to hear from so many creative women, since it was now time for women to share their lives and dreams with each other and with the world. She still loves the entertainment world and helping creative people, but reminds them that they must prepare and plan for retirement by paying themselves first.
Lekisha Appleton is an image consultant with Mary Kay Cosmetics. She has a training center on Arden Way where they do makeovers and facials for businesswomen on Monday and Tuesday evenings. She is always looking for businesswomen who might be interested in earning additional income or a change of career.
Margaret Allison, attending for the first time as a guest, is an independent beauty consultant with Mary Kay Cosmetics. She just celebrated her first business anniversary on December 31st, and came to meet other business women. Prior to starting with Mary Kay she worked with her husband on the family Landscape Architectural business. When they downsized she had a lot of time available and thought May Kay would be a great opportunity to meet and work with other women. She is working hard to build her business and is working to become a "Director" because she loves helping women feel better about themselves.
" We have so many amazing women with an incredible array of talents and contacts, and it would be wonderful if we could find a way to contribute to our community through the Chapter," said Sharon.
Choosing a single charity would be pretty difficult, especially since our members represent a huge array of charities and non-profit organizations doing all kinds of good work, so we talked about what our overall focus might be.
The Chapter will focus their ideas in specific ways, and work with local groups and resources to accomplish those goals.
The National Association of Professional Women (NAPW) is the largest and most recognized network of female professionals. NAPW provides a forum where women can interact, exchange ideas, educate, network, and empower. NAPW Local Chapters allow members to maximize their experience through meetings, networking opportunities, and professional events.
For additional information regarding the NAPW Sacramento Local Chapter and/or [NAPW please visit http://www.napw.com.
Follow NAPW on Facebook and Twitter.
###