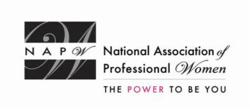 Our goal is to help build strong, safe, healthy families, and relationships where children can thrive
Garden City. NY (PRWEB) May 03, 2012
The NAPW Sacramento Local Chapter gathered on April 9th and April 23rd for a professional networking meeting at Coco's Restaurant. The Chapter showcased their businesses and welcomed guest speakers Carolyn Curtis and Eileen Speaker of Relationship Skill Center. The topics discussed was How to Build Better Relationships with Loved Ones. The Chapter has two meetings a month, both a lunch and a dinner to accommodate the busy schedules of the members. Both meetings had the same agenda and speaker.
Sharon Darrow, Sacramento Local Chapter President, opened the meeting by thanking everyone for coming and spent time reviewing the Local Chapter bylaws, which have recently been amended.
"The most important thing to remember about the bylaws is that all the chapters must reflect the Mission Statement and identity of the national organization," said Sharon.
Next were the individual introductions and are routinely filmed for uploading to Facebook and the Chapter's YouTube channel.
Carolyn Curtis, Founder and Executive Director of the Relationship Skill Center, was the Chapter's speaker on April 9th, and her colleague, Eileen Speaker, spoke for her on April 23rd. The organization was originally named the Healthy Marriage Project, but Carolyn changed the name to better reflect what they do and the people that they serve.
"Our goal is to help build strong, safe, healthy families, and relationships where children can thrive," said Carolyn. "In Sacramento about 6,000 children each year are born to unwed parents, and we have about 100,000 children being raised by a single parent."
Carolyn told the group that it is much harder for single parents to raise a child and that they live each day with the knowledge that there is no backup for them. Research has shown that the play-style of the men in the family teaches emotional control to children. Women hold their children in closer, while men allow them to venture farther away. Women are more instructive in their play, while dads are more focused on the aspect of having fun while playing.
She reminded the group that when she last spoke, the center had a federal grant to teach low-income parents better relationship skills in order to have a successful relationship. These individuals were either pregnant or just had an infant. They have one program for single parents, the largest group of which is now between twenty and twenty six years old. They have another program working with cohabitating couples or couples in a new relationships, whom are working on goal setting and family formation. The center also teaches communication and management skills and ways to reduce internal negative dialogue. They have another program for married couples or couples that have been together for many years, which is geared towards helping to build effective communication skills. It is important for the center to help these individuals improve their skills.
"We believe that if they can improve the skills within the families, a lot of social problems that exist today will be greatly diminished," said Carolyn.
The last Federal Grant allowed the center to work only with low-income pregnant couples and they served about 750 families and about 700 young people. The center intends to reach a much larger group with current resources.
Carolyn was called to Washington DC for the week of April 23rd and was unable to speak for the Chapter's dinner meeting, but her colleague, Eileen Speaker filled in. Eileen's presentation was very informative and the Chapter was appreciative of her willingness to come out.
Sharon thanked the guest speakers for attending and presenting at both meetings. She asked everyone in attendance to one by one showcase and share something themselves and their business.
Nanci Mclaughlin, Owner of McLaughlin Studios of Music and the Arts in Loomis, just completed her Bachelor of Science in Education at Sac ramento State University and will be starting her Master degree program this fall. She has been in business for 18 years and is also the Executive Director of the Sierra Performing Arts Association, which is designed to inspire people of all ages to get involved in the arts.
June Azevedo sold her business in 2008 and is now the Owner of Azevedo Print & Design. She kept her retail customers and is having a wonderful time helping them do their cards, banners, and any other printed materials they need. She has joined the ASI and can provide any type of promotional or advertising items such as cups, shirts, and key chains.
Diana Borroel is a Financial Adviser with The Principal Financial Group. She has been in the financial services business for almost 25 years. She retired from one company and then joined the Principal Financial Group about one year ago. Her job is to help people get their finances in order. She spends a lot of time talking to people about their wills, trusts, durable power of attorney, and advanced health care directives. The initial preparation needs to be done through either an attorney or someone with a legal background, but she is involved, because those preparations can have huge financial repercussions. She cited a personal example of the urgent need for anyone over the age of 18 to have their own advanced health care directive in order for their wishes to be followed. Diana believes in a holistic approach to financial planning, by helping you decide what your goals are and how to reach them.
Ramona Herriford is the Owner and Insurance Broker of Herriford Insurance Services. She educates her clients on health insurance, so that they understand what their options are. She assists both individuals and companies in understanding the different types of coverage available to them and which program will best meet their needs on coverage and cost. Ramona helps her customer understand their benefits and then clearly figures out the amount that is available for coverage. With that information she can then provide a very specific list of options tailored for that individual customer's needs.
Sharon wanted to thank Teresa Shah for taking on the Presidency of the new Roseville Local Chapter. Teresa is a Medical Social Worker practicing privately to help people with special medical needs stay in their home as long as possible. She invited everyone to check out the new Facebook page for the Roseville Chapter and told the group to come join them at any of their meetings.
Sharon Darrow is the Owner of Travel ID Cards and handles photo identification plastic cards of any kind. She creates cards with pictures . Sharon's company has a unique stock cards for children, teens, adults, and pets. She showed the Chapter an example card and described how it is useful.
"If a child is going on a vacation, the card will help keep them safe in the middle of crowds and is accepted by all the major airlines for domestic travel," said Sharon. "If your business needs employee cards, if you are working with a political campaign that needs identification badges, anything at all, my company can create it."
Holly Helder is a Licensed Realtor and Property Manager for a 32-unit apartment complex, and also teaches aerobics at the YMCA. Holly stands ready to assist anyone who needs help with buying or selling a home, renting an apartment, or with improvement of their bodies through healthy exercise.
Sue Clark is a Writer and Editior. She can help businesses with their written copy or individuals with novels, memoirs, and non-fiction articles. Sue brought two books, both memoirs that she has produced recently, so that the Chapter could get an idea of what they were like. She is ready to help anyone that needs assistance with their writing projects.
Dr. Loraine Ruff-Brown is a Community Activist. Her background is in multicultural education and has been actively involved in the community. She pulls together resources to help mothers, grandmothers, and others. The end result was the start of an organization called the SEMA Institute for Transformative Education. SEMA is Swahili for unity and the organization is all about matching needs with resources. SEMA works with the DIVA organization, which assists young African American women from 13 to 18 years of age. Loraine's current interest with SEMA is working with women 50 years and older.
Dana Masih is a Possibilities Coach for Executopia and will be the speaker for May's meeting.
Dana helps people explore all the possibilities. She helps people stop talking themselves out of fulfilling their dreams. After more ten years of coaching, she has found that dreams never even make it to a verbal expression, because of self-doubt. Her background is in leadership training. Her current project is working with women who escaped from a violent environment into a shelter and who want to start their lives over. Her work website is executopia.com/about/danamasih.
Karen Stegner is an Owner of Home Consignment Center Jewelry in Folsom. She is new to the area, having come here for a new career opportunity for her husband and then finding one for herself. The Jewelry center takes jewelry that they had been gently used in on consignment. Herr work website is thehomeconsignmentcenterjewlery.com/jewelry.shtml.
Khrista Ibarolle is a Partner with Karen at the Home Consignment Center Jewelry. Khrista is a Gemologist and Jewelry Appraiser. She enjoys meeting a wide variety of people that come into the jewelry center and watching their passion for the gems and jewelry. Khrista enjoys helping people find the perfect items for themselves or as gifts.
Sara Lopez is the Owner of SGL Enterprises. Her business looks to empower the consumer. She discussed how the consumer saves time and money with products offered by the Amway business and how online purchasing helps save time, including products for personal hygiene and home care. Sara's passion is the healthcare line. Her mission is to help people stay energetic throughout their lives.
Bernadette Velasquez is Co-Owner of Four Aces Electrical Services Corp. Her husband is the electrician while she handles all the inside office functions of the business. They started the business while working for other employers, but have just celebrated their first year working strictly on their own.
Angela DeGrace was proud to say that she will be 90 years old next year and can still run fast. She raised eight children, and graduated college with her two sons; all three of them were on the honor roll and received their degrees during the same ceremony. She was married for 52 years before her husband passed away in 2000. Angela has worked with many different groups here in the area, including a Portuguese association that she and her husband sponsored. She has fifteen great-grandchildren and fourteen grandchildren. Angela has started writing and enjoys writing poetry. She has won several prizes from a local poetry group here in Sacramento.
The National Association of Professional Women (NAPW) is the largest and most recognized network of female professionals. NAPW provides a forum where women can interact, exchange ideas, educate, network, and empower. NAPW Local Chapters allow members to maximize their experience through meetings, networking opportunities, and professional events.
For additional information regarding the NAPW Sacramento Local Chapter and/or [NAPW please visit http://www.napw.com.
Follow NAPW on Facebook and Twitter.
###