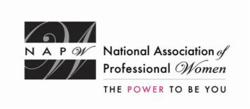 Elisha did a great job conveying the importance of understanding finance and how to plan for their future.
Garden City, NY (PRWEB) August 06, 2012
The ladies of the NAPW Sacramento Local Chapter gathered on July 9th and 23rd for a professional networking lunch and dinner. They Chapter normally has two meetings, both a lunch and a dinner each month in order to accommodate the busy schedules of the members. The speaker at both meetings was Elisha Choice-Cheek, who spoke about how women should understand the importance of budgeting and finance to ensure they don't "outlast" their money.
NAPW Sacramento Local Chapter President, Sharon Darrow started the meeting off by welcoming everyone, both members and guests. She reminded the ladies about the website and some of the pages available to members that they might not have discovered, such as the benefits, local chapters, and Career Tools. She also reminded everyone to take time and read the monthly Newsletter, since it is always full of good information.
The speaker, Elisha Choice-Cheek, is on a mission to help women improve their lives by empowering themselves, particularly about their finances.
"Elisha did a great job conveying the importance of understanding finance and how to plan for their future," said Sharon.
Elisha was born in Stockton, and then went to Los Angeles where she worked in the film industry for 29 years. She worked in front of the camera in commercials, movies and TV, as well as in casting for all types of projects. Elisha made a lot of money, but like so many others in the industry, spent it just as fast as she made it. Then she was injured and unable to continue in the business.
Elisha learned firsthand what a major in life can be like, particularly when it was totally unexpected and unplanned for. She ended up meeting and marrying a great guy and moving to Sacramento. Together they work to educate and help people, particularly women, learn about their finances and plan a future. They provide free classes on finances and also host classes on credit repair, all at no cost. They have a new business called Wealth Watchers as well, and invite people who are looking for something in addition to their current income sources. Elisha had a wealth of statistics regarding women in our society today, and encourages all of us to enjoy the current environment where women are finally gaining greater opportunities.
During the lunch meeting Sharon asked the members for help. She explained that keeping up with the social media postings, trying to get the Foster Project going, and doing all the monthly duties was just more than she could keep up with by herself. With tremendous gratitude she accepted the offer of Michelle Hunn to handle the Foster Project, since it was mirroring what she had been working on for a couple of years. Sharon was happy to provide Michelle with information garnered from people who had volunteered their services.
After the dinner meeting Sharon let everyone know that following much soul searching she was going to step down as chapter President. The growth of the chapter has been a wonderful part of her life for 3-1/2 years, but doing it justice by herself is no longer possible in light of increased pressure from her growing business and a book she is writing. Sharon invited everyone to consider offering their services to the chapter, since it has been incredibly rewarding for her. In addition, the NAPW now has a wonderful team in place to assist new officers so they never feel alone. Naturally, Sharon will be available to help in any way possible as the title is passed on. Networking and introductions followed after dinner.
Pastor Michelle Hunn is Founder and CEO of Purification International Enterprise, also known as PIE. Their goal is to work with emancipated youth, giving them an additional two or three years to transition into adulthood in a positive and successful way. She is also the founder and CEO of Five S's and a C, That's Me, which is a women's empowerment group.
Dee Brookshire is a Chief Financial Officer for Regional Transit and this was her first NAPW meeting. She is also on the Board of the Hispanic Chamber of Commerce, as well as serving as the President of the American Association of University Women, Sacramento Branch. She joined the NAPW for the opportunity to network with other like-minded professional women.
Jaime Sisson is a business consultant for Teledirect Call Center. They assist businesses and people with PBX stations, NPR stations, doing a lot of lead qualification and pretty much anything you can think of that can be handled on a phone call. They are a 24/7, 365 day call center, always ready to do whatever they can for their clients.
Jennifer Clemens is also a business consultant for Teledirect Call Center, where she has been working for nearly nine years. She has worked in a variety of positions and dealt with customers all over the country world. The company does a lot of lead qualification, order taking, for companies of all sizes. Jennifer said they had done a lot of researching on local associations to start local networking, and thought that the NAPW would be a great place to start.
Neelam Wadhwani is a professional Teacher credentialed in multiple subjects, and has taught English as a second language all over the world. She is a bit burnt on the profession after teaching in America for four years, so is looking for a different direction.
June Azevedo, Owner of Azevedo Print & Design, works closely with an excellent website designer. She not only creates the website, her partner will maintain it for you.
Teresa Shah is a social worker in Roseville, working in care management and the President of the NAPW Roseville Chapter. She has invited everyone to come join the group at one of their upcoming meetings. The Roseville meetings are held on the 2nd and 4th Wednesdays each month, at Mimi's Cafe in the Galleria.
Sara Lopez is an Independent Health and wellness consultant. Her business is SGL Enterprises, and her focus is to help individuals actualize the healthiest possible lifestyle for themselves. She is particularly dedicated to helping those with issues regarding weight management, including a system of genetic testing to help them design a personalized plan.
Leigh Stepp is an Attorney in Sacramento with Anwyl, Scoffield and Stepp. Her practice is general business and litigation, generally from the defense side. She handles a wide range of problems, including insurance, premises, property, construction, and is here to help if anyone needs legal advice.
Corinna Villa is a retired School Teacher, has published a cookbook, and is now concentrating on oil painting.
Marcia Remington is an Administrative Assistant still looking for a position, but has also started a new business with Damsels in Defense. She is now a Damsel Pro, offering all types of personal defense items for women. Her launch party is Friday the 13th and she invited everyone to come on out.
Sharon Darrow, Owner of Travel ID Cards, is the best source for identification badges, with or without photos. She talked about her core photo ID cards, KidsTravelCards, TeenTravelCards, AdultInfoCards, and PetTravelCards. Soon she will be able to offer those products in a multi-lingual combo where you will get the English language card as well as one in an additional language of your choice. This item will be ideal for families who travel internationally.
Teddy Mathis is in the process of editing her first book, titled "The Homecoming of TJ Scoggins." She is on all the social media sites promoting the book, and on indiegogo. Indiegogo is a funding site where you can view her video about the project and make donations to assist her in getting the book published and promoted. Sue is being assisted with the editing by our member Sue Clark.
Sue Clark began by complimenting Teddy Mathis on her sense of humor and writing style. She encouraged everyone to watch for the book when it is released. Sue also promoted the site indiegogo as a fabulous one for anyone looking for financing for his or her favorite projects. She pointed out that since many of the chapter members are entrepreneurs working hard to realize their dreams, it is important that we support one another. In addition to Teddy's book Sue is working with a number of authors, particularly those publishing memoirs. Memoirs are extremely popular right now, and Sue can help from beginning to end.
Neelam Wadhwani is currently looking for a job, and has been focused on state positions. On the other side she has decided to write a book too, so it was the perfect day for her to come to our chapter meeting. She wants to write an adventure, fantasy novel; something along the lines of Twilight or Harry Potter. She is hoping to get it done by the beginning of the year, and in the meantime has started a blog. She wants to have a multi-cultural flair to the writing.
Linda Byrd wears many hats, and was recently Certified as a Dream Coach. She does not work with the dreams we have each night, but rather the dreams we long to create in our lives. She helps people find their passion and what their real dreams are. All too often people express a dream and immediately tell themselves they can't do it. Linda also has an opportunity that she can share with anyone who wants to earn an additional income with items are healthful for our bodies and environment.
Stephanie Stancil-Hanstad is an RN, but has gone back to school to get her nurse practitioner degree. She currently works for a dermatologist in Yuba City, at the Sutter Medical Foundation-Advanced Dermatology and Laser Center. Stephanie does all types of procedures, both medical and cosmetic, particularly those involving the use of lasers.
The National Association of Professional Women (NAPW) is the largest and most recognized network of female professionals. NAPW provides a forum where women can interact, exchange ideas, educate, network, and empower. NAPW Local Chapters allow members to maximize their experience through meetings, networking opportunities, and professional events.
For additional information regarding the NAPW Sacramento Local Chapter and/or NAPW, please visit http://www.napw.com.
Follow NAPW on Facebook and Twitter.
###