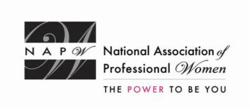 The number one response, which was also 91.7% of responses of why members joined, was to meet new people and increase opportunities, both for business and personal reasons
Garden City, NY (PRWEB) May 22, 2012
The NAPW San Diego Local Chapter gathered on April 17th and April 19th for a professional lunch and happy hour networking meeting, both at Cru Bistro, located in the Sheraton Mission Valley, San Diego, CA. The Chapter discussed the results of the networking survey and voted on the charities that they would like to become more involved in.
Manda Wallbridge, San Diego Chapter Vice President, started the lunch meeting at 12:00pm and the evening happy hour at 6:00pm.
Members in attendance for the lunch networking meeting included Manda Wallbridge, Vice President of Smart Design Commercial Interiors; Cheryl Young of aVowel Education, and new member Andrea Poltkin of Advocacy Resources.
Members who attended the happy hour meeting included Lili Apgar of Avon; Cheryl Young of aVowel Education;Melody Bakhshandeh of JGD & Associates, and Janet O'Dea of Power Plumbing .
Manda shared the latest updates from the Chapter's survey called "What are the main reasons you joined NAPW?"
The number one response, which was also 91.7% of responses of why members joined, was to meet new people and increase opportunities, both for professionally and personally. 66.7% of members said they wanted to join to network and obtain new business clientele. The second half of the survey was discussed and asked members what they would like the Chapter to become more involved in. 58.3% of members would like the Chapter to become more involved in sponsorships and/or participate in local charities. 33.3% of members would like to have the Chapter partake in local NAPW mentorship programs or would like the Chapter meetings to have different content.
Manda relayed that many responses included more audience participation, increase in member presentations, special speakers, a two week notice before the meeting is held, and alternative meeting locations. The Chapter all agreed that a two week notice would work best for the members and would allow a sufficient amount of time to schedule the meeting into their calendars.
Discussed the best time for the meetings to take place; they selected either morning, afternoon, or evening. They all agreed that afternoon meetings would not be as convenient as morning or evening meetings. Manda reminded the chapter that they will be having quarterly evening and happy hour meetings for those who cannot attend the lunches.
Manda shared news that Cheryl Young had volunteered to be part of the Philanthropy Committee for the Chapter. The group selected by a majority vote, the charities that they plan on becoming more involved in, which are the Q2 charity, Special Delivery, and Dress for Success.
The meeting closed at 7:30pm. Manda thanked all in attendance and that she looks forward to seeing everyone at the next scheduled meeting.
The National Association of Professional Women (NAPW) is the largest and most recognized network of female professionals. NAPW provides a forum where women can interact, exchange ideas, educate, network, and empower. NAPW Local Chapters allow members to maximize their experience through meetings, networking opportunities, and professional events.
For additional information regarding the NAPW Hudson County Local Chapter and/or NAPW, please visit http://www.napw.com.
Follow NAPW on Facebook and Twitter.
###