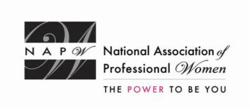 We are excited as a Chapter to participate in the Special Delivery Program to help those in need.
Garden City, NY (PRWEB) July 05, 2012
Members and guests of the NAPW San Diego Local Chapter gathered on June 19th for a professional networking meeting at the Huddle Restaurant, 4023 Goldfinch St, San Diego, CA 92103. The Huddle is also the partner for their 2QTR food drive & fundraiser, Special Delivery, 4021 Goldfinch St, San Diego CA 92103.
The meeting was called to order by Melody Bakhshandeh, San Diego Chapter President. She welcomed all members and guests to the meeting and discussed the Chapter's 2nd Quarter charity called Special Delivery San Diego. Special Delivery Program has partnered with The Huddle Restaurant and prepares and hand-delivered meals to the medically home-bound and people living with critical illnesses.
"We are excited as a Chapter to participate in the Special Delivery Program to help those in need," said Melody.
Ruth Henricks, Special Delivery, CEO and Owner of The Huddle, was present to receive their food drive items and to welcome the Chapter. Kelly, Director of Operations for Special Delivery, gave them a tour of the facility. The ladies thanked Ruth and Kelly for letting them get to know them up-close. Melody asked the group to 'Like' them on Facebook and check to out the Chapter's pictures on the NAPW website.
Melody read the Chapter's last Meeting Minutes and collected online donations for their quarterly charity. The ladies are still looking for a permanent location to hold meetings.
"I'm currently looking for a more appropriate and permanent location for our monthly business meetings, such as the Microsoft Store in Fashion Valley," said Melody.
Natalie suggested that the golf course clubhouse at Miramar might be available.
The Chapter's next meeting is to be held on July 17th at 12:00pm. The location for July's meeting is to be announced. Their next evening quarterly meeting is to be held on July 19th from 6:00-8:00pm and the location is still to be determined.
The Chapter's 3rd Quarter Charity will be Dress For Success and they are also looking for other ways that they can support their September 2012 special event.
Members and guests in attendance at June's meeting:
Melody Bakhshandeh, President, JGD & Associates LLP; Manda Wallbridge, Vice President, Smart Design Commercial Interiors; Kathleen Quinn, Acting Secretary, San Marcos Yoga; Karen Crabtree, Realtor Prudential; Carol Joy Goldstein, Technologies for Creating; Cassandra Foster, Extended Hands Ministries; Cheryl Young, aVowel Education; Janet O'Dea, Powers Plumbing; Lili Apgar, AVON Independent Sales Rep; Natalie Lamb, Ground Electronics & Mary Kay Consultant; and Ariana, Cassandra.
The National Association of Professional Women (NAPW) is the largest and most recognized network of female professionals. NAPW provides a forum where women can interact, exchange ideas, educate, network, and empower. NAPW Local Chapters allow members to maximize their experience through meetings, networking opportunities, and professional events.
For additional information regarding the NAPW San Diego Local Chapter and/or NAPW please visit http://www.napw.com.
Follow NAPW on Facebook and Twitter.
###