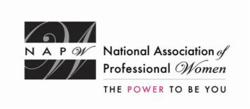 NAPW offers its members numerous benefits such as networking, continuing education, and discount perks
(PRWEB) July 17, 2012
Members and guests of the NAPW La Mesa Local Chapter met for the first time on June 25 for a professional networking meeting at Gingham, one of La Mesa's newest restaurants located at 8384 La Mesa Boulevard. The lively neighborhood eatery was the perfect venue for the Local Chapter's kick-off event – the first of its regularly scheduled monthly networking meetings.
Jacqueline Cox-Anderson, NAPW La Mesa Local Chapter President, started the meeting by warmly welcoming the members and guests in attendance. She spoke briefly about the meeting's agenda, which included introductions by all of the members, a discussion of the benefits of being a part of NAPW, the largest and most recognized network of female professionals, and the Local Chapter's vision and future goals.
"I'm happy to welcome everyone to the first La Mesa Chapter meeting!" said Jacqueline, enthusiastically. "I am so excited about the launch of this Chapter. I am looking forward to getting to know everyone and to working together to make the La Mesa Chapter a huge success."
After members introduced themselves and talked about their businesses and what they do, the President spoke to the group about the benefits of being a part of NAPW. She also talked about her experience at the 2012 NAPW National Networking Conference, which took place on May 18 in Manhattan.
"NAPW offers its members numerous benefits such as networking, continuing education, and discount perks," said Jacqueline. "I attended this year's National Conference in New York City and it was a phenomenal experience. I met so many incredible women. I encourage all of you to plan on attending next year's Conference!"
Jacqueline also proposed the establishment of a board for the La Mesa Chapter and briefly talked about ways the Chapter may get more exposure. Before the conclusion of a very successful inaugural meeting, Chapter Members and guests had the opportunity to network, learn more about each other, and exchange business cards and promotional items. The next La Mesa Local Chapter meeting was set for July 23 at Gingham from noon to 1:30pm.
In addition to Jacqueline Cox-Anderson, members in attendance included Doris Kurtz and Joan Kirby; guests who were present at the kick-off meeting were Pat Krause and Maricella Lamas.
Doris Kurtz is an Ambassador at Amega, a company that specializes in all natural health and wellness products. Doris introduced the company and demonstrated the use of one of the products.
Joan Kirby is Vice President Client Relations at United States Appraisals (USA), which is a woman-and minority-run business headquartered in Kansas City, MO. She has an extensive background in mortgage and banking and has moved to the appraisal side of the business.
Jacqueline Cox-Anderson is the broker and CEO of Aquila of Aquila Real Estate, Inc., a real estate company in La Mesa that specializes in selling equity sales, bank-owned (REO) properties, short-sale properties, and property management.
Pat Krause, guest of Doris Krutz, is an Ambassador at Amega. She also demonstrated the benefits of the Amega products.
Maricela Lamas, guest of Jacqueline Cox-Anderson, is the Office Manager at Aquila Real Estate, Inc.
The National Association of Professional Women (NAPW) is the largest and most recognized network of female professionals. NAPW provides a forum where women can interact, exchange ideas, educate, network, and empower. NAPW Local Chapters allow members to maximize their experience through meetings, networking opportunities, and professional events.
For additional information regarding the NAPW Las Mesa Local Chapter and/or [NAPW please visit http://www.napw.com.
Follow NAPW on Facebook and Twitter.
###