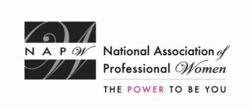 We also collected donations for the organization and they will be given to representatives of Dress for Success at a later date.
Garden City, NY (PRWEB) September 26, 2012
The NAPW San Diego, CA Local Chapter held a professional networking meeting September 18th at the Miramar Officer's Club. Members and guests had the opportunity to learn more about each other, network, and hear from member Sandra Jackson about the important work undertaken by Project Compassion, a medical missions organization.
Chapter President Melody Bakhshandeh opened the monthly meeting by welcoming the members and guests in attendance. She invited them to introduce themselves and make a short presentation about their business. During the meeting, members were also given the chance to bring up any subject they wanted to discuss, ask any questions, and present and promote their charities.
Melody next discussed the Chapter's current charity, Dress for Success. In a show of support for the organization that helps prepare disadvantaged women who are re-entering the work field, a number of members were planning on attending the nonprofit's upcoming Moonlight Chic fundraiser.
"Several members said they will be going to the event," said Melody. "We also collected donations for the organization and they will be given to representatives of Dress for Success at a later date."
Kathleen Quinn, who had been Secretary of the San Diego, CA Chapter, announced she will be stepping down from her position since she will be focusing her efforts on networking in San Marcos. Karen Crabtree graciously accepted to take the minutes for the September meeting.
"Thank you so much Kathleen for all of your help as our Chapter Secretary," said Melody. "We wish you the best in your future endeavors!"
The meeting's guest speaker was Sandra Jackson, who gave a very informative presentation on the important work the medical missions organization does for those in need. Project Compassion started their missions in Tijuana in 1992 and now makes four to five trips a year around the world. On their trips to Mexico, about 50 people participate at a cost of $1,800 per person. Each person pays their own way, often with donations. Their African trips are usually made up of a group of about 60 people.
About 60% of the people who take part in the missions have medical skills and expertise and 40% do not, Sandra explained. The assistance they receive from the host country is obtained through the local pastors in the areas they visit. Project Compassion participants bring a full pharmacy of much-needed supplies with them. The medications they bring cost about $3,000 but have a value of $15,000. They also bring eyeglasses, which cost them about 50 cents a pair. Sandra also said that many military people take part in these mission trips and Natalie Lamb suggested that perhaps some of the Corpsmen on base would be interested in going.
Sandra said there are a number of ways in which the NAPW San Diego, CA Local Chapter can help the nonprofit organization including sharing the information they learned from her with people they know in the medical profession and other groups in case they have an interest in going on a mission trip or supporting one.
"We could volunteer ourselves to go on a mission, put an article in our company newsletters, 'Like' the Facebook page for Project Compassion, or make a cash donation," said Sandra.
NAPW San Diego, CA Chapter Vice President Manda Wallbridge volunteered to put a link to the nonprofit on the Chapter's Facebook page.
Members and guests at the September San Diego Chapter meeting were Melody Bakhshandeh, President; Kathleen Quinn; Nancy Abrego; Judith Bonner; Natalie Lamb; Terry Belmonte; Mary Hubbard, Guest; Debbie Honeycutt; Manda Wallbridge, Vice President; Roohi Darugar, Guest; Karen Crabtree, Substitute Secretary; and Sandra Jackson.
The National Association of Professional Women (NAPW) is the largest and most recognized network of female professionals. NAPW provides a forum where women can interact, exchange ideas, educate, network, and empower. NAPW Local Chapters allow members to maximize their experience through meetings, networking opportunities, and professional events.
For additional information regarding the NAPW San Diego, CA Local Chapter and/or NAPW, please visit http://www.napw.com.
Follow NAPW on Facebook and Twitter.
# # #