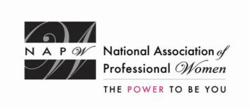 Michelle, who is the Author of The Beauty Blueprint, shared a wonderful presentation with members and guests on self-image and self-esteem that was educational, enlightening, and very helpful.

Garden City, NY (PRWEB) November 08, 2012
Members and guests of the NAPW Sarasota, FL Local Chapter gathered on October 25th for a professional networking meeting. The evening's host was Rachel Schaeffer, Executive Producer of The Red Couch, an internet talk show, and the guest speaker was Michelle Phillips, nationally recognized Author, Television and Radio Host, Beauty and Life Coach, and Keynote Speaker.
NAPW Sarasota Local Chapter President Susanne Daniels welcomed members and guests to the October networking meeting and offered her thanks to the evening's host.
"I want to thank Rachel Schaeffer for graciously hosting this meeting; it is the perfect venue for our networking meeting," said Susanne. "The focus of Rachel's show is to empower women worldwide by providing a place for women to share their powerful stories and juicy secrets for living life."
Rachel is also the Author of Yoga for Your Spiritual Muscles, and will be teaching a yoga workshop at Kripalu yoga center next summer. For more information about Rachel and her popular talk show, visit youtube.com/ontheredcouch, theredcouch.com.
The Chapter President then introduced Michelle Phillips, the evening's guest speaker, to members and guests.
"Michelle, who is the Author of The Beauty Blueprint, shared a wonderful presentation with members and guests on self-image and self-esteem that was educational, enlightening, and very helpful," said Susanne.
The bestselling Author, National TV and Radio Host, Self-Image and Empowerment Coach, and Keynote Speaker's next presentation is in New York City at the 'I Can Do It Conference.' For more information, visit Michelle's website, michellephillips.com.
Members and guests at the October networking meeting included:
Joan Breiner, M.Ed. - Co-Author of The Inspired Life: Unleashing Your Mind's Capacity for Joy.
Barbie Hall Gummin -After selling her multimillion dollar health and fitness promotion company serving Fortune 500 clients, serial Entrepreneur, Speaker, and Author Barbie Hall Gummin studied and learned more about her passion: the miraculous health benefits of personal and professional development. She enrolled in all kinds of coaching opportunities while writing her new book, Ka'Ching – How to Make Your Fortune in Midlife, which describes what it took to start her successful businesses and gives real-time stories as she launched her latest company, TLC5 – The Life Coaching Connection, which offers affordable, accessible, and exceptional success (Life) coaching to create the life that they want. Go to TLC5.com for a free downloads of coach talks, tips, and the book written for TLC5 by Master Coach and renowned Author, SteveChandler, The Life Coaching Connection.
Jane Barr- Kinnexion-Visit kinnexion.com for high power presentations training.
Daria Spina-Michael Saunders & Company Sarasota, Real Estate.
Susanne Daniels-President of NAPW Sarasota, FL Local Chapter and Owner of Social Upward, Social Marketing. Susanne is presenting a workshop at Eckerd College in November: Optimizing LinkedIn's Potential for Job Search and Business Promotion. She is also ready to launch online social media assessments and local search assessments on socialupward.com. Social Upward assessments show small businesses where they rank, how the competition ranks, and how they can improve, to increase reputation, recognition, and return from their online marketing efforts.
The National Association of Professional Women (NAPW) is the largest and most recognized network of female professionals. NAPW provides a forum where women can interact, exchange ideas, educate, network, and empower. NAPW Local Chapters allow members to maximize their experience through meetings, networking opportunities, and professional events.
For additional information regarding the NAPW Sarasota Local Chapter and/or NAPW, please visit http://www.napw.com.
Follow NAPW on Facebook and Twitter.
###