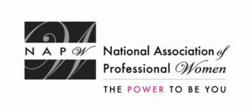 The NAPW Sarasota Local Chapter provides a wonderful community for like-minded women. We each have talents or resources that can be contributed to enhance our group...
Garden City, NY (PRWEB) July 17, 2012
Members and guests of the NAPW Sarasota Local Chapter gathered on June 21 for another successful networking event. Guest speaker Michele Frith gave members and guests a lesson on how to take control of their lives by offering expert tips on managing stress. Although it was the last scheduled meeting of the summer, plans are underway for a summer field trip to celebrate the season and the group's many accomplishments and successes this past year.
Michele Frith, B.A., M.S., P.H.R., Certified Coach, Challenge, and Employment Facilitator, was the perfect guest speaker for last month's NAPW Sarasota Local Chapter event of the summer, a time when everyone yearns for less stress in their lives.
Before Michele took the floor, though, Susanne Daniels, NAPW Sarasota Local Chapter President welcomed members and guests to the meeting and spent a few minutes recapping the accomplishments of the Chapter this past year and congratulating members on all they had done for the Sarasota community.
"The NAPW Sarasota Local Chapter provides a wonderful community for like-minded women. We each have talents or resources that can be contributed to enhance our group and the whole community. What we bring to the table not only enhances others but also enhances our own sense of purpose, self-confidence, and self-worth," said Susanne. "Each of us, by being here, adds to making this Chapter a success. Thank you for the last year of contribution, participation, and inspiration."
Michele Frith next spoke to the group about Stress in Transition. She taught members and guests how to measure their current stress level and to recognize what effects stress has on their physical health. She offered tips on managing daily pressure and coping with life's many transitions. Michele also informed everyone about the services and trainings available for women in Sarasota through the Women's Resource Center.
After Michele's inspiring talk, a number of members spoke to the group about transitions and exciting changes in their own lives and careers.
Susanne Daniels announced that she is in a business transition. She is opening a new Social Media Marketing Firm in July and will be presenting as a Keynote Speaker at the Social Media Weekend conference in September.
Meridian Kristi announced the launch of her new business, Practice with CARE. Practice with CARE is a consulting and coaching service for healthcare professionals choosing practice excellence.
Nancy Valentine, Career Coach, announced that she is working with a local search firm and placement agency. She still sees private clients, but she is enjoying helping people get back to work.
Plans were then discussed for a special warm-weather field trip to celebrate the season and the accomplishments of the Sarasota Local Chapter. Susanne offered a number of suggestions including visits to the Rosa Fiorelli Winery or Siesta Key, or a Lebarge Tropical Cruise. She also asked members if anyone was interested in hosting future meetings or had suggestions for featured speakers.
Susanne announced a number of exciting guest speakers who are already on the schedule for upcoming meetings: Dr. Karen Leggett , who will be speaking on the ABC's of women's health;
Rachel Schaeffer, Host of the talk show, The Red Couch; Michele Phillips, Author of The Beauty Blueprint, Inspiring you to radiate beauty throughout every aspect of your life; Jack Wolff, Ph.D., a dynamic internationally known motivational speaker and performance trainer; and a promised re-visit in the fall from Michele Frith.
The National Association of Professional Women (NAPW) is the largest and most recognized network of female professionals. NAPW provides a forum where women can interact, exchange ideas, educate, network, and empower. NAPW Local Chapters allow members to maximize their experience through meetings, networking opportunities, and professional events.
For additional information regarding the NAPW Sarasota Local Chapter and/or NAPW, please visit http://www.napw.com.
Follow NAPW on Facebook and Twitter.
###