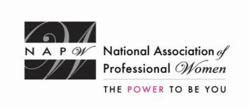 Peggy gave a very informative presentation outlining Ambit Energy and the opportunities it can present.
Garden City, NY (PRWEB) October 23, 2012
Members and guests of the NAPW Saratoga County, NY Local Chapter gathered in September and October for professional networking meetings at the Malta Diner. Experts in energy and insurance shared their knowledge at the September 17th and October 15th meetings, respectively. During both meetings, members and guests had opportunities to get to know one another and network and discuss the importance and benefits of being part of NAPW, the largest and most recognized network of female professionals.
Saratoga County Local Chapter President Danielle Knapp kicked off both meetings by asking members and guests to introduce themselves. She then invited the months' guest speakers to begin their presentations to the crowd. During the September meeting, energy expert and Chapter member Peggy Reilly took the floor to talk about Ambit, a leading energy company.
"Peggy gave a very informative presentation outlining Ambit Energy and the opportunities it can present," said Danielle.
After the presentation, Danielle asked members and guests for ideas and suggestions on the best approach for obtaining new members and making sure current members attend meetings.
All agreed it would be best to send a few email invitations for each meeting prior to the date instead of one reminder a week before. It was also discussed that future Chapter meeting dates will continue to be the third Monday of each month at 9:00am at the Malta Diner.
"Due to the busy holiday season and end of year crunch, meetings will not be held in November and December but will restart in January," Danielle announced to the crowd.
At the October meeting, Brandon Myers of Aflac was there to share with members and guests some of the products and services offered by the insurance company. He explained how most people feel, "Oh, I don't need that" or "That's too expensive," when, in fact, some products are as little as $3.00 per week.
"Brandon talked about how the cancer, disability, and accident products are affordable and can be extremely helpful in a person's time of need," Danielle said. "I truly believe in these products due to the fact that I have seen how they help others and I have purchased the cancer product myself."
Danielle announced to members and guests that the Saratoga County Local Chapter will soon hold a vote for new Chapter Board Members. The Chapter President also talked to the group about how an important part of the Chapter's Mission is to help members network and grow their businesses.
Danielle used as an example the fact that through the Chapter she has met Christina, therefore she is more likely to refer Christina to the contractors she insures who might need Christina's services. Or, if she comes across someone who is looking to better their health, she will refer them to Jill and so on.
"Remember, the top way to build your business is by referrals. People refer people they have met, therefore the more people in the Saratoga County, NY Local Chaper, the more referrals for all," said Danielle.
During the meeting, there was plenty of time for networking as attendees introduced themselves to the group:
Jill Burwell introduced herself and explained that she is a Health Coach. She works with people on an individual basis to help promote healthy eating and living and help people increase their energy.
Christina Lee explained to the group how her "woman-owned business" services and repairs batteries in machinery such as forklifts, bulldozers, etc., on construction sites.
Ava Marco said she is a Senior Sales & Service Associate at Ballston Spa National Bank and explained the services it offers. She said she first asks clients what makes them unhappy about their bank, which gives her ideas on how to sell and promote her own bank.
The next Saratoga County Local Chapter meeting will be held on January 21st.
Attendees at the September Chapter meeting were: Danielle Knapp, Knapp Insurance Agency; Peggy Reilly, Ambit Energy; Jill Burwell, Mirella Living; and Christina Lee.
Attendees at the October Chapter meeting were: Danielle Knapp, Knapp Insurance Agency; Jill Burwell, Mirella Living; Christina Lee, Materials Transport Services, Inc.; Ava Marco, Ballston Spa National Bank; and Brandon Myers, Aflac.
The National Association of Professional Women (NAPW) is the largest and most recognized network of female professionals. NAPW provides a forum where women can interact, exchange ideas, educate, network, and empower. NAPW Local Chapters allow members to maximize their experience through meetings, networking opportunities, and professional events.
For additional information regarding the NAPW Saratoga County Local Chapter and/or NAPW, please visit http://www.napw.com.
Follow NAPW on Facebook and Twitter.
###