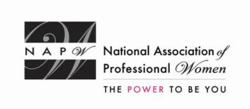 To achieve anything, we need to set goals. In order to set goals you have to have a dream, a vision, and a mission.
Garden City, NY (PRWEB) February 09, 2012
The third meeting of the Saratoga Local Chapter of NAPW was convened by Danielle Knapp on January 23rd, 2012 at the Malta Diner. Attendees included Danielle Knapp, Knapp Insurance Agency; Jennifer Marten, Ballston Spa National; Susan Marlette, Amtech Insurance Brokers; Joanne Ford, New Day Care; Lori Goodrich, PuroFirst; Christina Lee, Advance Battery Services; Lynn Johnson, Long Pond Cabins; Joann Winchell, Stillwater Historical Society; and Larry Ruggles, Pat's Heating & Cooling.
Danielle started by asking the group to introduce themselves and then everyone chatted with Joanne Ford regarding the new day care she plans on starting in Stillwater, NY. The group gave Joanne Ford several ideas such as using different vendors like Vista Print for printing lawn signs like the realtors put out. Members also jotted down friends, family, and prospective customers they know who might need future day care. Joanne plans to reach out to those individuals. The group also discussed the importance of referrals and providing something different from the competition. Jennifer suggested other champers and leads programs.
Danielle mentioned using the United States Postal Services Direct Mail Plan website. Also mentioned was preparing a budget and to sticking to it. Lastly, it was mentioned to have a strong business plan and follow it.
Lori then gave an excellent presentation on goal setting. Lori explained, "To achieve anything, we need to set goals. In order to set goals you have to have a dream, a vision, and a mission."
Lori also mentioned that in order to complete any goal it has to specific, measurable, on a timeline, and it has to be owned. Finally, goals and steps required to achieve those goals need to be written down. The presenter pointed out that to be successful, you have to prioritize your to do list. "Eliminate time-wasters, like TV time or things that are not as important as your current goals." Lori then suggested several self-help and business development books to read such as John Maxwell's "How Successful People Think", Dave Ramsey's "The Total Money Maker" and Jim Collin's "Good to Great".
Future meetings will take place on the third Monday of every month unless the Monday falls on a holiday. If the Monday falls on a holiday the meeting will be held the following Monday of the month. The next meeting of the Saratoga County NAPW is scheduled for Monday February 27 at 9: am at the Malta Diner. Danielle asked everyone to think of ideas to promote the chapter and hopes to have at least thirty members in the Saratoga chapter by the end of year. Danielle's goal is to have a least fifteen people at each meeting.
The Chapter will be involved with the Domestic Violence Rape Crisis Center and Danielle reminded members to bring in donations.
The National Association of Professional Women (NAPW) is the largest and most recognized network of female professionals. NAPW provides a forum where women can interact, exchange ideas, educate, network, and empower. NAPW Local Chapters allow members to maximize their experience through meetings, networking opportunities, and professional events.
For additional information regarding the NAPW Saratoga Local Chapter and/or NAPW, please visit http://www.napw.com.
Follow NAPW on Facebook and Twitter.
# # #