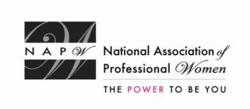 The third annual Georgia EXPO will once again be hosted by NAPW South and North Local Chapters on Friday, October 12th. Exhibitor and attendee registration will be available next week.
Garden City, NY (PRWEB) August 22, 2012
Members and guests of the NAPW South Atlanta Local Chapter gathered on July 27th for a professional networking meeting at Monarch Tower in Monarch Center on Peachtree Road, in the heart of Atlanta's prestigious Buckhead submarket. During the networking luncheon, members and guests learned networking tips from meeting host and expert Chi Chi Okezie and heard about exciting upcoming Chapter events, including the 2012 Georgia EXPO it will once again co-host with NAPW North Atlanta Local Chapter.
Members and guests enjoyed a delicious lunch catered by "F2O," Fresh to Order's Buckhead location. Catering Director Melissa Horbett made all the arrangements and graciously offered vouchers for 10% Off future orders to all Chapter attendees. After lunching on F2O's amazing Asian and Southwest salads, delicious rolls and Panini sandwiches, mouth-watering croissants and brownies, and tasty raspberry mojito lemonade and refreshing teas, those vouchers will no doubt be used quickly!
Nancy Delgadillo, NAPW South Atlanta Local Chapter President and Executive Director of My Brother's Keepers Reaching Out, Inc., kicked off the meeting by warmly welcoming the group. She briefly spoke about NAPW's exciting new features for members and the opportunity for guests and non-members to become a part of this amazing group of businesswomen. Nancy also spoke about the Chapter's upcoming special event.
"The third annual Georgia EXPO will once again be hosted by NAPW South and North Local Chapters on Friday, October 12th. Exhibitor and attendee registration will be available next week," Nancy said.
She encouraged all those interested in attending and who would like to travel as a group to contact her at ndelagadillo@mybrothers-keepers.org for details.
Next up was meeting host Chi Chi Okezie, the Owner and Producer of SIMPLEnetworking. Chi Chi instructs professionals, university students, and companies on how to properly network through her Power Networking Breakfasts. Through her books, online articles, and networking courses, Chi Chi offers expert techniques and strategies for polishing one's professional approach and building a viable network. SIMPLEnetworking is determined to change the way you think about networking. Networking is a lifestyle and a tool for success! Chi Chi's presentation was effective and compelling and all agreed with NAPW South Atlanta Chapter Member Anne Sciarrone, Owner and Architect at H. Anne Blakely Sciarrone Architecture, LLC, who praised Chi Chi.
"That was a fantastic presentation! Great job putting together great programming! Thanks so much, Nancy - and keep up the good work," said Anne.
As a surprise to all at the meeting, NAPW South Atlanta Local Chapter raffled two Elite Memberships to non-members in attendance. The two lucky winners were Angela Reed, Owner and Creative Director of The Blessed Bride, LLC and Courtney Michaela Anderson, Co-Owner of Bow Meets Tux.
Chapter President Nancy Delgadillo also announced the Chapter's local Leadership Team:
Kim Dildy - Vice President of Charities. Kim works as Global Sourcing Analyst and Zep, Inc. and will be serving on the Leadership team handling all Chapter involvement with charities.
Teketia "T.J." Jacobs - Vice President of Mentorship. As founder of Wings of Beauty, Inc., T.J. has a passion for developing leadership in other women and will be instrumental in developing the South Atlanta Chapter Mentorship Program.
Octavia Conner - Vice President of Events. Octavia is CEO of Smart Choice Business Solutions, and will be helping with all the upcoming event details to help make this a successful year for the South Atlanta Chapter.
Ella O'Kelley - Vice President of Chapter Growth. Ella brings her H.R. experience from S-O-U-Lutions for Youth Corp. to work with current members to develop new ways to grow the Atlanta Chapter.
Upcoming South Atlanta Chapter meetings are scheduled for August 24 and September 28. All meetings are held from 11:30am to 1:00pm and will be conveniently held at the Monarch Tower in Buckhead.
The National Association of Professional Women (NAPW) is the largest and most recognized network of female professionals. NAPW provides a forum where women can interact, exchange ideas, educate, network, and empower. NAPW Local Chapters allow members to maximize their experience through meetings, networking opportunities, and professional events.
For additional information regarding the NAPW South Atlanta Local Chapter and/or [NAPW, please visit http://www.napw.com.
Follow NAPW on Facebook and Twitter.
###