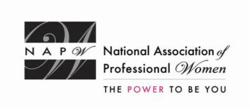 There are so many ways that NAPW makes it possible to network.
Garden City, NY (PRWEB) February 09, 2012
The NAPW Stafford Local Chapter met on Saturday, January 21st, 2012 at Panera Bread located in Stafford Marketplace in Stafford, VA. Local Chapter President Sherlyn Powell opened by welcoming the members to the first meeting of the year.
The Stafford Chapter announced its newest member, Ms. Marcy Campbell. Marcy is a Human Resources Regional Manager for GEICO. She has been employed with the company for about eighteen years. She received her Bachelor Degree from Mary Washington University and is currently seeking her Chartered Property Casualty Underwriter (CPCU) Certification, a highly recognized and prestigious certification in the insurance industry.
Sherlyn Powell talked about the first annual National NAPW conference in 2011 and said that there will be information available on the 2012 NAPW National Conference soon.
Sherlyn spoke about NAPW's background, mentioning it was started by Matthew Proman, Founder and President. She told the group that he led several charitable causes, such as fundraising for Haiti relief and partnership with the Urban League. She also discussed the benefits of not only networking face-to-face, but in connecting with other members online for a broader impact. "There are so many ways that NAPW makes it possible to network," she said.
The Chapter then provided an opportunity for each member in attendance to talk about their business.
T.C. Cooksley, real estate agent with 1st Choice Realty, has been busy working to help owners at risk of foreclosure to work with their mortgage company to remain in their homes and avoid foreclosure. She also shared her personal struggle with cancer, divorce, homelessness, and raising special needs children. "If you live in or are relocating to the Stafford or Fredericksburg Virginia area and are in need of a realtor, contact T.C. for assistance," Sherlyn said. To encourage the growth of the chapter, T.C. invited her friend, Leisa Williams to join the group for the meeting.
Leisa Williams is a Psychologist for the Prince William County, VA school system. She evaluates and tests children suspected of having cognitive learning disabilities and in need of special education services. Leisa also has a home-based jewelry business of two years, as an independent representative of Silpada Sterling Silver Jewelry. The sterling silver jewelry is made with quality craftsmanship, is fashionable and affordable. All the jewelry is warranted under a lifetime guarantee. Those interested may contact Leisa Williams by visiting mysilpada.com to find out more about this home-based business opportunity, to host your own jewelry party, or to become an independent representative.
Chapter President, Sherlyn Powell, shared good news that she recently did two interviews. The first interview was by the Christian Authors Show hosted by Danielle Hamson about her latest book, her memoir, A Gift Called Mother. The second interview was with BlogTalkRadio host, playwright, and author Vanessa Richardson. The show's topic discussed the struggles and difficulties that arise when communicating with your children, especially adult children, and how to handle them. Sherlyn was able to provide insight into dealing with these communication issues by relating her personal communication struggles with her adult daughter, upon which her memoir is written about. To hear the entire interview, visit http://www.sherlynpowell.com/id31.html. Sherlyn Powell is also the owner/publisher of Books My Way Publishing, a small self publishing company which also offers business services and products.
Sabrina Priest, Chapter Secretary, discussed her home-based designer diaper bag business, Bellisima Baby Bags.com, for the benefit of the new attendees. She also shared her personal experiences with raising a special needs child and homeschooling. She related her and her son's journey through the diagnosis of Autism and ADD from therapy services, treatments, inclusion in the mainstream class with an Individual Education Plan (IEP), and how all these experiences have culminated into a new journey, homeschooling. Sabrina homeschools all three of her elementary aged children, is currently studying for her BA in Accounting at Western Governor's University, and enjoys being able to help modern mothers and fathers maintain their fashion sense with her selection of gorgeous designer diaper bags.
In closing Sherlyn reminded the group that February is heart month and she asked each member to wear red at their next meeting. She will speak on warning signs of heart failure and the prevention and treatment. The Stafford Chapter meets once a month on the third Saturday.
The National Association of Professional Women (NAPW) is the largest and most recognized network of female professionals. NAPW provides a forum where women can interact, exchange ideas, educate, network, and empower. NAPW Local Chapters allow members to maximize their experience through meetings, networking opportunities, and professional events.
For additional information regarding the NAPW Stafford Local Chapter and/or NAPW, please visit http://www.napw.com.
Follow NAPW on Facebook and Twitter.
# # #