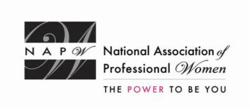 We focused on National Heart Month and the stressors that women today face
Garden City, NY (PRWEB) March 22, 2012
The NAPW Stafford Local Chapter met for a professional networking meeting on February 25th.
February is National Heart Month. Sherlyn Powell, Chapter President, shared her personal experience with the group regarding her own heart health. The Chapter discussed the signs and warnings of a heart failure as supplied by Heart.org.
Members in attendance were Sabrina Priest and Heather Rutherford. Sabrina Priest also discussed her personal experience regarding the symptoms she has faced in the past with her heart health.
"The group identified various stressors that women today face such as motherhood, kids, home life, and work," said Sherlyn.
Sabrina is a work at home mom with her own business, Bellisima Baby Bags. Her designer diaper bag business is focused on helping parents find a diaper bag that fits their personal fashion style while functional enough to carry the baby's stuff. Her web boutique has holiday promotions going on for those looking for a new diaper bag and baby gifts at bellisimababybags.com.
Heather Rutherford is an Accounting Manager of the National Geographic Society located in Washington, DC. She works in the Cash Management branch of the agency. She has been an Accountant for twenty years. Her spouse is in the military and they have five children.
A new guest in attendance was Ms. Esther Wade. Esther is new to the Stafford, VA area. She works locally for the Department of Defense.
Sherlyn is an author with three books under her belt. She has written two romance novels and recently her personal memoir, A Gift Called Mother. She is also starting her own publishing company, Books My Way Publishing, LLC, to support other authors in publishing their writings. She worked for two State Agencies as well as in corporate America but finds writing to be her passion. Visit Sherlyn's site at sherlynpowell.com.
Members brainstormed various ideas and activities for Women's History Month this March for the upcoming meeting.
The National Association of Professional Women (NAPW) is the largest and most recognized network of female professionals. NAPW provides a forum where women can interact, exchange ideas, educate, network, and empower. NAPW Local Chapters allow members to maximize their experience through meetings, networking opportunities, and professional events.
For additional information regarding the NAPW Stafford Local Chapter and/or [NAPW please visit http://www.napw.com.
Follow NAPW on Facebook and Twitter.
###