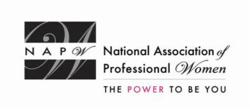 I would like to recognize all the new members at today's meeting and I am proud of the continual growth of this Chapter
Garden City, NY (PRWEB) May 14, 2012
The NAPW Stafford Local Chapter met on Saturday, April 21st for a professional networking meeting at Panera Bread located in Stafford Marketplace. The Chapter recognized new members and acknowledged the growth of the Chapter in April.
Sherlyn Powell, Stafford Local Chapter President, kicked off the meeting by welcoming new and returning members. Sherlyn wanted to have formal introductions for the newest member in attendance.
"I would like to recognize all the new members at today's meeting and I am proud of the continual growth of this Chapter," said Sherlyn. "I would now like to take the time for each new and returning member to introduce themselves."
Heather Andrews-Gutierrez was the first member to introduce herself. She is a Director for Premier Designs. Her skills and expertise includes design and sales. Heather has a Bachelor of Fine Arts degree in Fashion Design from Virginia Commonwealth University.
Next, the Chapter welcomed Darlene Cropp. Darlene is a Region 1 Claims Manager, CSR for Geico. She is pursuing her Master's degree in Business Administration at Mary Washington University. She also finds time to manage a small Shetland Sheepdog kennel where she works with and trains Shelties.
Esther Wade is both new to the area and to the Stafford Local Chapter. She works locally for the Department of Defense.
Christine Fuller is a Property Manager located in Arlington, Virginia. She currently lives in Woodbridge with her husband and four children.
Sherlyn Powell is a writer and has written a memoir, A Gift Called Mother. The book discusses the struggles and difficulties that may arise when communicating with your children, especially adult children, and how to handle them. Sherlyn provides insight into dealing with these communication issues by relating her personal communication struggles with her adult daughter, the subject on which her memoir is written. To learn more about Sherlyn Powell, visit sherlynpowell.com. She is also the Owner and Publisher of Books My Way Publishing, which is a self-publishing company. Her company also provides Virtual Assistant services to provide administrative support to busy professionals.
Sherlyn relayed information regarding the NAPW's new Rewards Program for Local Chapters, which will be implemented in the near future. During the meeting, members discussed various charities they would like to support and they plan to decide on a charity and the steps that should be taken to move forward at the next meeting.
Sheryln thanked everyone for coming and told the group to check back on the Chapter's page for information about the next meeting.
The National Association of Professional Women (NAPW) is the largest and most recognized network of female professionals. NAPW provides a forum where women can interact, exchange ideas, educate, network, and empower. NAPW Local Chapters allow members to maximize their experience through meetings, networking opportunities, and professional events.
For additional information regarding the NAPW Stafford Local Chapter and/or NAPW, please visit http://www.napw.com.
Follow NAPW on Facebook and Twitter.
###