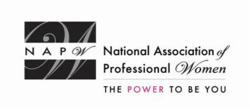 There were a number of new members at the re-launch and to help them understand the many member benefits they will be enjoying as NAPW members...Her mentor has been aiding her in every aspect of her artistic care
Garden City, NY (PRWEB) December 04, 2012
Members and guests of the NAPW St. Louis, MO Local Chapter celebrated the successful re-launch of the Chapter when they gathered for a professional networking meeting on November 12th at the James J. Eagan Civic Center. New members were warmly welcomed and current members graciously shared their personal stories about the many benefits they have enjoyed as NAPW members. The evening also featured live entertainment by Chapter President Lisa Mare Pettis, Owner of REFORM, a personal training business, and her talented daughter, Jamisha. Shop N Save Deli catered the event with delicious croissant turkey sandwiches, salads, and fruit cups.
"For the first half hour of the meeting, the group of professional women networked, passed around business cards, mingled, and enjoyed refreshments," said the Chapter President.
Lisa kicked off the St. Louis, MO re-launch with a motivational speech, which included her personal experience of letting others define who you are. She closed the speech with the NAPW motto, 'The Power To Be You.' Then, the audience was treated to a performance by Lisa who sang an original song, "I Am Not All That You See." Lisa's daughter Jamisha also wowed the audience by soulfully singing her original song, "Frozen Window (Of Life)" as she picked her electric guitar.
"There were a number of new members at the re-launch and to help them understand the many member benefits they will be enjoying as NAPW members, I encouraged current members to talk about their experiences, as well as enjoy the privilege of being in the spotlight," said the Chapter President.
Michelle Martin was the Chapter's Woman In the Spotlight, a spin-off of the NAPW Women in the Spotlight feature. Michelle explained how she aids businesses and organizations in resolving group issues, such as communicating and working with diverse groups. She discussed how individuals have various strengths and weaknesses, but as a group, they can learn how to work with each other successfully. Michelle is also a Minister and spoke of how she works with churches with organizing and group issues. The Chapter President awarded Michelle a framed photo of the first St. Louis Local Chapter meeting in September.
"I presented Michelle with the plaque because she is a pioneer member of the St. Louis Local Chapter and has attended every Chapter meeting since the first one," said Lisa.
Sorcha shared an inspiring story of how she sought to be mentored and since the St. Louis Local Chapter was still looking for a Chapter President, she searched for a mentor through the NAPW mentoring program and secured a wonderful adviser.
"Her mentor has been aiding her in every aspect of her artistic career, because she has had a successful career in the arts, and is freely giving Sorcha tips, such as setting goals for her business and checking back with Sorcha to see if she had accomplished her goals," said Lisa.
LaDonna Turner shared her enjoyment of networking with other NAPW women who are like-minded in business and desiring to further their careers or businesses, and actually working towards those goals.
A number of members helped the Chapter President with the celebratory re-launch. The Mistress of Ceremony was LaDonna, who did a fantastic job, keeping the atmosphere alive with famous quotes of encouragement and her personal tips on the 'Power to be You,' the motto of the National Association of Professional Women. She also introduces all of the members and guests.
Darlisa Diltz gave the official warm welcome to the attendees, which included a brief testimonial of her experience with NAPW and what she was looking for in joining the St. Louis Local Chapter. Beth Calvert did a marvelous job greeting the attendees, passing out programs, Chapter materials for guests and new members, and door prize tickets.
Before LaDonna adjourned the meeting, Beth drew the tickets for the door prizes, and surprisingly drew her ticket first, which tickled the attendees, then gracefully chose her gift located on the gift table, and continued to draw tickets for the door prizes. All of the attendees won door prizes, courtesy of LaDonna's scents and other gifts, and each guest took home a small gift bag.
The next St. Louis Chapter meeting will be held on December 10th at 6:00pm at Stir Crazy Fresh Asian Grill, 10598 Old Olive Street Road, Creve Coeur, MO.
Members in attendance were:
New member, Beth Calvert, Broker at Westward Financial Strategies. She specializes in the following areas: licensed for life insurance, disability insurance, long term care, individual health insurance, group life/disability/dental/health insurance, multi-life disability insurance, buy sell agreements; planning and funding, key person agreements, pension trusts, stock holder cross purchase agreement, executive carve out benefit programs, business transition/continuation planning, bank/corporate owned life insurance, coordination of business valuations, non-qualified employee benefits, and business owner overhead expense
Darlisa J. Diltz, Owner of djd. In~Depth Marketing and Consulting Services. She specializes in helping small businesses market their product through the development of media such as fliers, signs, and more. Darlisa has done marketing work for companies such as United Way-St. Louis, SSM Health Care, YMCA of Greater St. Louis, Moe's Lawn Care Services, and a host of other organizations.
Michelle Martin, CEO of AMM Empowerment, LLC. Her skills and areas of expertise include education and empowerment. She is currently involved with the Society of Human Resource Management/Association of Legal Administrators/Diversity Officer's Network. She received her Juris Doctorate in Law (Labor/Employment) from St. Louis University School of Law in Missouri.
Cheryl Robinson-Moore, Director of Health Center Operations at Grace Hill Health Centers, Inc.
She is responsible for the overall planning, management, implementation, and coordination of nursing care services and non-clinical functions provided at multiple health center locations. She ensures efficient patient flow and enhanced productivity through effective supervision and coordination.
Sorcha, Owner of Sorcha Art, LLC. She specializes in photography services and fine art photos. Her areas of expertise include dance and movement photography and she has a high sensitivity to color. She is currently working on a project for a national car magazine and some fine art projects. She is also dabbling in choreography for a local color guard.
New Member, Kristin M. Stahlheber, Field Sales Consultant at Henry Schein Dental. Her employer specializes in dental supplies and equipment. She received a Bachelor degree in Graphic Design at Stephens College.
LaDonna Turner, Founder and CEO of Smart Ideas Consulting Firm, LLC (SICF). She offers clients a combination of micro and macro services. With 17 years of experience working in human service programs at all levels including direct client services, management, and administration, she is a highly specialized and skilled human services consultant.
Guests:
James A. Pettis, Jr., Assistant Store Director of Maplewood Shop N Save. James videotaped the St. Louis, MO Chapter re-launch and helped with the setup of the event.
Jamisha J. Pettis, Student and Lab Assistant at ITT Technical Institute. Jamisha is studying graphic design and communication, writes music, and creates her own anime characters, with hopes of securing a place in the gaming design industry.
James A. Pettis, III, Medical Assistant at West County Medical Center. James is also pursuing a career in acting, script writing and producing, and book publishing.
Sorcha beautifully photographed the Chapter re-launch event. Go to sorchaphoto.com and go to your gallery and enter in NAPW for the access code to view pictures of the event.
The meeting venue, the James J. Eagan Civic Center is a place where residents and non-resident can participate in activities, such as swimming and skating, and enjoy the fitness center and numerous workshops and classes. The Center was perfect for the re-launch event. The St. Louis, MO Local Chapter, however, is still searching for a more permanent meeting place for monthly meetings.
The National Association of Professional Women (NAPW) is the largest and most recognized network of female professionals. NAPW provides a forum where women can interact, exchange ideas, educate, network, and empower. NAPW Local Chapters allow members to maximize their experience through meetings, networking opportunities, and professional events.
For additional information regarding the NAPW St. Louis Local Chapter and/or NAPW, please visit http://www.napw.com.