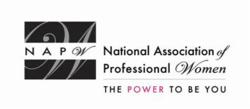 LaDonna also discussed her consulting business and how she is working with other social media experts and various professionals to create a database for networking of these professionals, and so much more.
Garden City, NY (PRWEB) December 25, 2012
Members and guests of the NAPW St. Louis, MO Local Chapter gathered on December 10th for a professional networking meeting at Stir Crazy Fresh Asian, located at 10598 Olive Street Road in Creve Coeur. With the help of two experts, Chapter members LaDonna Turner and Darlisa Diltz, members and guests learned new ways to network, picked up helpful tips, and participated in a speed networking activity that was the highlight of the meeting.
NAPW St. Louis Local Chapter President Lisa M. Pettis, Owner of REFORM, a personal training and health and wellness business, greeted the women and shared the agenda for the evening, which included a presentation by this month's Woman in the Spotlight, LaDonna Turner, who was also the Activities Coordinator for the evening, and Darlisa Diltz, who was the second speaker for the evening. Both women spoke on the topic of networking.
While enjoying the delightful cuisine of Stir Crazy Fresh Asian, members and guests networked with one another and distributed business cards. Once all attendees had arrived, the two gusts speakers each took the floor.
LaDonna Turner began by sharing information about two business endeavors in which she's involved. She told the audience she is passionate about fragrances and explained how she could put together special gifts of oils, perfumes, and lotions for any occasion. She then spoke about her use of networking resources.
"LaDonna also discussed her consulting business and how she is working with other social media experts and various professionals to create a database for networking of these professionals, and so much more," said Lisa.
The Chapter President awarded LaDonna a certificate as the Woman in the Spotlight in December and also awarded Michelle Martin a certificate as the Woman in the Spotlight in November.
Darlisa Diltz next shared her valuable tips on networking, which included steps to take from the beginning to the end of the important process of making professional connections. Some key points Darlisa pointed out to the women included: being enthusiastic about meeting other people, being prepared with a short business spiel, and inquiring about the other person's business by asking pertinent questions.
LaDonna then returned to the floor with a speed networking activity. The group of professional women received a note packet with words, numbers, and letters, which were clues to help them know who they had to network with during the activity. LaDonna led the members in the activity. Each member was allowed to speak about her business for two minutes, during the four-minute timed sessions.
"The women thoroughly enjoyed this activity of getting to know each other and sharing their business ideas with others," said Lisa. "This networking activity is surely to be repeated in future meetings!"
The Chapter President then took a few moments to talk about the upcoming Chapter meeting to be held January 14th, at Lewis Rice, 600 Washington Avenue. The building entrance is on Washington Avenue. (Near the Pi pizza restaurant on 6th Street; the entrance to in-building parking is off of 7th Street. Look for a big blue "P" sign at the entrance ramp. Enter the building and take the elevator to the 25th floor reception.) The group of women had decided to hold future meetings at a downtown location, suggested by Bridget Hoy, and they also decided to stop altering the meeting times, maintaining the evening meeting time of 6:00pm for all future meetings.
Lisa announced the theme of the January meeting, 'Setting Goals for Success!' and promised it would be as entertaining as the Chapter's recent re-launch event.
"If you missed the re-launch or the December meeting, you don't want to miss the January meeting and upcoming ones!" said the Chapter President. "We'll ring in the New Year and begin the Speaker Series with an inspirational message about obstacles and opportunities."
Lisa said she would perform an original song, "Rain on My Parade," Sorcha would be sharing some proven goal setting tips, and her daughter Jamisha J. Pettis will perform another original song, "Angel Without Wings," to inspire the Chapter for the New Year. More information about the Speaker Series and speakers is coming soon. RSVP to the Chapter President by Friday, December 28th by 12:00pm via the Message Center for Chapter members. For non-members, who are not coming with a member, please call 314-402-7297 to RSVP. See meeting updates on the St. Louis Chapter Page.
At the Stir Crazy Fresh Asian Grill, 10598 Olive Street Road in Creve Coeur, members had the choice of selecting their protein and picking their own vegetables and sauces from the market bar and having their meal prepared right before their eyes, or they were able to choose a pre-prepared menu item. The meeting began with the ordering of meals, and as women continued to arrive they were greeted by the waitress who gladly shared the menu options with the members who were first-time customers.
Members in attendance at the December meeting were:
New member, Hania B Bednarski, D.O. She is a Board Certified General Surgeon with fellowship training in both breast oncoplastic surgery and hand surgery. She completed her general surgery residency training at many trauma centers in New York City. When she completed her residency, she sub-specialized initially in hand surgery at Lincoln Hospital in the Bronx, where she also trained in many reconstructive surgical procedures–mainly breast reconstruction. After working purely as a hand surgeon in New York for three years, she decided to further sub-specialize in breast oncoplastic surgery. She matriculated from exactly such a program in New York. Her current services focus on comprehensive breast care. She performs all procedures from the biopsy, to the surgical resection for cure, and the final reconstruction of the breast.
New member, Bridget G. Hoy. She is a Litigation and Trial Attorney at Lewis, Rice in St. Louis. Her firm has over 150 lawyers practicing in all primary legal specialty areas, and is one of the major regional law firms in the Midwest. During her career, she has helped companies of all sizes navigate legal disputes in state and federal courts around the country, including contract disputes, intellectual property disputes, personal injuries disputes, and more. She has also assisted businesses and individuals in general corporate matters, working closely with her transactional colleagues at Lewis Rice. She makes a real effort to understand the needs of clients so they get tailored legal assistance. She enjoys volunteering her time with numerous charities, including literacy programs for young children, and also providing legal services to those who cannot afford a lawyer through Legal Services of Eastern Missouri and pro bono programs with the federal judicial system.
New member, Nancy Jones Moynihan is the Manager of Community Relations for Aegion Corporation, which is headquartered in Chesterfield, MO. As MCR, she works with their diverse business segments to develop and foster relationships with their hometown communities and clients through corporate philanthropic endeavors. Aegion Corporation is a global infrastructure protection and repair company with a strong focus on environmental safety and concerns. It has several business segments in the water and wastewater, energy and mining, and commercial and structural reinforcement industries, and all are internationally recognized leaders in both technology and workforce.
Darlisa J. Diltz, owner of djd. In~Depth Marketing and Consulting Services. She specializes in helping small businesses market their products through the development of media such as fliers, signs, and more. Darlisa has done marketing work for companies such as United Way-St. Louis, SSM Health Care, YMCA of Greater St. Louis, Moe's Lawn Care Services, and a host of other organizations.
Michelle Martin, CEO of AMM Empowerment, LLC. Her skills and areas of expertise include Education & Empowerment. She is currently involved with Society of Human Resource Management/Association of Legal Administrators/Diversity Officer's Network. She received her Juris Doctor in Law Labor/Employment) from St. Louis University School of Law in Missouri.
LaDonna Turner, Founder and CEO of Smart Ideas Consulting Firm, LLC (SICF). She offers clients a combination of micro and macro services. With 17 years of experience working in human service programs at all levels including direct client services, management, and administration, she is a highly specialized and skilled human services consultant.
The National Association of Professional Women (NAPW) is the largest and most recognized network of female professionals. NAPW provides a forum where women can interact, exchange ideas, educate, network, and empower. NAPW Local Chapters allow members to maximize their experience through meetings, networking opportunities, and professional events.
For additional information regarding the NAPW St. Louis, MO Local Chapter and/or NAPW, please visit http://www.napw.com.
Follow NAPW on Facebook and Twitter.
###