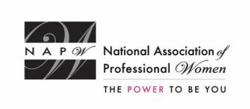 It is a growth industry that pays you to recommend services that you think are worthwhile
Garden City, NY (PRWEB) August 02, 2012
The NAPW Suffolk County Local Chapter gathered on Tuesday, July 25th for a professional networking meeting at Sertino's Cafe located on Main Street in Smithtown, NY. The ladies learned a great deal about networking marketing with guest speaker Nancy Davidson and discussed new and exciting ways to network.
The Chapter's meeting began at 6:30pm with Chapter President Jennifer Makaw welcoming both guests and members to the meeting. The Chapter's meeting committee asked a group of members representing various direct and local marketing companies to speak about their experiences.
Nancy Davidson is an NAPW member, mother, Arbonne Representative, Senior Mortgage Underwriter for JP Morgan Chase, Member of Toastmasters Inter¬national, and member of many other worthwhile and charitable endeavors. Nancy spoke to the ladies about Arbonne International products, their line of skincare, and most passionately about their sunscreen, which is especially made for children under 12 years of age.
Nancy presented useful information regarding network marketing opportunities. She explained that this form of marketing is growing more popular because it allows people to work from home to avoid a commute or to take care of children.
"It is a growth industry that pays you to recommend services that you think are worthwhile," said Nancy. "You do it every day for products or services you use already, whether you recommend a hairdresser or a brand of ce¬real that your kids like. It's no different."
Nancy suggested that members interested in network marketing explore all of their options and find the company or products they are passionate about. She pointed out that it is easier to commit to a product you believe in and use.
After Nancy spoke to the group, the Chapter addressed development and future meetings and events. They discussed NAPW initiatives and different ways that they can get members involved. They categorized the Chapter's goals into membership, social media and charity.
Jennifer was thrilled with all the ideas presented, such as attending a baseball game, and offering discounted tickets to the Paramount Theater in Huntington to network be¬fore seeing one of their large venue shows. The group is also considering weekend brunches and photo shoots so members can obtain professional headshots for their online profiles.
Jennifer will also initiate a Chapter newsletter to inform members of upcoming events and to sharing member information, articles, coupons and announcements.
Jen announced the Suffolk County NAPW Facebook page and LinkedIn group, which is off to a great start. Members and guests were encouraged to join or "like" the Local Chapter pages and to use them to connect with each other and their Chapter President.
August's meeting is to be held on Tuesday, August 28th at 6:30pm at 150 Islip Ave. Suite #5, Islip, NY 11751. The meeting will be hosted by Natalia Elson NAPW member and Dentist who will be speaking about Women's Hormones and Dental Health. Refresh¬ments will be served at no charge.
The National Association of Professional Women (NAPW) is the largest and most recognized network of female professionals. NAPW provides a forum where women can interact, exchange ideas, educate, network, and empower. NAPW Local Chapters allow members to maximize their experience through meetings, networking opportunities, and professional events.
For additional information regarding the NAPW Suffolk County Local Chapter and/or NAPW, please visit http://www.napw.com.
Follow NAPW on Facebook and Twitter.
###