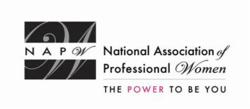 We had a great meeting discussing the idea of donating old cell phones to the local VA hospital's 'Phones for Troops' project.
Garden City, NY (PRWEB) August 22, 2012
Members and guests of the NAPW Tampa Bay Local Chapter gathered on August 15th for a professional networking meeting. Chapter President Robin Puskar kicked off the meeting by challenging members to show their support for the local VA hospital. Plans for future events were also discussed and members had plenty of time to introduce themselves and network during the networking luncheon at City Fish, located at 4022 Tampa Road in Oldsmar.
"We had a great meeting discussing the idea of donating old cell phones to the local VA hospital's 'Phones for Troops' project," said Tampa Bay Chapter President Robin Puskar. "The ladies were asked to bring in any old cell phones to the next meeting that they have hanging around."
The women all agreed to gather together as many old phones as they could find and were very enthusiastic about doing what they could to help veterans.
It was also decided that a number of creative raffle drawings will be held at upcoming monthly networking meetings, where members will have the opportunity to win prizes and support another local charity.
The first contest will be a business card raffle. One lucky member whose business card is chosen will receive a free lunch and the opportunity to 'spotlight' her business or any subject of her choice for 10 to 15 minutes at the next meeting. To encourage members to attend next year's NAPW National Conference, the Tampa Bay Chapter will also hold a 50/50 drawing; one half of the proceeds will go to one winner and the other half will be put aside to help defray the cost of one lucky member to attend the 2013 Conference. Members may purchase as many tickets as they wish to increase their chance of winning. The final raffle will be for prizes provided by local merchants. All proceeds from this raffle will go to The Spring, a local charity that helps victims of domestic violence.
During the August networking luncheon, Chapter members and guests talked about the need for evenings out, a time when members and guests can 'de-stress' and have some fun. Plans were discussed and are currently underway for two such events.
"We are in the process of booking a private party with 'Painting with a Twist' in September. The cost will be $35 per person and this will cover all supplies and instruction," said Robin. "More information about this fun evening out will be forthcoming."
At Painting with a Twist, members will be able to enjoy their favorite wine or beverage, learn how to paint under the direction of a local artist, and create a one-of-a-kind piece of artwork. For more information, paintingwithatwist.com
The group also decided on an evening on the bay with a dinner cruise around Tampa Bay. The exact dates and details will be sent out once everything is confirmed. The dinner cruise will board at 6:30pm, depart at 7pm, and return at 9:30pm. The cost will be $54.94 per person and includes a three-course dinner.
The next Tampa Bay Chapter meeting will be Sept 19th and will be a luncheon at Boston's Gourmet Grill, 9316 Anderson Road, Tampa, from 11:30am until 1:30pm. Members present at the August luncheon/networking meeting were Heather Brown, Gwendolyn Alexander, Gwen Harmon, Arielle Gordano, Kay Voll, Iris Gantz, Karen Zicht, Ginger Rockey-Johnson, Judy Bolton, Karen Gratto, Darleen Varona. Guests included Linda Stephens.
The National Association of Professional Women (NAPW) is the largest and most recognized network of female professionals. NAPW provides a forum where women can interact, exchange ideas, educate, network, and empower. NAPW Local Chapters allow members to maximize their experience through meetings, networking opportunities, and professional events.
For additional information regarding the NAPW Tampa Bay Local Chapter and/or NAPW, please visit http://www.napw.com.
Follow NAPW on Facebook and Twitter.
###