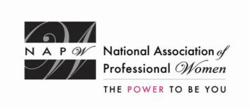 We also discussed how each of us has grown through various challenges in high school and various stages in our lives due to employment choices or opportunities taken. We are the people we are because...
Garden City, NY (PRWEB) December 11, 2012
Members and guests of the NAPW Tucson, AZ Local Chapter gathered on November 28th for a networking meeting at Chad's Steakhouse. The group of professional women networked, offered each other professional and personal advice, and participated in a workshop where they had the opportunity to brush up on the relationship- and team-building skills.
To kick of the evening of networking, NAPW Tucson Local Chapter President Barbara Nersesian extended a warm welcome to all the attendees. Since two of the women, member Carrie Strom and her guest Kathi Connors, were attending a Tucson Chapter meeting for the first time, introductions were made and business cards were passed around. Barbara said she was happy to see Maya Baker and Sarah Lee again since they had been unable to attend the last meeting.
Prior to the meeting, the Chapter President emailed members, asking them to be prepared to discuss a number of items that included marketing and hiring.
"Lillian Sherman suggested we start with an activity that she used in interviewing classes for new
managers who were being asked to be involved in hiring for the first time," said Barbara.
Since no one was hiring at this time, the group of professional women got started by participating in an activity that would assist them in relationship- and team-building skills. Carrie began by asking Sarah an open-ended question: "What was your greatest accomplishment in high school?" After Sarah answered, Carrie followed with a probing question to Sarah's answer; after Sarah's answer, Kathie asked another inquisitive question to gather more information from that answer. After Sarah, the same question was asked of others and they were probed for more detail.
A lively discussion followed this activity where the group analyzed its purpose and talked about why knowing more about each member would assist in building a team. A number of suggestions for open-ended questions were: greatest accomplishment in one's career; results of a failure in one's career; or changing one's career.
"Everyone thought this was an excellent activity," said Barbara. "We also discussed how each of us has grown through various challenges in high school and various stages in our lives due to employment choices or opportunities taken. We are the people we are because of our choices to this date."
Prior to dinner being served, the women discovered that a number of those present were pet owners; Carrie, who shared information about kennels with Maya, who would need these services soon as she has moved to a new home that doesn't have an outdoor area available for her dog. Maya entertained the group with the fun of training an outdoor dog to become an indoor dog. Also, her sister and brother-in-law are preparing to move to Panama, which is why Maya has a new place.
Real estate was also discussed as Barbara Barth, Carrie Strom, and Kathi Connors are all involved in real estate and Sarah Lee is in need for new housing; our guest last month may wish to rent her place when she moves to Dallas, Texas.
"It is always great when members can be of assistance to each other," said the Chapter President.
Carrie Strom and Kathi Connors invited the group of professional women to attend a networking hour at their real estate office at 8:00am on December 12th. Precious Homes Realty invites various vendors to meet for an hour each month to share ideas as well as network. Therefore, Connie believes that Barbara Nersesian and Sarah Lee's brief presentation on reaching the four generations via marketing techniques will be of great benefit to these new business people.
Before the meeting concluded, a vote was taken and the group decided that the next NAPW Tucson Chapter meeting will be held on December 26th and the roundtable discussion will concentrate on marketing and the various types of social media that are available.
The following members were present at the November Chapter meeting: Barbara Nersesian, President; Barbara Barth, Vice President, Lillian Sherman, Secretary, Maya Baker, Sarah Lee, and Carrie Strom. Kathi Connors, guest of Carrie Strom, was also present.
The National Association of Professional Women (NAPW) is the largest and most recognized network of female professionals. NAPW provides a forum where women can interact, exchange ideas, educate, network, and empower. NAPW Local Chapters allow members to maximize their experience through meetings, networking opportunities, and professional events.
For additional information regarding the NAPW Tucson Local Chapter and/or NAPW, please visit http://www.napw.com.
Follow NAPW on Facebook and Twitter.
###