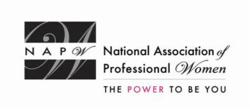 As is evident in her writing, Teri believes that people are the true key to any company's success.
Garden City, NY (PRWEB) July 05, 2012
The professional women of the NAPW Tulsa Local Chapter focused on career advancement with guest speaker and senior business partner and consultant Teri Aulph of Teri Aulph Consulting. The group met at 6pm on May 31st for a professional networking meeting at the Schusterman Library in Tulsa and light refreshments were provided.
Chapter President Angie Castleberry kicked off the meeting by welcoming everyone, briefly speaking about the Tulsa Chapter meeting agenda, upcoming opportunities and events published on the NAPW website, and by introducing Teri Aulph.
Teri spoke about her own experience and on how to be a woman in business without trying to act like a man. She gave tips on advancing in one's career such as: maintain integrity; be true to oneself; use your brain to get ahead; be strategic; and keep a daily log.
"As is evident in her writing, Teri believes that people are the true key to any company's success," Angie said. Determining how every person's talent can be utilized to ultimately create the best possible outcome enterprise-wide is where her passion lies. As a global leader in the human resource function, Teri provided coaching to top leadership while strengthening operational processes and systems for competitive advantage and increased profitability.
Teri is a senior level business partner with proven success in talent management, organizational design, change management, and operational excellence. She has specific expertise in organizational development/design, leadership development, and organizational assessment. Teri has held executive positions as a global HR leader in Fortune 500 companies in various industries.
Teri is also a published author of the book, 'Experience Job Satisfaction' available on Amazon.com. She will have two other books published in late 2012. One will detail the use of the 'daily log', as discussed with the Chapter, how to create it, and how to utilize it.
Following the speaker, a list of the Board of Directors was distributed to inform the meeting attendees of current positions that are filled and open positions to solicit nominations. Angie encouraged attendees to 'like' the Chapter Facebook and connect on LinkedIn to stay current on Chapter information. Members were asked to introduce themselves and talk about their business or job. Everyone passed their business cards around along with coupons and samples to display their work.
The Chapter plans to discuss volunteer efforts at the July Meeting. The Director of Community Relations, Ann Nelson, will be having someone speak to this effort.
The next meeting will be held on June 28th at 6pm. The speaker will be Susan Pharris, Neurodevelopmental Specialist, Author, Speaker and Founder of Brain Fitness Strategies LLC. Susan will be speaking about Stress Management in the Bedroom; It's not what you think!
"She will be sharing some great tips at this month's meeting," Angie said. "Come learn simple steps you can take at home to reduce your stress levels and increase your performance levels. She'll also cover the four cornerstones of brain fitness and enlighten you about your brain's potential future!"
Members attending the meeting included Angela Yelich, Co-owner of Mattress Firm in Tulsa and the surrounding area, they have 8 stores; Lorna Jones, Nurse and Owner of Designs by Lorna, jewelry made with real gemstone beads; Kathy Beller, Owner of Dentistry by Design; and President Angie Castleberry. Debbie Jaeger, SemGroup was a new member in attendance for the meeting. Guests included Yi Zhang, Senior Project Manager, John Zink Company and the speaker, Teri Aulph, Teri Aulph Consulting.
The National Association of Professional Women (NAPW) is the largest and most recognized network of female professionals. NAPW provides a forum where women can interact, exchange ideas, educate, network, and empower. NAPW Local Chapters allow members to maximize their experience through meetings, networking opportunities, and professional events.
For additional information regarding the NAPW Tulsa Local Chapter and/or NAPW please visit http://www.napw.com. The Tulsa Chapter Meetings are posted on the Tulsa Chapter page of the NAPW site for future reference as we become more established. Additionally, they are posted on LinkedIn and Facebook at the NAPW Tulsa Chapter group pages.