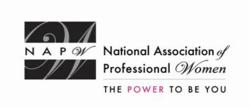 Susan spoke to us and guests of our NAPW meetings about stress management in the bedroom, but it's not what you think
Garden City, NY (PRWEB) July 20, 2012
Members and guests of the NAPW Tulsa Local Chapter gathered on June 28 for a professional networking meeting at the Schusterman Library in Tulsa where guest speaker Susan Phariss, Founder of Brain Fitness Strategies LLC, shared her expertise on stress management – in the bedroom and beyond -with members and guests.
"Susan spoke to us and guests of our NAPW meetings about stress management in the bedroom, but it's not what you think!" said Angie.
The Founder of Brain Fitness Strategies, Susan is a Neurodevelopmental Specialist, Author, and Speaker who shared some great tips with members and guests. The audience learned simple steps to take home to reduce their stress levels and increase their performance levels. She also covered the four cornerstones of brain fitness and enlightened the crowd about their brain's potential future.
The meeting kicked off with Chapter President Angie Castleberry welcoming everyone, briefly speaking about the Tulsa Chapter meeting agenda, and mentioning upcoming opportunities and events published on the NAPW website. She encouraged attendees to ' like' the Chapter on
Facebook and connect with it on LinkedIn. Members then had the opportunity to network by introducing themselves, speaking about their businesses or jobs, and distributing business cards as well as coupons or samples.
Susan shared the following tips for achieving stress management, starting in the bedroom: darken the bedroom, remove or unplug all electrical devices, place cell phone and charger in another room, use battery-powered alarm clock, reduce temperature of the room (60-68 is ideal), got to bed between 9 and 10pm, turn off all screens one hour before bed time, consider taking Melatonin at bedtime, avoid watching action adventure or scary programs in the evening, and meditate daily; for easy meditation, use Holosync; Centerpointe.com.
The stress management expert also pointed out that lack of sleep impairs memory by reducing brain cell growth in your hippocampus, impairs the immune system, raises cancer risk, raises blood pressure, worsens constipation, makes you feel hungry even if you just ate, and causes brain fog and bad decision making.
Brain Fitness Strategies is committed to helping companies achieve their top priorities. When your company needs more creativity, better communication, or increased productivity, Brain Fitness Strategies can help you achieve it with your existing staff. It offers cutting-edge, stimulating corporate workshops covering stress management, team building, boosting creativity, and peak performance.
Susan Phariss' company also helps individual clients achieve personal goals such as improve name recall and memory skills, increase reading speed, reduce worrying, increase focus and concentration, eliminate panic attacks, eliminate brain fog and confusion, improve public speaking skills, and boost mental processing speed for faster decision making.
Once Susan concluded her very informative presentation, Chapter President Angie Castleberry spoke about the future volunteer efforts the Chapter will undertake.
"Have you been searching for a way to give back to the community and help other women succeed? If you could help prepare a woman for success in the workplace by donating gently used items, would you?" asked Angie. "Join us at our July meeting to find out more about Dress for Success-Tulsa."
Dress for Success promotes economic independence for disadvantaged women by providing professional business attire for an interview and additional clothing when employment is secured.
At the upcoming July 26 meeting, Tulsa Chapter Director of Community Relations Ann Nelson will bring a representative from Dress for Success to speak to members about the organization and how the Chapter may partner with them in the future.
Members attending the NAPW Tulsa Local Chapter June meeting were Angela Yelich, Co-owner of Mattress Firm in Tulsa and surrounding area, they have eight stores; Lorna Jones, Nurse and Owner of Designs by Lorna, jewelry made with real gemstone beads; Angie Castleberry, Business Optimization Manager, Navico; Shannon Morris, State Farm Agent/Owner; Mary Goins, Manufacturing Rep, Flowmatics, Inc.; Regina Kring, Owner of Letters from Life; and Janetta Williamson, Owner of Embellisha Apparel. New member present at the meeting was Elizabeth Purvis, Project Coordinator, LW Survey. Guests attending the meeting included Annette Smith, Embellisha Apparel and Zorica Hamblin, Massage Therapist, Aravon Salon and Spa.
The National Association of Professional Women (NAPW) is the largest and most recognized network of female professionals. NAPW provides a forum where women can interact, exchange ideas, educate, network, and empower. NAPW Local Chapters allow members to maximize their experience through meetings, networking opportunities, and professional events.
For additional information regarding the NAPW Tulsa Local Chapter and/or NAPW, please visit http://www.napw.com.
Follow NAPW on Facebook and Twitter.
###