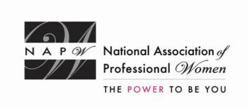 Everyone was relaxed and actively participated and had a great time getting to know each other and learn more about the NAPW
Garden City, NY (PRWEB) July 18, 2012
Members and guests of the NAPW Waco Local Chapter gathered together for the first time on July 10 for its inaugural professional networking meeting at the Spherion/Conference Center, 334 Towne Oaks, Waco. Fifteen people attended the event which was the official launch of the Waco Local Chapter.
The meeting, which was hosted by Vicki Koon, Owner of 3 Central Texas Spherion/Randstad Staffing Operations, was a huge success and set the stage for what is sure to be a very active Chapter. Of the 15 women who attended, some were current members, some were new members, and some were guests who came to learn more about NAPW and the Waco Local Chapter.
Sandra Kennedy, the new Chapter President, was thrilled with the turnout and the enthusiasm of all who attended. She read the NAPW Mission Statement aloud to the group and explained the numerous NAPW Perks and Benefits.
"There are a wealth of resources and services available to members through NAPW membership," Sandra told the crowd.
To break the ice and encourage everyone to participate and get to know one another, Sandra invited members and guests to share a 30-second self-introduction, an exercise that went far in fostering participation and friendships.
"Everyone was relaxed and actively participated and had a great time getting to know each other and learn more about the NAPW. We agreed as a group, staying with our mission is important. Empowering and supporting woman to become stronger as both women and professionals is our focus," Sandra said.
Carole J. Ringwald, the Chapter's new Vice President shared her excitement about the launch of the NAPW Waco Local Chapter.
"Now I won't have to drive to Austin or Dallas to attend my NAPW monthly meetings!" she said.
Sandra thanked Carole and Vicki Smith, a new member who volunteered to become the Chapter's Historian/Secretary, for their commitment to the new Chapter.
"How great to already have a VP and Historian," said Sandra, who added that she is confident members will soon step forward to fill other Board openings such as Treasurer, Event Planner, and Communications Chair.
During the duration of the meeting, members and guests discussed future goals of the Waco Local Chapter such as meeting events and topics and charitable endeavors. Retirement planning, dance therapy, aging parents, romance therapy, and reflexology were a few ideas for future meetings that were tossed around. A number of charities that members and guests suggested the Chapter get involved with included the Humane Society, Friends for Life, McLennan County Pack of Hope, and Christian Woman's Job Corp, as well as teaching other women how to grow their own food and prepare healthy meals.
To ensure that everyone's voice was heard, members and guests were asked to complete a survey that included suggestions for future meeting times and venues, information about joining NAPW and/or how to request additional information, and much more.
Sandra closed the meeting by acknowledging everyone who supported the launch of the Waco Local Chapter.
"We appreciate everyone who supported our initial launch meeting including the NAPW home office with their leadership and direction, and sending us our banner, NAPW brochures, and supplies," she said. "A special thank you to Ms.Vicki Smith and the Spherion team for hosting our kick-off event and to all who went out of their way to engage and participate to give us a solid beginning for our Waco Local Chapter. I'm truly grateful and excited about our future together!"
Members and guests in attendance included Mireille Fantini McCaleb, Carol J. Ringwald, Vicki Smith, Vicki Koon, Sheila Williams, Tamara Gonzales, Tiffany Santiago, Karen Tanner, Leti Martinez, Heather Simmons, Heidi McCarn, Kathryn Lamb, Colleen Scott, Stephanie Beeman, and Sandra Kennedy.
The next Chapter meeting was set for Wednesday, August 15, from 12-1:30pm and will once again be hosted by Vicki Koon at the Spherion Conference Center, 334 Towne Oaks Drive, Waco.
The National Association of Professional Women (NAPW) is the largest and most recognized network of female professionals. NAPW provides a forum where women can interact, exchange ideas, educate, network, and empower. NAPW Local Chapters allow members to maximize their experience through meetings, networking opportunities, and professional events.
For additional information regarding the NAPW Waco Local Chapter and/or [NAPW please visit http://www.napw.com.