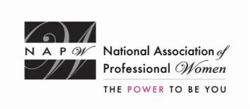 You only have 30 to 60 seconds to make a powerful first impression and you have to remember the attention span of the average person...
Garden City, NY (PRWEB) December 06, 2012
Members and guests of the NAPW Waldorf, MD Local Chapter gathered at the ABC Wellness & Fitness Center for their monthly networking meeting on November 18th. The group of professional women networked, discussed upcoming Chapter events, and got tips for crafting a killer elevator pitch from Chapter President Tammy L.S. Wright's powerful presentation, 'What is Your Elevator Pitch?'
"How would you explain your profession or business if caught on an elevator with only 30 to 60 seconds to spare?" asked Tammy L.S. Wright.
The NAPW Waldorf Local Chapter President posed this question to the group of professional women, inviting them to share their own elevator pitch. Tammy then began her presentation. She focused on the importance of having the right pitch and spoke about how it can hurt you or land you big business in less than one minute.
"You only have 30 to 60 seconds to make a powerful first impression and you have to remember the attention span of the average person," she said. "How long does it take for your mind to wander? You have only a few seconds to grab their attention to make a lasting impression."
Tammy provided the audience with the Eight Elements of a Powerful Elevator Pitch: Concise, Clear, Powerful, Visual, Tell a Story, Targeted, Goal Oriented, and Has a Hook, and discussed each element in detail:
1) Concise. Your pitch should take no longer than 30 to 60 seconds.
2) Clear. Use language that everyone understands and don't use fancy words.
3) Powerful. Use words that are powerful and strong to grab their attention!
4) Visual. Use words that create a visual image in your listener's mind.
5) Tell a Story. A short and good story is essentially someone with a problem who either finds a solution or faces tragedy.
6) Targeted. A great elevator pitch is aimed for a specific audience.
7) Goal Oriented. A kick-butt elevator pitch is designed with a specific outcome in mind. What is your desired outcome? One may have different pitches depending on different objectives.
8) Has a Hook. This is the element that literally snags your listener's interest and makes he or she want to know more.
At the conclusion of Tammy's presentation, everyone critiqued the pitches presented at the start of the meeting based on the Eight Elements of a Powerful Elevator Pitch.
In addition to picking up some important tips from Tammy's excellent presentation, members and guests enjoyed delicious food and had the opportunity to network during the November Chapter meeting. The group also warmly welcomed Evon Bumbray as a new member to the NAPW Waldorf Local Chapter.
Evon is the Founder/Owner of the 2570E Group, which is a full-service event planning company. The mission of the 2570E Group is to provide clients with first class, professional service that is stress free. It has the ability to plan, market, promote, handle registration for, and produce an event to fit a client's targeted needs from the early planning stages to post event reporting.
During the meeting, Tammy collected several bags of nonperishable items from NAPW Waldorf Chapter members in support of LifeStyles of Maryland Foundation, Inc.
"Thank you to all of our members who have been so generous in their support of this local organization that does so much for the community," said Tammy.
LifeStyles of Maryland Foundation works fervently to address the needs of the community. They are dedicated to service through service, implementing many programs and services for individuals at all levels of the economic spectrum.
While the foundation's focus has been to provide services to those who are economically disadvantaged, many of their services have addressed the needs of persons from all walks of life. They have worked with individuals and agencies to make known these needs and assist in finding solutions to meet these needs. The programs implemented are focused on the empowerment of individuals and families. Through this empowerment they believe we assisted in creating a better quality of life for those persons who contact us.
The Chapter President reviewed the NAPW Waldorf Local Chapter's Ms. NAPW contest guidelines and advised everyone that the award is being presented at the December meeting. To be considered for the award, a member must exhibit the following criteria: support, meeting attendance, outreach, referral of new members, etc.
"I also want to remind everyone to sign in at each meeting to ensure accountability," said Tammy.
"And please don't forget about our upcoming initiative to donate toys to families with needs in support of the Angel Tree located in Walmart of LaPlata Maryland."
Tammy L.S. Wright, Monique Gaskins, Sekema Rhodes, and Evon Bumbray were in attendance at the November meeting.
The National Association of Professional Women (NAPW) is the largest and most recognized network of female professionals. NAPW provides a forum where women can interact, exchange ideas, educate, network, and empower. NAPW Local Chapters allow members to maximize their experience through meetings, networking opportunities, and professional events.
For additional information regarding the NAPW Waldorf Local Chapter and/or NAPW, please visit http://www.napw.com.
Follow NAPW on Facebook and Twitter.
###