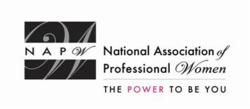 We want to encourage everyone to invite co-workers and friends to attend our meetings to expand the chapter and keep it exciting
Garden City, NY (PRWEB) March 16, 2012
The NAPW Waldorf Local Chapter met for a networking meeting on February 21st at 6:30pm. The group met at a new location and opened with introductions and networking. The focus of the meeting was to discuss ways to build a strong base of members to achieve future Chapter goals. Goals include implementing a structure, the creation of a board of directors, and an acheivable agenda for 2012.
"We want to encourage everyone to invite coworkers and friends to attend our meetings to expand the chapter and keep it exciting," said Tammy. She also emphasized the importance of members' involvement in meetings and planning.
Tammy L.S. Wright, Chapter President, Karen Wright. Sekema Rhodes, and Tonja Brooks were in attendance. Maxine Somerville is the Executive Director of Human Resources for United Nations Foundation and attended the Waldorf Chapter meeting for the first time.
"The UN Foundation, through our sister organization, the Better World Campaign, advocates in support of a strong, effective, and fully funded United Nations," said Maxine. "A strong UN is the world's most effective voice for international cooperation on behalf of peace, development, human rights, and the environment."
Angela Johnson, a visiting prospective member, also attended. She is the Administration Manager for National Center for Missing & Exploited Children.
Tammy L.S. Wright opened the floor with welcoming everyone to the February meeting. She discussed the mission statement of both NAPW and the Waldorf Chapter NAPW. She apologized for the last minute change of location due to a scheduling conflict at ABC Wellness & Fitness Center.
The group then shared the benefits of a membership with prospective members versus other local business groups.
Tammy made sure that everyone had the opportunity to network, share their business cards, and introduce themselves. A very touching true story was shared by Angela concerning an exploited child that was found by her brother.
The National Association of Professional Women (NAPW) is the largest and most recognized network of female professionals. NAPW provides a forum where women can interact, exchange ideas, educate, network, and empower. NAPW Local Chapters allow members to maximize their experience through meetings, networking opportunities, and professional events.
For additional information regarding the NAPW Waldorf Local Chapter and/or NAPW please visit http://www.napw.com.
Follow NAPW on Facebook and Twitter.
###